The tourism boards of cities, states, and countries are now living online and leveraging every platform at their disposal to share pictures, upcoming events, and restaurant recommendations. While each has its purpose, Twitter is the only platform that gives tourism boards the opportunity to seek out potential visitors and answer questions in real time while the whole world listens.
Best place to get a taco? Any concerts coming up in two weeks?
Some are leveraging the new media to clean the cobwebs off paper pamphlets and actually engage with visitors and locals.
Using statistics collected from SkiftSocial, we looked at how and how often ten U.S. cities tweet and talk to visitors.
Top ten
The ten most popular U.S. cities on Twitter, based on the number of followers, are as follows: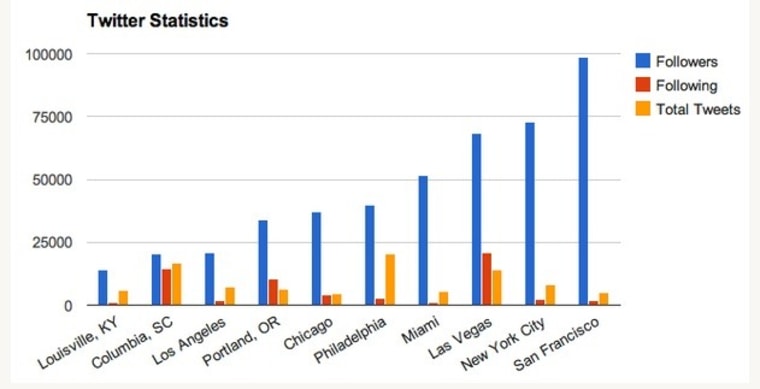 What are they sharing?
Portland was the most engaged of the tourism boards. In a two-week period, about 86 percent of its tweets were replies. Travel Portland enlists the help of a media agency, Sparkloft, to reach out to visitors and offer advice on activities and events inside the city.
"We take both a proactive and a reactive approach to helping visitors. We reply quickly to people who use @TravelPortland but we also seek out individuals looking for information.  This is important to our brand as a progressive, forward-thinking city," said Claire Kaufman, e-marketing manager at Travel Portland.
Courtney Reis, TravelPortland's consumer marketing manager, said they've been able to interact with visitors that wouldn't have thought to reach out to or call a traditional tourism board.
Columbia, S.C., keeps its social media in house, with anywhere from one to three people checking hashtags and mentions. The small team doesn't have time to search out the breadth of comments regarding the city that Portland does. In a two-week period, an average of only six percent of its approximately 120 tweets were replies.
Sarah Katherine, the director of marketing at the Columbia Visitors Bureau, says her reason behind the decision to keep matters in-house is authenticity. "We know our voice and message the best."
Philadelphia, tweeting at @visitphilly, was the most active tourism board. The account has tweeted a total of 20, 3561 times sharing information on events and links back to stories on the tourism board's blog uwishunu.
In a two-week period, it tweeted 177 times, 35 percent which were replies. The account is run by just one person, Director of Social Media Caroline Bean.
Response time
The key to Twitter becoming a replacement for a guidebooks or trip-planning websites would be immediacy. Twitter is an invaluable resource when tourists or locals have their questions answered in real time about what to do or where to do it.

NYC & Company, the people behind @nycgo, is the only account that takes just under an hour to respond. Vegas responds in just under two hours and in Miami, travelers can expect to wait an average of 17 hours before hearing back from the official tourism organization.
More from Skift: