Last Thursday the State Department advised travelers from the U.S. to "exercise increased caution" worldwide because of the Israel-Hamas war, citing "the potential for terrorist attacks, demonstrations or violent actions against U.S. citizens and interests."
The warning "means what it says," said Jeffrey Price, an aviation security expert and professor of aviation and aerospace science at Metropolitan State University of Denver. "Don't go to areas where they are actively capturing or killing U.S. citizens, and be careful when going to countries where you could be put in harm's way simply by being there." 
But what about trips to Barcelona or Singapore or even just Baton Rouge? Here's what to consider if you've got travel plans on the books or are making them now, given the conflict in the Middle East.
All-purpose safety precautions
In addition to telling U.S. travelers to reconsider travel to Israel and the West Bank and to avoid any travel to Gaza, federal officials also recommend staying especially alert in popular locations anywhere tourists gather globally.
They suggest following State Department accounts on social media for updates and joining the Smart Traveler Enrollment Program to make it easier for the agency get in touch with American travelers abroad in case of emergencies.
The State Department has alerts of various levels in effect for many countries because of conflict and other risk factors, but "worldwide caution" advisories are less common. The last one was issued in August 2022 after a U.S. drone strike killed a high-level Al Qaeda leader.
Some national security experts regard last week's global alert "as one of the most urgent issued in light of the extremely high tensions throughout the Middle East," said Howard Stoffer, a professor of international affairs at the University of New Haven and a former senior official in the State Department's Foreign Service.
"This type of alert usually lasts a relatively short time," he said, but the current one "may last for some period of time."
If you're planning upcoming travel, you can monitor the State Department's travel advisories for any destinations on your itinerary both before and during your trip. The Council on Foreign Relations, a nonpartisan think tank, also maintains an interactive Global Conflict Tracker that provides additional information for specific areas around the world.
Stay alert and listen to the news carefully when out there.
Howard Stoffer, University of New Haven
Experts warn against slipping so deeply into vacation mode that you risk losing sight of potential shifts in the political or security situation on the ground. "Be aware of your surroundings and be sure to cooperate with any increased security measures," Price said.
Stoffer said, "Stay alert and listen to the news carefully when out there." Otherwise, exercise the same good judgment you would under any other circumstances, like steering clear of major protests and making sure friends and family back home know where you are.
Air travel
Israeli flag carrier El Al Airlines is the only airline that continues to fly between the U.S. and Israel, although its website notes that "there may be a change in the departure times of some flights."
Major U.S.-based airlines that previously offered regular service to Tel Aviv, including American, Delta and United, have issued travel alerts for the Middle East and suspended all flights to Israel. United has also issued a travel alert for its flights to Amman, Jordan, but service there is continuing.
The suspensions include direct flights out of major hubs such as Atlanta, Boston, Chicago, New York City, San Francisco and Washington, D.C., as well as connecting flights on partner airlines, said Scott Keyes of the flight deal website Going.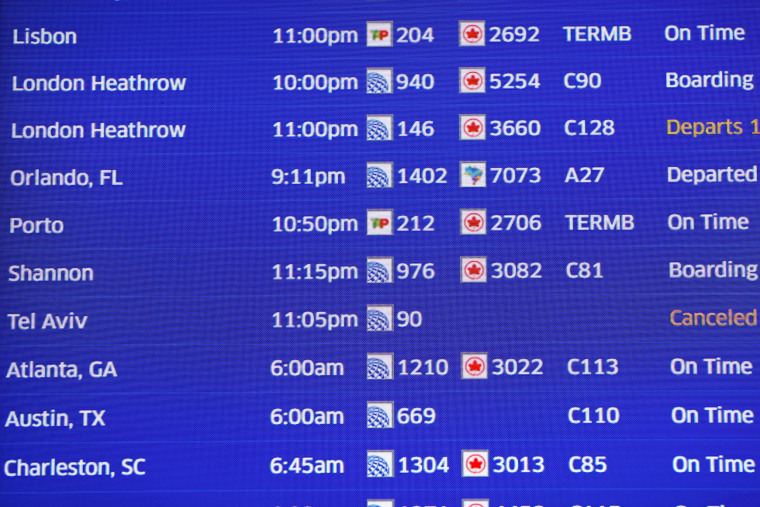 In general, travelers who booked to Israel on U.S. carriers on or before Oct. 6, the day before Hamas attacked Israel, are typically being offered the option to either cancel their trips and request refunds or to rebook in the same cabin and between the same cities on different dates with no change fees or fare differences. (United is also offering to waive change fees on flights to Amman.)
"These waivers apply regardless of what fare class you've booked," Keyes said. "Even otherwise restrictive basic economy tickets may be rescheduled or canceled for a full cash refund."
Right now, the rebooking options are available through Dec. 31 on United, from Dec. 5 through Jan. 31 on American and through Sept. 6, 2024, on Delta.
Travelers can expect to see a larger law enforcement and canine presence.
TSA spokesperson Robert Langston
With Delta having already extended the dates of its rebooking provisions, Keyes said, "it's all but certain other U.S. airlines will extend their travel waivers for at least as long as the escalated hostilities continue."
At airports and other transportation hubs, "travelers can expect to see a larger law enforcement and canine presence," said Robert Langston, a spokesperson for the Transportation Security Administration.
The TSA is operating at a "heightened level of security as a result of world events and the current threat environment," he said. Officials there and at its parent agency, the Department of Homeland Security, will continue to monitor the situation and adjust their security measures as needed.
Security checkpoints lines at airports could get longer because of the increased measures, Price said, but "if things are getting out of hand, TSA can also speed up lines by reducing random checks."
Cruises
A handful of cruise lines have made changes to scheduled sailings in the Eastern Mediterranean and the Middle East, said Aaron Saunders, a senior editor at Cruise Critic.
"The changes range from the cancellation of full sailing seasons to adjustments to itineraries that remove select ports," he said. 
Windstar Cruises, Royal Caribbean and MSC are among the cruise lines that have pulled all their ships out of the region because of the conflict, Cruise Critic has reported, while Norwegian Cruise Line has informed passengers on a coming Rome-to-Athens cruise that stops in Israel will be skipped.
"Cruise lines have teams dedicated to monitoring the latest news and updates and reserve the right to adjust their plans as they see most fit," Saunders said.
He encourages anyone with a cruise reservation to watch for emails from the operator for updates on specific sailings, as well as any compensation being offered for significantly affected ones. For those considering a cruise to the region, "we strongly recommend purchasing travel insurance," Saunders added.
Travel insurance 
Many travel insurance policies already provide cancellation and interruption benefits in the event a terrorist attack affects a trip, according to published guidelines from the travel insurance comparison platform SquareMouth.
But in most cases, those benefits kick in only for policies purchased before the date of the attack, meaning such coverage would apply for the current conflict only on insurance taken out on or before Oct. 6.
Travelers with coming trips to Israel who have cancellation and interruption benefits may be reimbursed for 100% of their trip expenses if they need to cancel, SquareMouth noted. Travelers planning to visit Israel as part of trips may also be covered if they need to cut their itineraries short.