Air travel is rarely very romantic, but this Valentine's Day some airports and airlines are making a special effort to add a dash of love and a sprinkle of surprise to the journey.
The uptick in couples applying for last-minute marriage licenses in Las Vegas around Valentine's Day usually overwhelms the downtown county's clerk's office, so this year there's a pop-up marriage license bureau set up through February 17 in the baggage claim area of Terminal 1 at McCarran International Airport.
Couples will still need to find someone to perform the legal marriage ceremony, but filling out a pre-application and getting a license at the airport can go a long way in streamlining the process. For lovebirds in a rush, keep in mind that the Terminal 1 baggage claim area at the Las Vegas airport also has 24-hour flower vending machines and a to-go liquor shop.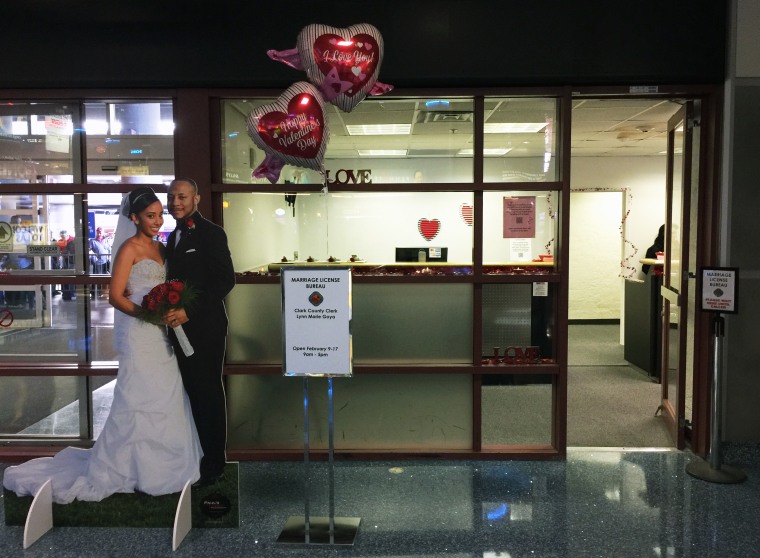 As in previous years, volunteers at both Philadelphia International Airport and Florida's Jacksonville International Airport will be handing out Valentine's Day carnations to passengers.
Hartsfield-Jackson Atlanta International Airport caps off its fourth "We Love Our Guests Campaign" on Valentine's Day with key rings and teddy bears for passengers and photo booths and love-themed music playing throughout the airport.
There will be a "Kissing Booth" distributing chocolate kisses and Valentines to passengers at Cincinnati/Northern Kentucky International Airport (CVG) on February 14 and a chance to hug and pose with some of the miniature therapy horses that regularly visit the airport.
The horses at CVG will be decked out in their Valentine's Day attire, as will the therapy dogs at Los Angeles International, Phoenix Sky Harbor, and many other airports around the country. The love-fest will continue February 16, when specially dressed therapy dogs and team-member Lilou the pig help passengers usher in the Lunar New Year at a photo station in San Francisco International Airport.
Heart-shaped lollipops will be handed out to passengers during Valentine's Day in many terminals at Los Angeles International Airport, and in the Hollywood/Fort Lauderdale International Airport they'll be celebrating the day with live entertainment, face painting, and complimentary chocolate roses and candy buffets.
Chocolates will be offered to passengers flying through Austin Bergstrom International Airport on February 14 and, for those who still need to purchase a Valentine's gift before leaving the airport, there will be a booth selling chocolate-covered strawberries from local favorite Amy's Ice Creams. Shops in most every other airport will have chocolates, heart-shaped bake-goods and trinkets and other romantic items wrapped and ready to go as well.
Valentine's Day activities at Heathrow International Airport will include live music, free heart-shaped candies, Polaroid photo ops, complimentary caricature sketches, and make-your-own Valentine's Day card stations. And to ensure no Valentine's Day proposals are inadvertently ruined by a shiny engagement ring drawing the attention of a security officer at the checkpoint, officials at England's East Midlands Airport have been offering "secret codes" to travelers who'd like their bags inspected out of their traveling companion's line of vision.
Passengers on Southwest Airlines flights will be treated to a complimentary alcoholic beverage on Valentine's Day, with some declared "fun flights," featuring employees hosting trivia games and giveaways.
United Airlines will be setting up Valentine's Day candy stations in its club lounges on Valentine's Day, ANA (All Nippon Airways) will be handing out specially made chocolates to all passengers, and Alaska Airlines will be unveiling a heart-shaped sculpture "with a special meaning" at San Francisco International Airport.