While the grand opening is scheduled for late October, today the luxury Trump International Hotel, Washington D.C. is scheduled to begin checking in its first guests as part of a low key 'soft' opening.
The hotel has a prestigious address on Pennsylvania Avenue, near the White House and the National Mall, and is built inside the Old Post Office building, which is on the National Register of Historic Places.
The building has undergone a $200 million overhaul and now boasts a 10,000 square-foot Spa by Ivanka Trump, a BLT Prime restaurant and 263 guestrooms and suites boasting 14 to 16 foot ceilings, "soaring windows, glittering crystal sconces" and six-foot tubs.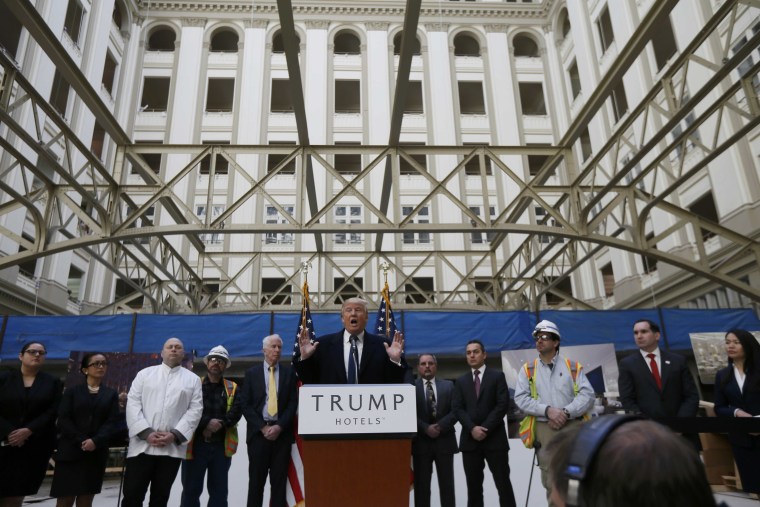 The first few nights show as sold-out on the hotel's website, but a search shows vacancies available later this month for basic 410-square foot "deluxe" at unrestricted rates starting at $575 a night (excluding taxes and fees), and for one-bedrooms suites, which start at $1375 a night.
The three-bedroom Presidential Suite has plenty of vacancies and the bi-level Trump Townhouse, with two bedrooms, office, workout room and dining room that seats 24, is available for the week of the Presidential inauguration at a rate of $100,000 per night, with a five night minimum stay.
"The hotel will be one of the most beautiful in the city, if not all of the mid-Atlantic," said Jack Ezon of Ovation Vacations, a Virtuoso member agent specializing in luxury vacations. "We do have clients going there, but for what it is worth, I know if the name on the door were different we would be doing a lot more with them," said Ezon.
The Trump Hotels are a luxury brand but, like Donald Trump's political campaign for president, the D.C hotel project has been mired in controversy, with architects, restaurant operators and others bowing out of the project. The preservationist architect for the hotel told the New York Times that he resigned from the project because he could not support "what they were doing to the building," and two well-known chefs canceled plans to open restaurants in the hotel in response to Trumps negative comments about Mexican immigrants.
"Trump has great band recognition and a great hotel brand that is right for the market," said Kevin Murphy, Chair of the Hospitality Services Department at Rosen College of Hospitality Management in Orlando, Florida. "The bad press he's been getting will bleed over to the segment of the market that doesn't want to be associated with the name anyway, but there are those who feel positive to Donald Trump and the brand that will find new hotel an attractive place to stay."
Murphy likens the Trump hotels brand to McDonalds, Coca-Cola and automobile manufacturer Mercedes Benz, which have also have strong brand recognition, but not universal appeal.
"The greatest brand has segments that won't use it," said Murphy, "Many people can afford McDonalds but choose not to go. The same goes for Trump. You're going to like it or not."
Booking site Hipmunk told the Boston Globe that its reservations for all Trump hotels are down nearly 60 percent over this time last year.
That may be reflecting the strong emotions Trump and the brand elicits, especially during this exceptional election year, "but generally speaking hotel selection comes down to price and location within the acceptable service bracket for the consumer," said Douglas Quimby, Vice President, Research for travel, tourism and hospitality market researcher, Phocuswright, "Great, timely products create cache. The name follows, and if the product is durable, it outlasts the individual."