More people were packing heat at U.S. airports last year as the number of guns seized from airline passengers' carry-on bags reached an all-time high.
Screeners at airport checkpoints recovered 3,391 firearms in 2016, up 28 percent from the year before, the federal Transportation Security Administration said in its Year in Review report released Thursday. Most of those confiscated guns — 83 percent — were loaded.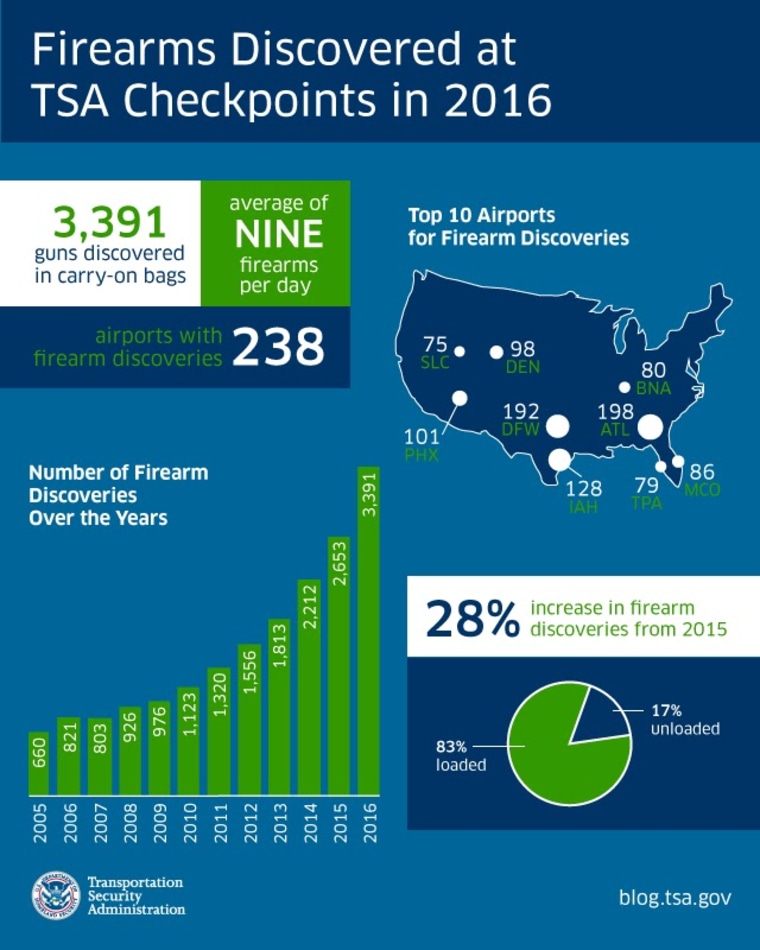 TSA rules prohibit guns from being stored in carry-on baggage, although travelers are allowed to transport them as checked luggage as long as the firearms are unloaded.
Guns were discovered at 238 airports around the country, with Atlanta's Hartsfield-Jackson International topping the list where the most firearms were found with 198. Dallas/Fort Worth International had 192 gun seizures and George Bush Intercontinental Airport in Houston had 128. Airports in Phoenix, Denver and Orlando, Florida, followed.
Related: What Are TSA Rules About Guns in Baggage?
The number of seizures has been rising steadily in the past decade, and TSA officials have said employees are becoming better trained at finding them.
One influencing factor for why more people are bringing guns to airports might be that concealed and open carry appears to be up throughout the United States, said Jeff Price, author of "Practical Aviation Security: Predicting and Preventing Future Threats."
"For those who do carry their guns a lot — particularly in a laptop bag, backpack or purse — it's actually easy to forget you have it with you," Price said, noting that the No. 1 reason passengers give for having a gun in a carry-on is "I forgot it was in there."
"That's scary," he added. "Any responsible firearm owner will tell you that you should know the status of your firearms at all times."
The release of the TSA's data comes as lawmakers and safety officials take another look at airport safety following the deadly shooting of five people at the Fort Lauderdale airport in Florida last week.
While the suspect, 26-year-old Esteban Santiago, was permitted to have his 9 mm semiautomatic handgun with him because it was in his checked luggage, his ability to open fire at a baggage claim outside of the screening area has fueled debate over what type of security measures are needed.