Last month, a Dallas/Fort Worth-bound American Airlines flight had to divert because an erratic-acting passenger began pounding on the cockpit door.
Earlier that month, a British Airways flight from London to Orlando landed instead in Boston because a drunk passenger tried to deplane the Boeing 777 in mid-air.
Stories of air passengers behaving badly are good for headlines but bad for airline operations, on-time arrivals, and the safety of crew members and other passengers.
And, unfortunately, the number of cases of unruly, disruptive, and violent passengers is on the increase worldwide.
Last year, 10,854 incidents of unruly passenger incidents were reported by airlines to the International Air Transport Association, which represents 265 airlines that carry 84 percent of global air traffic.
That's up from 9,316 incidents reported worldwide in 2014, but still represents one incident for every 1,205 flights.
The majority of incidents involved verbal abuse, failure to follow lawful crew instructions, and other forms of anti-social behavior, IATA said in a statement, adding that 11 percent of the unruly passenger reports included physical aggression towards passengers or crew, or damage to the aircraft.
In almost one-quarter (23 percent) of the cases, alcohol or drugs were a factor, although the group noted that in most instances the drugs and alcohol were consumed prior to boarding or, if on board, from a passenger's personal supply.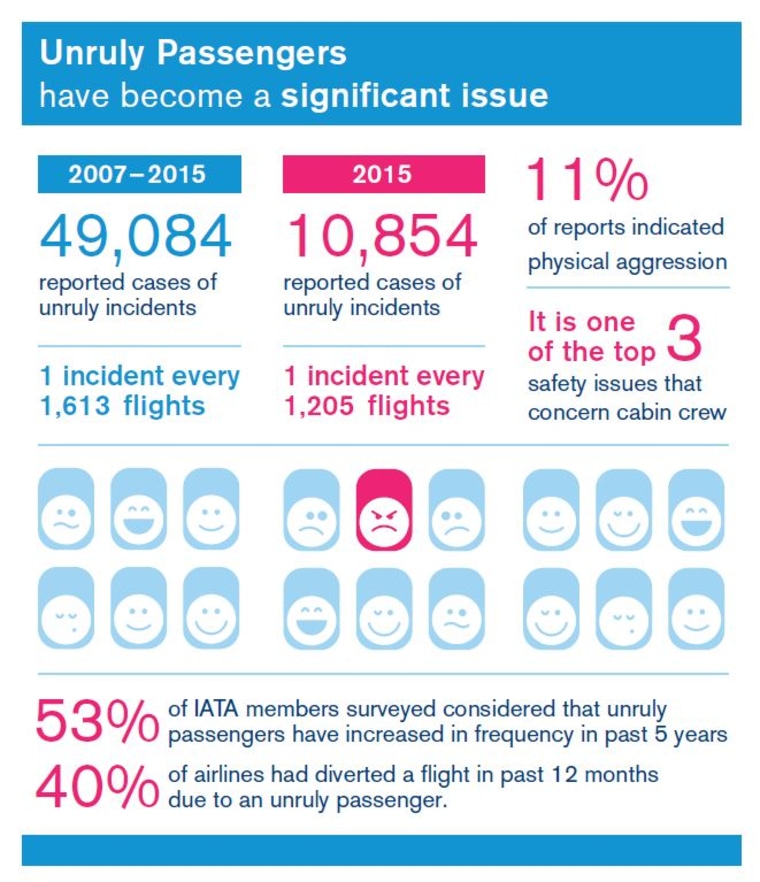 Contrary to popular opinion, in the United States, reports of unruly passengers appear to be down. U.S. airlines voluntarily reported 103 incidents of unruly passenger behavior in 2015 to the Federal Aviation Administration, versus 145 incidents in 2014. As of July 31 this year, 31 incidents have been reported to the FAA.
However, IATA's numbers and the FAA's may not be telling the whole story.
"For every person who gets thrown off a plane, there are probably 20 others who should have been taken off but weren't for whatever reason," said Heather Poole, a veteran flight attendant and author of "Cruising Attitude — Tales of Crashpads, Crew Drama, and Crazy Passengers at 35,000 Feet."
Flight attendants try to keep situations from getting out of hand, said Poole, so they don't have to divert a flight and ruin a planeload of passengers' plans.
"Not to mention diversions are costly. Nobody wants to go in on a day off to talk about what went wrong and what we could have done differently, how we could have handled the situation better."
The same goes for delays.
"So if there's an issue on board most of the time it's easier to let it go instead of waiting on authorities to meet the flight. We put up with so much nonsense it's unbelievable," said Poole.
Still, IATA reports that, globally, 40 percent of airlines had to divert a flight in the past 12 months due to an unruly passenger.
Airlines have guidelines and provide crew training on the responsible provision of alcohol. And in 2014 the airline industry set out a set of core principles for more effective prevention and management of unruly passenger incidents.
However, "The increase in reported incidents tells us that more effective deterrents are needed," said Alexandre de Juniac, Director General and CEO of IATA. "That's why we are encouraging more governments to ratify the Montreal Protocol 2014," which is aimed at closing gaps in international rules concerning unruly passengers.
So far, only six nations have signed the agreement.
"We can't do it alone," said de Juniac.