Travelers seeking destination information, but not necessarily inspiration, have a new, yet surprisingly familiar, resource to add to their research efforts.
On Tuesday, the Wikimedia Foundation, the folks behind Wikipedia, officially launched Wikivoyage.org, an encyclopedic website dedicated to providing free, collaboratively edited content about travel.
"There's a huge global demand for travel information but very few sources are both comprehensive and non-commercial. That's about to change," said Sue Gardner, executive director of the Wikimedia Foundation in a statement.
The site, which originally launched as Wikitravel in Germany in 2006, joined the Wikimedia family in October 2012 and has been in beta since November. Launching on the 12th anniversary of Wikipedia's own debut, the site currently features approximately 50,000 articles on destinations, itineraries and other travel topics. As with its sister site, it relies completely on user-generated content, allows anyone to edit that content and accepts no advertising.
That combination, say observers, could present a powerful tool for travelers and a serious threat to traditional guidebook publishers. In fact, it's not hard to imagine Wikivoyage having the same impact on guidebook publishers that its sister site has had on encyclopedias.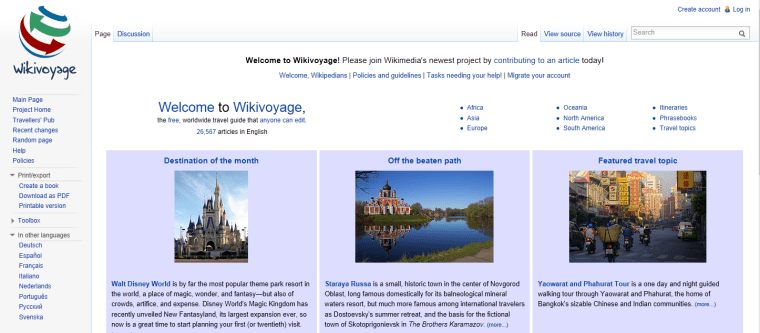 "It's probably not going to make many traditional publishers very happy to have all that content out there," said author and industry veteran Bruce Batchelor, CEO of Trelawny Consulting Group Ltd., in Victoria, B.C. Add in changing consumer habits and closing bookstores, and "it's becoming more of a challenge for them to find their audience," he told NBC News.
Clearly, some of that audience has simply migrated to publishers' digital products but there's no escaping the fact that sales of printed travel guides are in steep decline. According to Nielsen Bookscan, the nation's retailers sold 7.97 million books in the adult non-fiction/travel category last year, a 19-percent drop from 2011 and a 27-percent drop from 2010.
"There's a lot more product in the market," said Batchelor. "Anybody can produce the material so (publishers) are losing the advantage they had in terms of being content gatherers and curators."
Not necessarily, counters Brice Gosnell, vice president of publishing for Lonely Planet.
"It's been 10 or 12 years since we've had this sort of competition and what we've found is that people still want branded, trusted content," he told NBC News. "With user-generated content, you don't know who it is and you don't know what their experience is."
Nor is Wiki-style content likely to provide much in the way of travel inspiration. As anyone who has used Wikipedia well knows, the site doesn't exactly sing (nor is it designed to). With both Wikipedia and Wikivoyage, the prose is intended to be objective, which means it's often unintentionally dry as a bone.
That's fine if you're researching, say, iguanas, says Gosnell, but less so for travel, a subject that people feel passionate about and approach very personally.
"You're not going to get the tone or the personality that you do from brands that people having been using for years," he said. "One of the things we pride ourselves on is being a familiar voice that people are comfortable with."
"The key thing is guidance," said Mark Henshall, longtime travel editor and now content director at Propellernet, a UK-based digital agency.  "If it's just information you need, then yes, Wikipedia does a good job of that. The difference with travel is that people are looking for personally meaningful stories, not just a laundry list of information."
Ultimately, says Henshall, we're in the early days of this scenario and it's premature to suggest that travel guidebooks will go the way of encyclopedias.
"Wikivoyage is a good addition but that doesn't mean people will end their search there," he told NBC News. "People make travel decisions based on friends, family, the blogosphere or something they see on TV. It's a complex stream of information and for that reason they're looking for content that demonstrates authority, trust and expertise.
"Travel is a big space and Wikivoyage may increase that space rather than just taking a bigger part of the same pie."
Rob Lovitt is a longtime travel writer who still believes the journey is as important as the destination. Follow him at Twitter.