Earlier this week, TripAdvisor trumpeted "a new user-generated content milestone" of 150 million reviews and opinions on its site.
And while most of those listings are likely quite useful, those for a suddenly hot "attraction" in Glasgow, Scotland are not.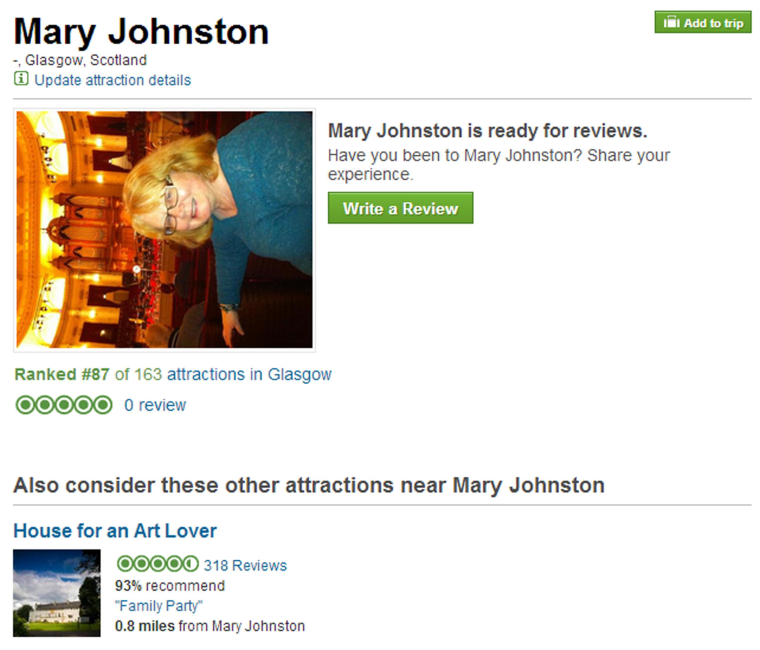 Mary Johnston, 60, does live in Glasgow, but she has no idea how her name and (sideways) photo showed up in TripAdvisor's listings of museums to visit in the city.
"I didn't set it up. It must be a bug in the system or it is malicious," Johnston told The Scotsman. "I'm already a user and I went on recently to review somewhere in Amsterdam so it may have happened then."
Intentional or not, once Johnston was entered into the TripAdvisor database as an attraction, the software automatically asked users if they'd "been to Mary Johnston?" and invited them to share their experiences, as Johnston was "ready for reviews."
Noticing the glitch, several people did weigh in with comments ranging from "This attraction wasn't in the guidebooks but is fun for all the family if you're a fan of people called Mary or rotationally-challenged photos" to "If you visit just one Mary on your next trip to Glasgow, make sure it's Mary Doll!"
The starred reviews placed Johnston at #87 of 163 TripAdvisor attractions in Glasgow.
On Thursday afternoon both Johnston's photo and the reviews had been removed from the TripAdvisor site, but her name was still included as an entry in the "museums" category.
"This was not an intentional listing on her or our part," TripAdvisor spokeswoman Julie Cassetina told NBC News via email. "Once we discovered the erroneous posting we stopped further reviews being posted. The page should be down tonight."