Between true service animals, "emotional support" pups, pets, K-9 teams and the trend of having therapy dogs stop by to interact with jittery travelers, airports are becoming quite canine-centric.
But working or just traveling, at some point all those dogs need to, you know, "go."
For years, the only option has been to take a pooch outside the airport to a designated pet relief area, then deal with the hassles of going back through security screening.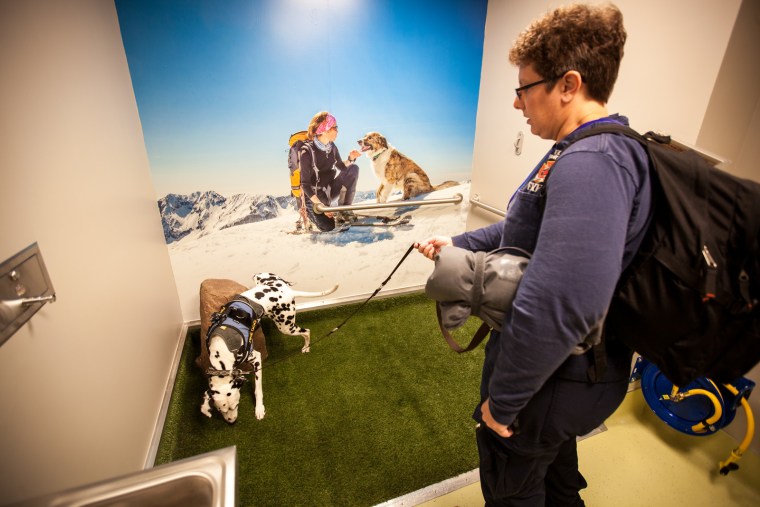 But thanks to a Department of Transportation ruling aimed at making relief areas more accessible for passengers traveling with service animals, U.S. airports serving over 10,000 passengers annually must now offer at least one pet relief area in the sterile, or post-security, area of each terminal.
Since many airports have more than one terminal, that means over 800 post-security animal relief areas nationwide, at a cost of what the agency estimates will be about $88 million over 20 years.
A handful of airports, included San Diego, Washington-Dulles, Seattle, and Minneapolis-St. Paul had at least one post-security animal area even before the DOT's summer deadline.
But now, one by one, airports in the rest of country are rolling out their post-security pet potties and promoting their pet-friendly assets.
In early October, for example, Lambert-St. Louis airport in Missouri debuted wheelchair-accessible, fake fire hydrant-equipped indoor Service Animal Relief Areas (SARA) in each of the airport's concourses.
"This is another step in improving the travel experience for all of our passengers, especially those who rely on service animals to travel," said Lambert Director Rhonda Hamm-Niebruegge. "Now those passengers with long layovers or connecting flights can more easily accommodate their animals with these new facilities without the hassle of going back through a security checkpoint."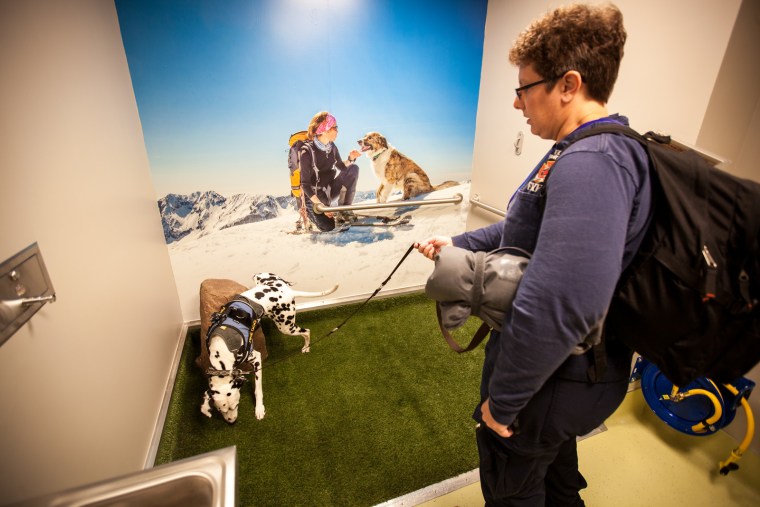 On August 5, National Work Like a Dog Day, Los Angeles International Airport added 7 indoor pet relief stations to the one post-security pet station it already had.
"We're committed to providing airport guests – whether two-legged or four-legged – with an exceptional travel experience." said Deborah Flint, chief executive officer of Los Angeles World Airports (LAWA).
Flint noted that the new relief station for animals are not only convenient for passengers traveling with pets or service animals, but also serve the therapy-dog teams that visit the airport and the many K-9 teams that work with airport police departments, the Transportation Security Admnistration, U.S. Customs and Border Protection, the U.S. Department of Agriculture and the U.S Drug Enforcement Agency.
And earlier this month, Denver International Airport unveiled three pet relief areas in the post-security areas of the airport, in the centers of concourses A, B and C.
"We know that many of our passengers travel with their service animals or their beloved pets," airport CEO Kim Day said. "Opening these relief rooms on the concourses will provide those furry companions with a comfortable and welcoming area to take care of business before or after a flight."
At DEN, the pet relief areas have artificial turf flooring, a drainage system, an artificial rock and bags and disposal containers for clean-ups.
Each pet relief area also features a wall mural showcasing dogs enjoying Colorado's great outdoors, so pups and people have something to look at indoors while the pup does what it needs to do.