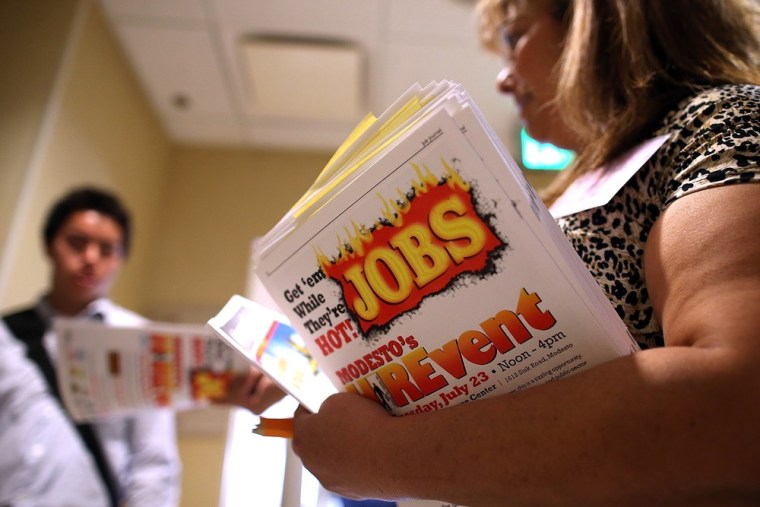 The U.S. economy created fewer jobs than expected in July, with the bulk of the them in areas, such as retail and restaurants, that typically are low-paying.
The Labor Department, in its widely watched jobs report, on Friday said non-farm employment rose by 162,000 and the unemployment rate slipped to 7.4 percent, the lowest in over four years. Gains in employment fueled some of that decline, but the labor force also shrank during the month, robbing some of the luster from the decline in the unemployment rate.
Employment increased in retail trade, food services and drinking establishments, financial activities and wholesale trade. 
The jobs growth, which missed expectations of an increase of 183,000 jobs, was enough to show the labor market continues to expand, but at a sluggish pace.
A broader gauge of unemployment that includes the underemployed and those who have quit looking for work also fell, from 14.3 percent in June to 14 percent in July.
"It's a much weaker number than was generally expected, and it's not troubling but it's a reminder that the labor market remains weak," said Milton Ezrati, senior economic strategist at Lord Abbett & Co.
Previous months' job creation numbers were revised lower, bucking a trend in which the counts mainly have been revised upwards.
The BLS now puts May job growth at 176,000, down from the previously reported 195,000, while June's figure fell to 188,000 from 195,000.
At the same time, long-term unemployment rose, with the average duration of joblessness now at 36.6 weeks.
And wage growth fell: After rising 10 cents an hour last month, average wages fell 2 cents to $23.98 an hour, while the average work week decreased by 0.1 hours to 34.4 hours. 
CNBC's Jeff Cox and Reuters contributed to this report.