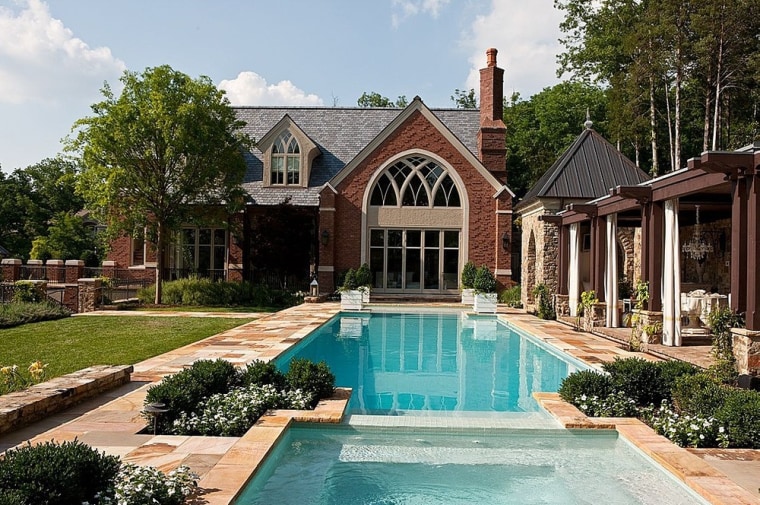 1224 Waterstone Blvd, Franklin, Tenn.
For sale: $5.89 million

Turns out the old adage "You can't judge a book by its cover" applies to real estate as well. This gorgeous estate in Tennessee has traditional-style exterior architecture that makes its ultra-modern wine cellar inside quite a surprise.
But that's exactly how the design was intended, says homeowner and interior designer Jamie Beckwith. "The main house is much more traditional," she said. "The pool house was experimentation for me, a place where I could try things as a designer I had never tried. It was a place to be uninhibited."
The main house was built in 2001 and features a classic interior and exterior. Measuring 12,398 square feet, the home has 7 bedrooms and 6.5 bathrooms decked out in high-end finishes. The pool house, like the main house, has a Gothic-style exterior but with a major modern twist inside.
"I wanted the addition to not look like an addition, but when it came to the interior design in the pool house I wanted it to feel like you were transported somewhere else," explained Beckwith.
The wine cellar sits on the bottom level and was custom-designed for the space. Deciding she wanted to work with acrylic, Beckwith had the cellar built on site.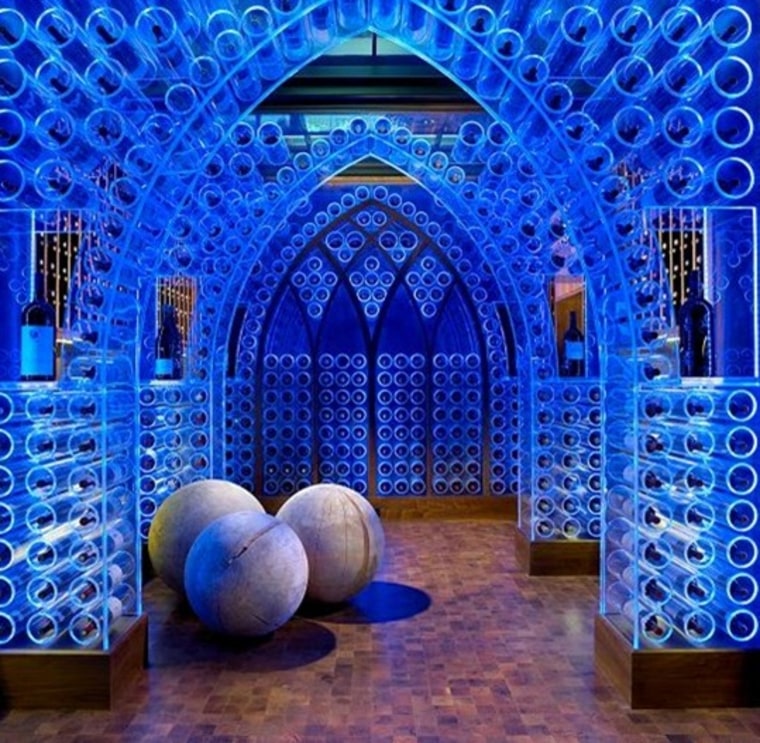 "When I talked to the people about doing this, they were like 'what?' " Beckwith said. "I worked with a manufacturer of that material and sketched my design and figured that I wanted the circular holes to hold the wine and making sure it would hold different formats of wine. There was some engineering to make sure the material would hold the weight ... that was a bit of a process as well."
The final display is a cellar where you can view the wine from all angles, including above. LED lights are built into the acrylic and can be changed to different colors. The light isn't kept on all the time, as wine doesn't like extreme temperatures or light, and Beckwith put in a retractable dark screen that rolls across the acrylic top.
"The light is just for parties or when we entertain. That was more of having a bit of fun," Beckwith said. Playing with light was something she tried to do as designer. She also added fiber optic lighting in the floor of the pool house's steam room as well as lights beneath cabinets.
"I feel like a lot of homeowners don't take advantage of the light features out there," she said. "The recurring theme was to try and find interesting and unique ways to play with lighting in the space."
Related: