Few cars do a better job of turning heads than the little Volkswagen XL1, a 2-seater that might look more appropriate on the set of a science fiction movie than today's highways.
As sleek as the most aerodynamic aircraft and weighing but a fraction of a conventional vehicle, VW's extreme machine was designed to push the limits of fuel efficiency – the XL1 delivering a mind-boggling 261 miles per gallon.
Unveiled as a concept vehicle at the Geneva Motor Show last winter, the overwhelming public response convinced VW to put the little car into production. That said, only 250 will be built – and considering all the advanced technology used in the XL1 – the maker will likely lose money on every one. But officials say the project will offer a chance to see what it takes to deliver fuel economy numbers only recently believed impossible.
More from The Detroit Bureau: "Lola" Tops 200 mph, Sets EV World Speed Record
"It's efficient, yes, but it also has to be practical," emphasizes Steven Volckaert, the program manager for the VW XL1, which he refers to as "my baby," and notes has taken a decade to bring to production.
There's room in the streamlined car for two, though the seats are offset to narrow the body and reduce aerodynamic drag. The exterior panels and the underlying platform are made from super-strong and ultra-light carbon fiber – material more commonly used in Formula One race cars and high-priced exotic sports cars, such as the $4 million Lamborghini Veneno also unveiled at the Geneva show. All told, the 2-seater weighs in at a mere 1850 pounds.
Under the skin, the Volkswagen XL1 is powered by a pint-sized diesel-plug-in hybrid powertrain. It's not a muscle car, at just 85 horsepower, but it accelerates at an acceptable clip, topping out at 99 mph.
More from The Detroit Bureau: Ford Slings Mud – and Rocks – at Ram With New F-150 Tremor Pickup
The limited-edition can be quite noisy when the diesel engine fires up. And there's minimal interior space and barely room for a backpack in what passes for a trunk. So, even at 261 mpg, few expect a vehicle like the XL1 would have mass market appeal.
But many of the basic features will show up on production vehicles from VW and other makers racing to reach increasingly stringent global fuel economy mandates, such as the 54.5 mpg Corporate Average Fuel Economy standard phasing in between now and 2025 in the U.S.
Cutting weight is a particularly big industry goal, as a rough rule of thumb suggesting every 100 pounds less mass means one more mile per gallon. VW trimmed 250 pounds off the weight of its latest Golf hatchback and Land Rover sliced 700 pounds from the redesigned Range Rover SUV.
More from The Detroit Bureau: High-Performance, High-Mileage, VW's GTD Diesel Does Both
How much further can manufacturers go without major downsizing? Many makers are switching from traditional steel to lighter aluminum. They'd like to opt for even lower-mass carbon fiber if costs can come down. Expect to see the composite material used on the new BMW i3 electric city car debuting in 2014.
Conventional internal combustion engines, whether gas or electric, aren't about to go away. And new technologies, such as turbocharging, advanced transmissions, variable valve timing and direct injection – where fuel is squirted directly into the cylinder – means a vehicle like the 2014 Chevrolet Corvette Stingray, despite making 455 hp and launching from 0 to 60 in 3.8 seconds, yields fuel economy that once would have been impressive in a subcompact.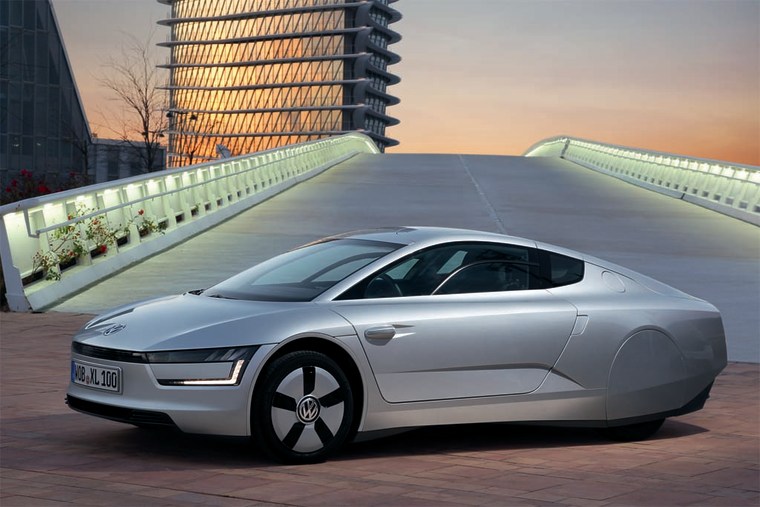 But there's a limit to how much further makers can go on gas or diesel, so battery power is all but certain to play a major role in meeting the 2025 CAFE standard.
Once consigned to a quirky niche, hybrids have gone mainstream, most makers now offering several gas-electric models. And plug-ins are likely the next big push. Vehicles like the Chevrolet Volt allow a vehicle to run in battery-only mode for modest commutes, an onboard gas engine kicking in for longer trips.
That's a key advantage over pure battery-electric vehicles, such as the Nissan Leaf or Ford Focus EV, due to their limited range and long charging times. But new high-speed chargers, capable of giving an 80% "refill" in 20 minutes, could soon dot the landscape and increase the battery-car's appeal.
The VW XL1 also underscores the industry's interest in reducing wind drag. Today, any good designer "has aerodynamic solutions in mind" the moment they begin work on a new project, explains veteran GM designer John Cafaro. And the cost is virtually free, he says, as he leads a tour of the automaker's mammoth wind tunnel at its sprawling technical center in the Detroit suburb of Warren, Michigan.
More from The Detroit Bureau: Americans Blame Oil Companies for Rising Prices, Demand Alternative Fuels
VW hasn't yet said what it will charge for the XL1, though it's expected to be significantly more expensive than a conventional car of that size. Most makers expect to struggle to bring the cost of high-mileage technologies down to the point where consumers can afford them – even after working in savings on fuel.
But the industry may have no choice if they hope to both meet government mandates and customer demands. The little XL1 is a first step in what is likely to be a challenging journey for automotive designers and engineers.
More business news: