When Iva Pawling and Tim Morse, co-founders of the stylish inner-wear brand Richer Poorer, needed to map out their marketing and business strategy for this year, they came up with one wild idea. Pawling, along with five like-minded business owners, would venture to the island of Honolulu for six days of adventure and bonding over business.
Pawling and Morse were confident that their innovative approach to influencer marketing would be a huge success. Social influencer marketing had become one of the biggest trends in digital advertising for consumer-facing brands. However, their internal team was not so convinced.
"They thought we were crazy. Mostly it was like, 'Yeah, you just want to go to Hawaii with a bunch of people,'" said Pawling. The Richer Poorer staff simply did not understand how this trip to paradise would actually make marketing sense.
Failing Forward with Influencer Marketing
What is social influencer marketing? Social influencer marketing strategies typically leverage the power of people with significant influence in the social space. From YouTube sensations to stars of Instagram, brands are paying social media celebs to push products or promote services.
When Pawling and Morse first decided to give influencer marketing a go, they struggled with the concept. "We worked with an influencer one time who was lovely and she came into the office and shot a look book," said Pawling.
The problem was that the marketing initiative didn't feel authentic. "This isn't a great execution because the jig is up," said Pawling. "Everybody knows that influencers are getting paid to post about products." So, the founders went back to the drawing board to try and figure out another approach to this strategy.
Re-Imagining Social Influencer Marketing
"We started flipping the way we were looking at this," said Pawling. The two considered various people with significant influence in the social space. They landed on other brand owners, just like themselves.
"They have followings and great customer bases," said Pawling, "And if we are brand friendlies, let's kind of cross-pollinate our customer bases and create something great."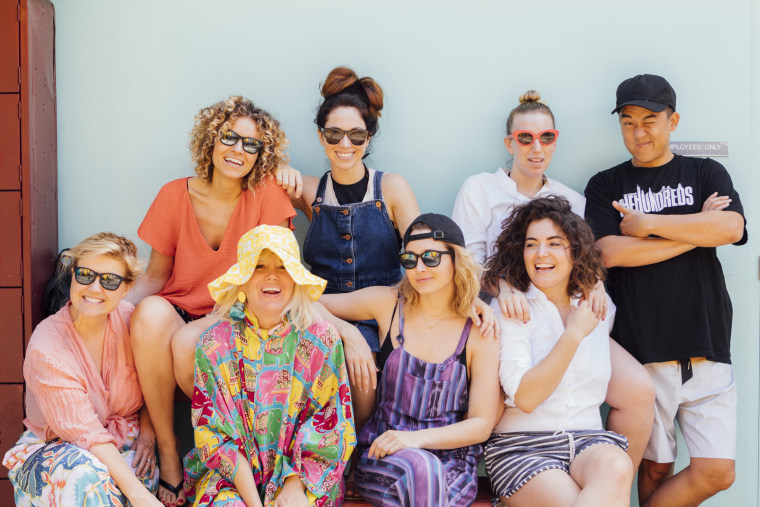 Grow Fast with Social Media Branding
That concept evolved into the Richer Poorer "Just More" trip. The plan? Take a small, highly curated group of fellow entrepreneurs on a vacation, who not only had significant social media followers but who also embodied the positive, can-do spirit of the brand.
The hope was that by creating an incredible experience, those CEOs would in turn, post about the trip.
Pawling and Morse decided to go for an eclectic mix of brand owners that included: Bobby Kim, co-founder of the streetwear line The Hundreds, Ellen Bennett of Hedley & Bennett aprons, and Jeni Britton Bauer of Jeni's Splendid Ice Cream.
Building a Collaborative Business Community
"You're building a community, that's exactly how Iva thinks," said Britton Bauer. "By putting these people together whom she knew would have a lot in common and would truly become life-long friends, they would end up supporting each other in many ways down the road. That's much more important than investing in a flash in the pan, one-shot influencer kind of thing."
"We're all workaholics, so the idea of us leaving to Hawaii was like so insane and crazy," said Bennett. "We learned so much. To be able to put your shield down and say, 'Hey I need help with that,' to someone who also understands the issues you're going through is really cool."
The island adventure wasn't entirely all shop talk. From surfing lessons to tropical hikes, the group explored the many things that Honolulu has to offer.
The Price of Social Influence
Richer Poorer covered the $25,000 for the travel expenses, but none of the business owners were actually paid to post about the trip. There were no contracts involved either. "Everyone knows 'Hey, Richer Poorer is paying for this' and this is something we put together as a brand initiative," said Pawling. "So everyone is kind of under the assumption that we should be posting content and we should be tagging each other."
Pawling wanted the posts to be completely authentic, with an organic introduction to the Richer Poorer brand. "There was no product insertion whatsoever."
The trip was a huge success, with the Richer Poorer e-commerce site receiving millions of impressions as a direct result. Pawling and Morse were also able to launch post-trip marketing initiates like "Just More" giveaways, giving them direct access to hundreds of thousands of potential new customers.
"It was amazing, with the follower growth and all of those really easy metrics," said Pawling, "But the comments and engagement from people, like 'Wow, this is such an incredible thing that Richer Poorer would put this together,' it was an amazing feedback loop for us."
Morse sees the trip having a significant impact on the success of future marketing initiatives. "It builds some momentum like 'What're they gonna do next?'" he said. "I think with the "Just More" trip we set the bar for how we are going to market, going forward."