Jeni's Splendid Ice Creams with its trademark orange and white pint container is renowned for its artisanal ingredients and unique flavor combinations. The brand was built on quality and changing the way people think about American ice cream.
"We believe if we are making the world's greatest ice cream, people will find us," said CEO John Lowe. "And our North Star has to be making the world's greatest ice cream."
Lowe joined the Jeni's team in 2009. Under Lowe's guidance, the company grew steadily and became a national brand. Together with founder Jeni Britton Bauer, Lowe increased the revenue in their scoop shops, helped generate healthy nationwide online sales, and brokered retail distribution deals with high end supermarkets.
Then everything came to a grinding stop.
A health crisis hit and threatened everything the company stood for.
"We were informed that one pint of our ice cream in Lincoln, Nebraska, tested positive for listeria," said Britton Bauer. "That moment lives on in my memory as the sort of before and after moment for me. I think there's stress, and then there's crisis. And crisis — when there is a before and after — you go forward in a whole different way than you were before."
Overcome crisis with transparency
The news was devastating. Food contaminated with listeria could kill someone. With Britton Bauer's name on each and every pint, this problem struck directly at the heart of this business built on being the best.
Lowe and Britton Bauer decided the only way forward was to fully tackle the problem — and to do it with complete transparency.
"We decided to pull all of our ice cream — not just that lot, not just that flavor, but everything, and shut down our scoop shops," says Lowe. "We couldn't — fathom the idea that somebody could walk into our scoop shop the next day and be injured."
The Jeni's team also released a blog post about the recall on their website.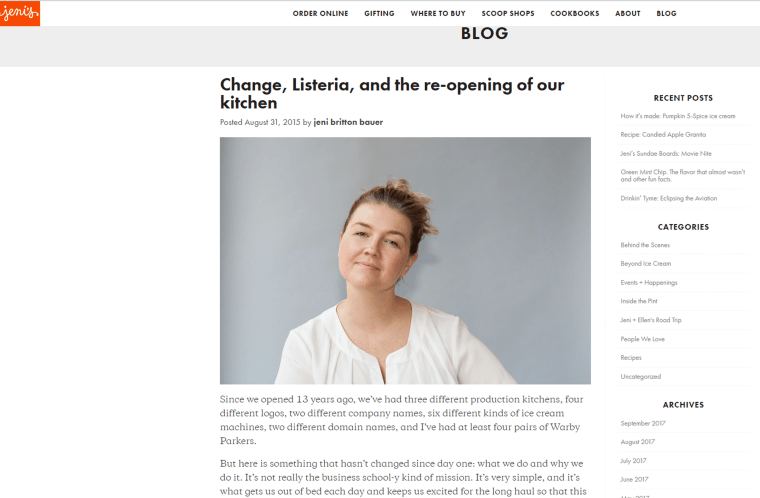 "We overreacted, some would say," said Lowe. "We thought it was the only way we were going to sleep that night."
Jeni's commitment to complete transparency and damage control was costly. However, Britton Bauer and Lowe felt that it was necessary to ensure that the business could come out of the listeria scare stronger than before.
"We had absolutely no idea how much money it would cost us," says Lowe. "The fact of the matter is it cost us millions. But there wasn't an alternative."
Lean on your company's strengths during a crisis
With the very survival of the company in the balance they relied heavily on what Britton Bauer calls talent, hustle and guts — qualities they always looked for in their employees and partners but never expected would be tested like this.
"You want to say you've got talent, hustle, and guts," says Britton Bauer. "You want to tell that to the world, but you don't really know until you prove it, right? Well, this was our proving it moment and we really came together and figured it out."
Lowe says that at the time he couldn't see the company surviving the incident without bankruptcy.
"We're very fortunate," says Lowe. "We threaded the needle multiple times to find financing and find backers to keep us afloat during that time."
Supply chain management in a crisis
At the operational level, crisis management started with their suppliers. Like the employees at Jeni's, they had to have the same level of talent, hustle and guts to ride out the storm.
Mike Hirsh owns Hirsh Fruit Farm and has worked with Jeni's for almost 10 years. He had a longstanding arrangement to grow the berries that go into Jeni's brambleberry crisp ice cream. When the news hit, he admits he was nervous.
"I'm thinking, 'What am I gonna do?'" said Hirsch. "'What am I going to do with all these strawberries? What are we going to do in blackberry season, raspberry season? What's going to happen?'"
Britton Bauer and Lowe didn't leave Hirsh hanging.
"They were in constant contact with me about the steps that were being taken," said Hirsh. "They assured me immediately, 'Don't worry. We're still committed to you.'"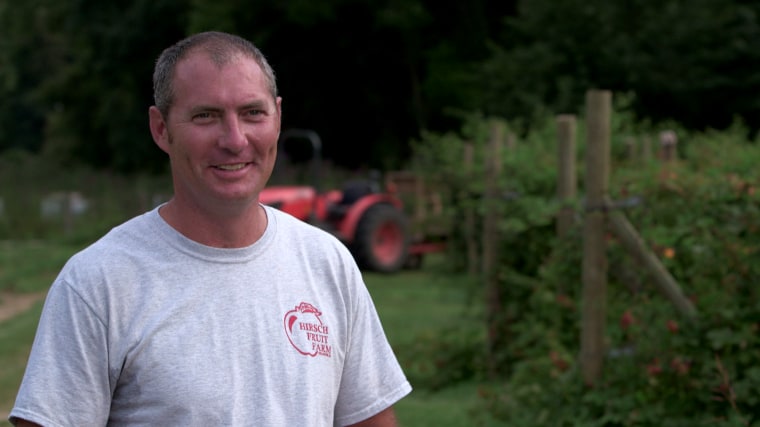 According to Hirsh, the Jeni's team put his concerns to rest within seven days of the scandal.
"They were taking the steps," said Hirsh. "They were going to get through this, and I was going to stick with them. We're in it for the long haul. And so here we are."
With the support of their suppliers shored up, the next step for the Jeni's team was to take a hard look at all of their production processes to figure out what happened.
"Then we started testing and realizing that, 'Okay, it came from our kitchen,'" said Britton Bauer. "We needed to figure that out."
With so many local ingredients — from farm fresh milk to blackberries to whiskey — it meant Britton Bauer's team need to carefully examine how they brought those items into their factories and what they did with them in the kitchen.
"Listeria, by the way, is everywhere," says Britton Bauer. "It's in the dirt that's on the strawberries, and we're bringing entire fields of strawberries into our kitchen. It's in the air, it's airborne. It surrounds us constantly. But it's very dangerous, of course, if it gets into food."
According to Britton Bauer, she and her staff believed that they were following all the health regulations that would have prevented an outbreak before the incident. However, they changed all of their processes so as to avoid any other crises.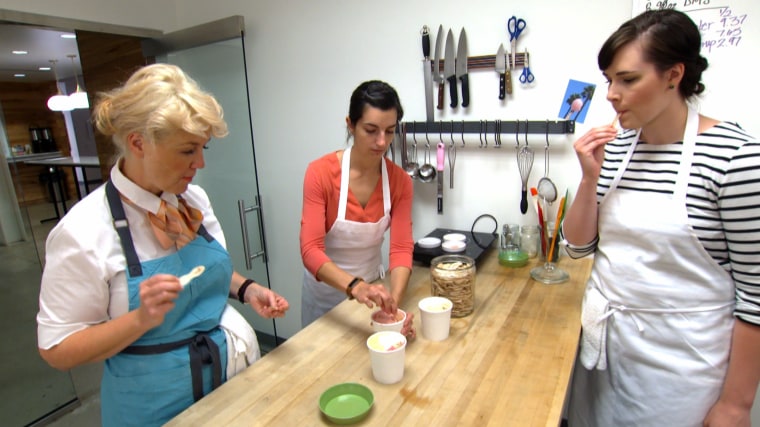 "We changed everything we do," said Britton Bauer. "We did it, I believe, in record time."
Britton Bauer and Lowe hired a former food safety expert from Ben & Jerry's to oversee their production. They also decided to do something unprecedented in the industry. They began to test every single batch of ice cream before it went out to be certain a listeria outbreak could never happen again.
"It's created a sleeker organization that's ready to go forward in a way that I don't think we ever would've really been able to do had we not had this," said Britton Bauer.
"We're a better ice cream company — because of what we went through there," says Lowe. "And it has enabled us to sort of — take advantage of the crisis and think about the way we operate as a company. And we've come out of it stronger in many ways."