For anyone accepted to the United States Air Force Weapons School, the nearly six months that they spend at the prestigious program is life changing.
New students receive over 400 hours of the most rigorous, graduate-level academics. They also perform combat training missions that demand flawless skill sets at the highest level (literally). Weapons Officers are tactical experts and have learned the most advanced integrated combat skills across land, air, space, and cyber domains. These airmen are instructors of the Air Force's instructors, and many of them go on to serve as advisers to the military's leaders.
According to the Weapons School, the training that students receive allows them to be some of the most effective leaders around — not only in the military, but in corporate business settings and entrepreneurship as well.
"We really want them to embody leadership traits like being humble, approachable, and credible," says Col. Michael Drowley, former Weapons School Commandant. Drowley believes leaders who have the highest level of integrity and possess these characteristics can consistently deliver successful results in the military, business, and life.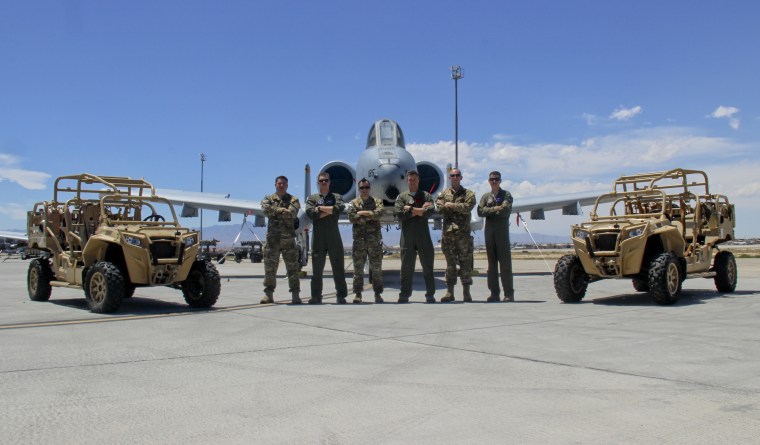 Just a 10 minute ride from Las Vegas, Nellis Air Force base has been home to the Weapons School since 1949. Twice a year, approximately 100 students graduate from the program. Although these students are some of the Air Force's most gifted men and women, Drowley says that the school is committed to instilling a strong sense of humility in them. Egos must be checked at the door.
"Everybody is fallible. It's part of the learning process," says Drowley. "If you have somebody that doesn't own up to mistakes, that immediately causes you to lose trust."
Students at the Weapons School also receive master classes in approachability and the importance of being able to connect with people. "We don't want to spend 15 to 16 hour days filling someone with instruction, filling them with techniques, if it just stays resident with them," says Drowley. "We want others to seek them out."
However, Drowley notes that approachability and humility only matter if students can build a strong track record of credibility. That credibility, he says, comes from one thing — delivering stellar results.
"It doesn't matter how great a leader you are," says Drowley. "It doesn't matter how much connectedness you have, as far as being humble and approachable, if you don't deliver results."