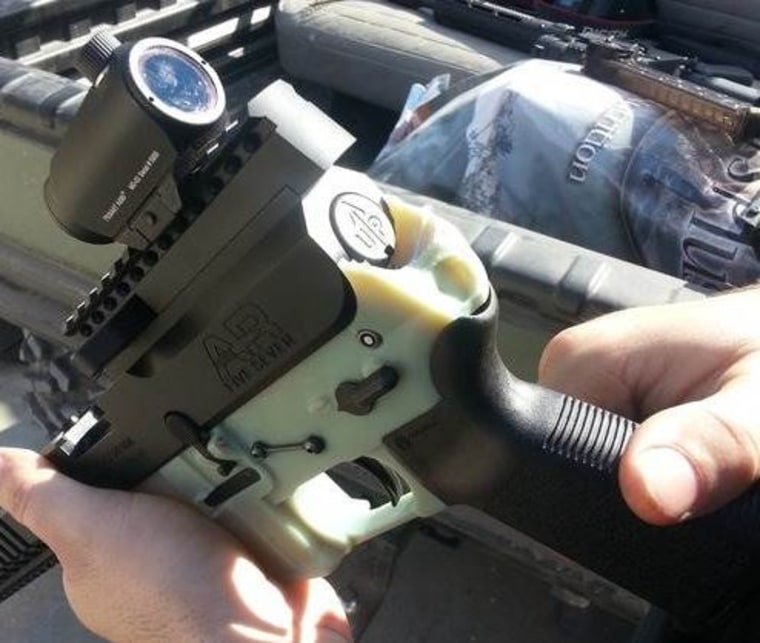 It printed a gun that shot six times before falling apart. It crafted jewelry, custom prosthetics and spare machine parts. And, perhaps unbelievably, it spit out living embryonic cells.

3-D printing, limited only by our imagination, is undergoing a patent boom. Goldman Sachs recently cited 3-D printing as one of eight trends poised to disrupt industries. In the last decade, the Patent and Trademark Office has received more than 6,800 patent applications related to 3-D printing, also known as additive manufacturing. By one estimate, the global market reached $2.2 billion last year—up 28.6 percent from 2011.
"The last time I saw this kind of gold rush for patents was during the dot-com boom" of the late 1990s, said Peter Canelias, a patent attorney based in New York.
But new technology raises questions and poses risks.
3-D printing is the "perceived right of public access to this technology," said Terry Wohlers, co-author of a recent report from consulting firm Wohlers Associates. Some groups advocate that 3-D programs and software should be "open source" and available to all users for the sake of innovation.
There's also concern there will be knockoffs.
From a smartphone cover to a replacement screw for a broken household item, soon we may be borrowing designs from the Internet and printing them ourselves.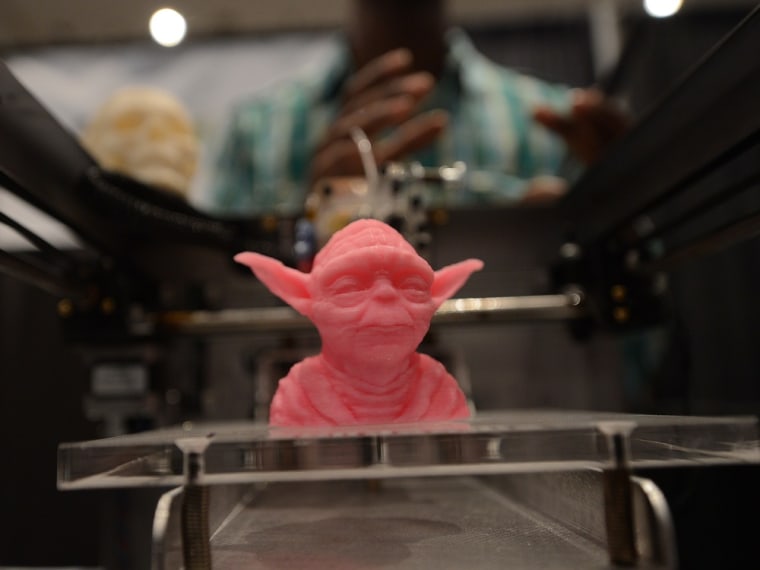 "Additive manufacturing technology has the potential to rewrite the rules for how we think about product liability," the Wohlers report said.
(Read more: 10 ways 3-D printing will blow your mind)
Temptation to print knockoffs
"While the potential for legitimate uses of this technology is breathtaking, such as the production of custom prosthetic limbs at a fraction of the cost of standard manufacturing, additive manufacturing also presents a number of potential challenges," said Teresa Rea, director of the Commerce Department's Patent and Trademark Office, at a January meeting on additive manufacturing hosted by the Patent and Trademark Office.
(Read more: How technology is reinventing the prosthesis)
Its growing affordability has made the technology accessible to smaller businesses, artists and consumers. Several retailers have unveiled sections dedicated to 3-D printing, including Amazon, Staples and, most recently, UPS. 
"The entry barrier for infringers is modest, especially as technology improves and prices fall," Rea said. "As a result, we should anticipate that this will be a growing challenge for right holders and law enforcement."
Innovation: From mass production to customization
Growing pains with a new technology is nothing new. The debut of printed copies a few decades ago sparked cries of the death of publishing and books. American inventor Chester Carlson made his first xerographic image—a precursor to the modern photocopy—in Queens, N.Y., in 1938.
And if the photocopy and other innovations such as the Ford Model T showcased mass production, 3-D printing is about mass customization at reduced costs. You can create a toothbrush holder, tie, surgical instrument—all to your exact liking.
Such customization also appeals to big business. At Boeing, for example, 3-D prints 300 distinct airplane parts at a cost savings of 25 to 50 percent per part, according to an Aug. 7 Goldman Sachs note.
Rising role of the consumer
What sets 3-D printing apart from past innovations is the role of the consumer.
Traditional production and manufacturing have a linear chain of events: an identifiable product designer, manufacturer, distributor and retailer. In additive manufacturing, that chain of events can get capsized.
Take a hypothetical Web-based start-up that sells a digital design for an object to a person or small company. That party, in turn, tweaks that original design before printing the final product.
"Additive manufacturing upends this system by allowing consumers to get involved in the design process," Wohlers said.
With so many people tweaking and borrowing ideas, can intellectual property related to additive manufacturing even be enforced? Experts say patent history may offer some clues. As previous patent battles related to the Internet and pharmaceutical drugs have shown, big companies shell out big bucks to protect valuable patents.
"There's always going to be some infringement below the radar," New York attorney Canelias said. "But to get to commercial scale, patents would be enforced."
(Read more: 3-D printing set to be this generation's 'moon shot' moment)
After all, billions of dollars are at stake.
Additive manufacturing has been around for roughly a decade, quickly outgrowing its roots as a prototype platform and plaything for hobbyists and tech geeks.
Those impressive numbers are dwarfed by the traditional printing market, however.
Xerox has annual revenue of about $23 billion, mostly from traditional copiers and printing, though the company has been supplying the 3-D printing industry with printing heads for the past decade.
Kevin Lewis, head of Xerox's 3-D initiatives, said he believes the additive market will be minor for Xerox.
That doesn't mean industry leaders aren't taking notice of 3-D printing's possibilities. Prototyping has given way to advanced printing of fully functioning parts. The technology is also stretching into printed electronic parts. The idea is to fuse microelectronics with mechanical components. These two trends have "gotten our antenna up," said Xerox's Lewis.
Amid so much potential, it's unclear how insurers will underwrite the liability for open-sourced digital designs, which could be altered and customized. According to Wohlers, "These novel questions will eventually be answered by the manufacturing and insurance industries, and ultimately, by the courts."
—By CNBC's Heesun Wee. Follow her on Twitter @heesunwee
More business news: