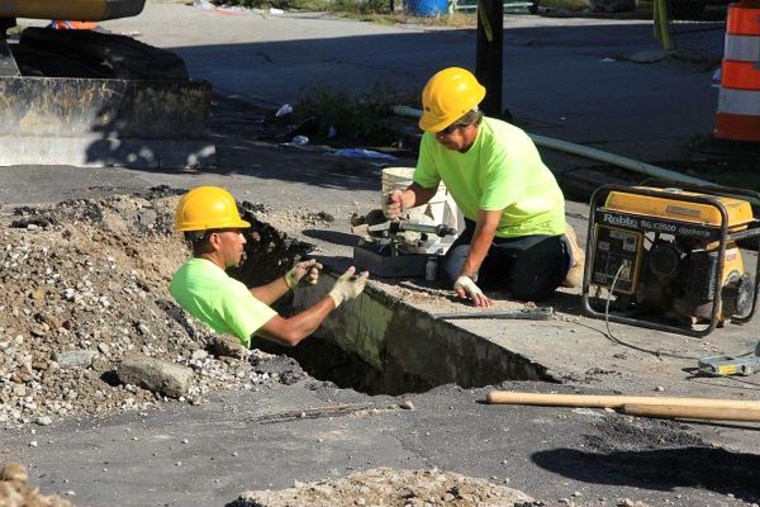 Like a lot of aging American cities, Baltimore is scrambling to plug the leaks in its water system and its budget at the same time.

On a recent cloudless October morning, over the din of a gas-powered paver saw, a city public works crew, clad in lime-green vests and yellow hard hats, finishes burying a section of pipe to supply fresh drinking water to a block of row houses. Nearby lies a section of old pipe, choked with rust and dirt like the clogged artery of a heart attack victim—likely installed just about the time Franklin D. Roosevelt took office and embarked on a New Deal of federal infrastructure spending.
As city officials across the country are painfully aware, those days of federal largess are long done. The recent surge of nearly a trillion dollars in federal stimulus spending has mostly dried up. But leaky water pipes, crumbling storm drains and outdated wastewater treatments are putting major pressure on local government budgets.
"There are billions of dollars needed for these projects that are overwhelming local officials," said Robert Puentes, a senior fellow with the Brookings Institution's Metropolitan Policy Program who specializes in infrastructure issues.
It's not hard to see why.
Most of the pipes under Baltimore's streets were put there before Elvis Presley recorded his first album. Since then, years of deferred maintenance have left behind a vast, leaky network—roughly 20 percent of the 225 million gallons of water flowing into the city from three huge reservoirs never makes it to a water customer.
As Baltimore struggles to stick to a 10-year, $3 billion plan of capital improvements, city officials estimate it would take twice that much money to get the job done.
It's a colossal job. Baltimore has 4,000 miles of buried water pipes; until recently, the city had been replacing just 5 miles of it every year. Officials have set a goal of replacing 20 miles this year and hope to pick up the pace by 5 miles a year until they're eventually installing 40 miles of new pipe annually.
The overhaul also includes more than $100 million for new water meters and billing systems and some $300 million to enclose the reservoirs that supply the city's drinking water.
That doesn't include the cost of repairing flood damage, or the environmental damage from the uncontained runoff to local streams and Baltimore Harbor. Those overflows are coming from a 100-year-old wastewater system of more than 3,000 miles of sewer lines and 110 pumping stations.
The plan to overhaul that system includes an $800 million upgrade of the Patapsco wastewater treatment plant, along with another $1 billion in upgrades to the rest of the system to meet federal wastewater treatment standards.
And even as city crews slog through the hard work of systematically replacing 150 miles of worn-out water mains, they're playing whack-a-mole with emergency ruptures that periodically flood buildings and intersections, bringing traffic to a halt and leaving residents and businesses high and dry with lengthy water outages.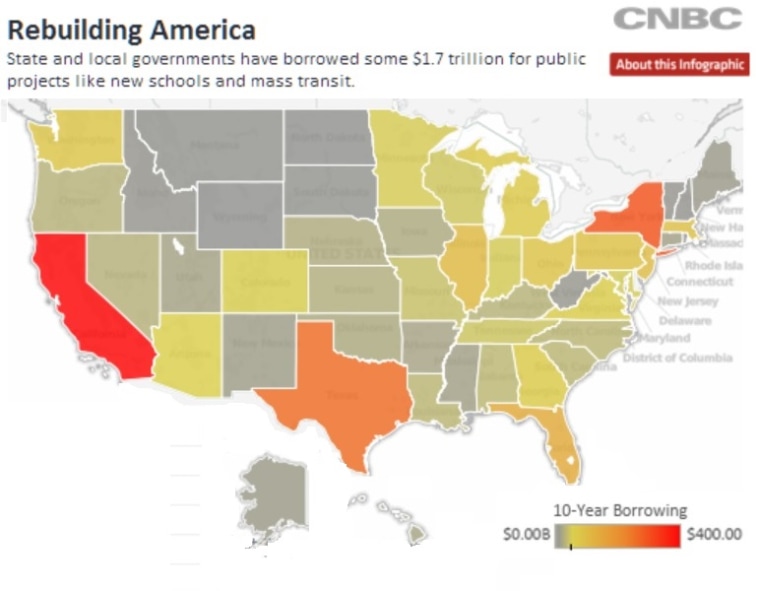 "On some of these pipes, we're doing three emergency repairs a day," said Baltimore mayor Stephanie Rawlings-Blake. "It's hard to keep pace with the emergency repairs as well plan for the longer-term upgrade of the system. That's the challenge: How do you keep pace with the work that we need to do to improve our infrastructure and at the same time deal with the emergencies as they come up?" Amid a serious drought of funds needed to meet that challenge, mayors across the country are asking the same question.
(To view a wide version of this visualization, please see: Rebuilding America)

Of all the categories of crumbling infrastructure, the cost of water projects falls most heavily on towns and cities. Since the Environmental Protection Agency established standards for clean water in the 1970s, the federal government has gradually phased out the ambitious spending required to achieve those goals. Meanwhile, the scope of federal regulations—and the cost of keeping water clean enough to meet them—continue to expand.

Since 1974, as cities have grown and commercial, industrial, agricultural and residential land use have intensified in the watersheds that supply them, more contaminants are now reaching drinking-water sources, according to the Congressional Research Service. Since 1986 the list of regulated drinking-water contaminants has more than tripled to more than 100: a witches brew of heavy metals, disinfectants, organic and inorganic chemicals, pathogens and radionuclides linked to dozens of harmful health effects.
But the rising cost of cleaning up those contaminants has fallen almost entirely on local governments. "Cities are the front lines," said Houston's city controller, Ron Green. "We don't have anyone to pass these unfunded mandates to. The federal government can pass them on to the state, and they pass them on to us. It all stops at the city level."
It's a costly mandate. Over the next 20 years, America's local governments and water districts will need to spend some $380 billion to keep customers adequately supplied with fresh water, according to an EPA estimate updated earlier this year.
It will take another $300 billion to overhaul an estimated 700,000 to 800,000 miles of public sewer mains, much of it installed after the end of World War II, along with roughly 15,000 wastewater treatment plants, according to the American Society of Civil Engineers (ASCE).
But since 1986, federal grants to cities have averaged about $2.5 billion a year—a small drop in the large bucket of cost.

"Everybody wants clean water, and everyone wants the environment to be pristine," said Rawlings-Blake. "But we're not growing money on trees down in the basement of city hall. We have to pay for it." Like water running downhill, that bill is flowing to Baltimore residents and businesses.
In Baltimore a typical family of four has seen their water and sewer bills jump nearly 50 percent since 2008. In July city officials voted to boost water and sewer rates by another 42 percent over three years. Other city dwellers are also paying more when they turn on the tap.
A water price index covering the 20 largest U.S. cities and 10 others around the country has risen 25 percent since 2010, according to Circle of Blue, a global water watchdog group. The group found that the cost of infrastructure repair can have a huge impact on local rates. A family of four using 100 gallons per person per day, for example, pays less than $14 a month in Salt Lake City, which has delayed building a new wastewater treatment plant. The same household is on the hook for nearly $210 a month in Atlanta, which is spending $4 billion to modernize and expand its water systems, according to the group.
Some cities are wringing out savings by stretching existing capacity through conservation efforts. Even as the population has grown, total water use in the U.S. peaked in the mid-1970s. According to the ASCE, per capita consumption has fallen to the lowest since the 1950s, thanks to a variety of modern marvels, including water-efficient toilets. Industrial water use, meanwhile, has fallen as manufacturing has become a smaller share of overall gross domestic product.
Replacing old, leaky pipes also boosts the capacity of the system. Some cities are adding sensor technology to speed repairs when new pipes spring a leak.

"With these smarter systems, you can detect leaks earlier and you can address them sooner," said Brookings' Puentes. But sensor technology further adds to the cost, making it a tough sell for water officials.
With federal spending under a microscope, some members of Congress have tried to establish an "off-budget" federal trust fund dedicated to help cities rebuild leaky water systems—paid for with fees for water use or via penalties for businesses that produce pollutants. But those measures have been sidelined by the fiscal fracas that has paralyzed the federal budget process.
That means cities will have to continue going it alone, as both federal and state support continues to dry up.
In the end, someone has to pick up the tab to keep fresh water flowing and sewers from overflowing, according to Daniel Martin, executive director of the Michigan Municipal League.
"The feds tend to look out for the state," he said. "And the locals are at the bottom of the food chain and reliant upon the state and federal government for all the rules and all the resources and all the revenues. That's been emerging for a long time. And Detroit and other cities that are struggling are the logical outcome of that."
—By CNBC's John Schoen. Follow him on Twitter@johnwschoen.
TUNE IN: All this week at 1pm ET on Power Lunch, Senior Correspondent Scott Cohn travels to five American cities in the midst of crisis—find out if one is yours.
Is the muni bond market about to blow up?