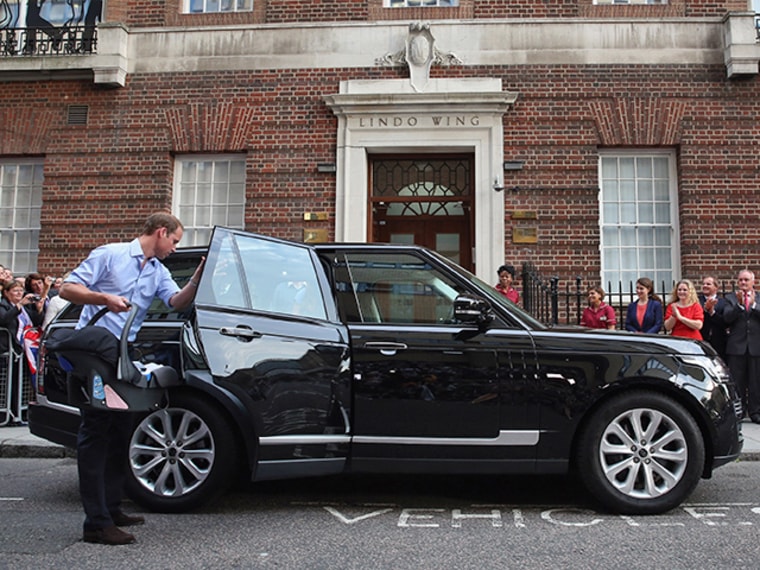 While Prince William and Kate Middleton have yet to give their newborn son a name, the tiny Prince of Cambridge did get his first taste of luxury on the drive home from the hospital in a Range Rover.
If anyone has reason to celebrate the royal birth, it's the British automaker, suggest several marketing and automotive analysts. The Duke and Duchess of Cambridge's emergence from London's St. Mary's Hospital was captured by the world's TV cameras with the Range Rover logo prominent as the royal tot was tucked into his car seat.
"That definitely made a statement," says George Magda, vice president of Herman Advertising, in Fort Lauderdale, and a specialist in luxury marketing. "They could have picked a Bentley or a Rolls-Royce but this definitely says that Range Rover has made it as a true luxury vehicle."
The Range Rover is the top-line model of British-based Land Rover, a company that had far more humble roots when it was founded in 1948. While closely linked to Britain, it was the sort of brand better more commonly associated with British ex-patriates, especially those who needed an extremely rugged vehicle to traverse mud ruts and gravel trails.
While the royal family was long known to use various Land Rovers on their private estates such as Sandringham or Balmoral, Queen Elizabeth is more often seen begin chauffeured in one of the traditional symbols of British luxury, such as the Bentley Mulsanne prepared for the recent diamond Jubilee of her coronation.
The fact that a somewhat more mainstream product served two potential future kings says a lot about the future monarchs, suggests Magda, pointing out that mother Kate Middleton has become a fashion icon with a strong influence on "upper-class soccer moms," both in Britain and the U.S., who will now want to consider a Range Rover as "an accessory to their own lifestyle."
Not everyone is convinced the news of the day will get folks rushing to Land Rover showrooms. "It probably would have been more noteworthy and influential if it wasn't a British brand," contends Stephanie Brinley, auto analyst with IHS Automotive.
In fact, it isn't. Well, not precisely, notes Laura Ries, president of the Atlanta-based marketing consultancy Ries & Ries. "It's a bit of an irony," she says with a laugh, that Land Rover is now owned by the India's Tata Motors which purchased the SUV manufacturer from Ford in 2008.
It's a case of the empire striking back, and "speaks to the time and day we live in," says Ries, "where great brands are no longer based in the country they started in."
But for most viewers – and potential customers – Land Rover remains British at heart and its most exclusive model, the Range Rover, continues to be built in Britain.
In fact, an all-new version of the big SUV was just launched for the 2013 model-year. The prince's vehicle was loaded up with even more luxury acoutrements that can push the price tag of the top-line Autobiography edition into the $150,000 range. At the same time, the maker shaved as much as 900 pounds of mass from the vehicle by shifting to a lighter aluminum body and frame.
"We had a huge responsibility to protect the DNA of this icon," explains Land Rover design chief Gerry McGovern.
After all, not many car brands get the opportunity to provide the first ride to a future king of England.
More business news: