AUBURN HILLS, Mich. — When you've got the smallest marketing budget of the Detroit Three automakers, you have to take risks to get your TV spots noticed. 
That's why Olivier Francois, Chrysler's marketing chief, gambles a lot. He's following successful ads featuring rapper Eminem and movie star Clint Eastwood with a pitch from a fictitious character — egotistical airhead television anchorman Ron Burgundy from the 2004 movie "Anchorman: The Legend of Ron Burgundy." 
And this time, Francois got the talent to pitch a refurbished version of the Dodge Durango SUV for free. Paramount Pictures, he said, bartered work on the commercials by Will Farrell, who plays Burgundy, in exchange for the promotion in the ads of an "Anchorman" sequel that is due out in December. 
"We can't compete on the money," said Francois, a Frenchman behind the gritty 2011 Super Bowl image ad for Chrysler with Eminem in his hometown of Detroit, and the follow-up spot featuring Eastwood talking about America making a comeback. 
Chrysler is by far the smallest of the Detroit car companies and has the lowest advertising budget. Last year, it spent $1.9 billion in the U.S., about 40 percent less than rival General Motors' $3.1 billion, and almost 20 percent below Ford Motor Co.'s $2.3 billion. GM was the second-largest advertiser in the nation, while Ford ranked sixth and Chrysler No. 11, according the trade publication Advertising Age, which uses figures from Kantar Media to estimate spending and rank the top 100 advertisers. 
So in order for Chrysler to compete, it has be creative to multiply the impact of its ads, Francois said at an event Monday at Chrysler's headquarters held to formally unveil the ads.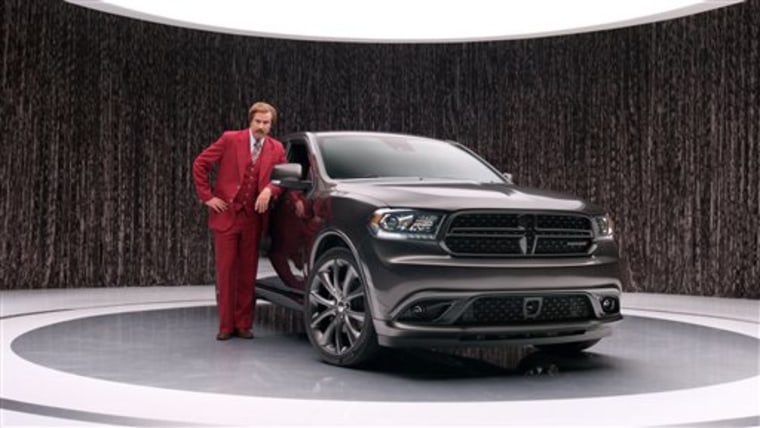 Farrell, Francois said, was given a free hand to write and produce the ads. Initially he was supposed to make three to six television commercials, but ended up with 70, all featuring Farrell in a 1970s burgundy suit. Most of the ads talk about the SUV's gas mileage, power and infotainment technology. Some are funny, such as when Farrell, playing an incredulous Burgundy, talks back to the navigation system, or when he thinks "mpg" is a word instead of an abbreviation for miles per gallon. 
Some of the ads even have sexual innuendo, but those aren't scheduled to make television or the Chrysler Internet sites. 
Francois had never heard of Burgundy, a 1970s TV anchorman in San Diego, or the first "Anchorman" movie. But he was amazed that everyone in a brainstorming session could recite lines from the movie. 
"He's probably the closest fictional character to a real character," Francois said. 
The campaign, scheduled to appear on TV until the sequel "Anchorman 2: The Legend Continues" makes its debut around Christmas, is risky. It could alienate those who didn't see the first movie or those who didn't like it. 
That's a chance that Chrysler is willing to take, to deviate from the standard auto industry ad featuring a car or truck rolling down a highway and a strange voice telling people about the product. 
"If I run an ad with running footage and a couple of stats, it would just get lost," said Tim Kuniskis, CEO of the Dodge brand. "Now I can run an ad with Will Farrell and immediately everyone is going to pay attention, look, notice."