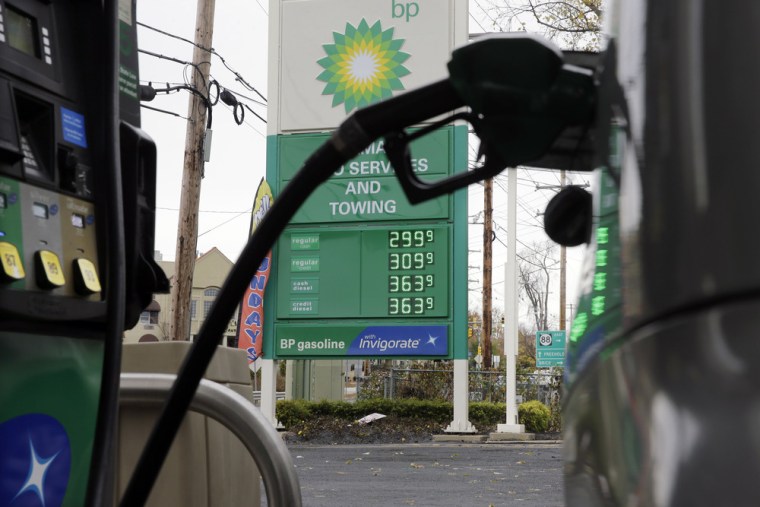 Cheaper gasoline lowered overall U.S. consumer prices slightly in October. But outside the steep drop at the pump, inflation stayed mild. 

The Labor Department says the consumer price index fell 0.1 percent last month, down from a 0.2 percent gain in September. The October decrease was primarily due to a 2.9 percent drop in gasoline costs, the largest since April. Over the last 12 months, overall prices have increased 1 percent, well below the Federal Reserve's inflation target of two percent.
Excluding volatile energy and food costs, so-called core prices rose 0.1 percent in October from September and just 1.7 percent over the past 12 months. The prices for new motor vehicles, clothing and medical care declined last month. But airfares rose a whopping 3.6 percent. 
Meanwhile, consumers shrugged off the 16-day partial government shutdown and spent more on autos, clothing and furniture in October, pushing U.S. retail sales up by the largest amount in four months.
The Commerce Department says retail sales rose 0.4 percent in October, up from a flat reading in September. Sales were held back by a steep drop in gas prices. Excluding sales at gas stations, retail spending increased an even stronger 0.5 percent. 

And core sales, a category that excludes volatile spending on autos, building supplies and gas, also rose 0.5 percent, up from a 0.3 percent gain in September. 
The October retail sales indicate that consumers stepped up spending at the start of the October-December quarter. Their spending accounts for 70 percent of economic activity. 
The absence of inflation in the economy suggests the Fed will probably stick to its monthly $85 billion bond buying program at least through early 2014 as it tries to stimulate demand through low interest rates.
The Fed targets 2 percent inflation, although it tracks a gauge that tends to run a bit below the CPI. Some officials at the U.S. central bank have expressed concern about inflation being too low.
The Associated Press and Reuters contributed to this report.