Thanksgiving is a time for friends and families to gather, share a big meal and reflect on their blessings. Along with that comes the expectation of a full-on turkey dinner, not to mention the stress associated with planning, doing and expense.

So consider the alternatives. Instead of preparing a meal from scratch, you can carry out from a restaurant or grocery, dine at a commercial eatery, or organize a potluck. We can't decide for you which will be the least taxing, but we figured out which will be easiest on your wallet.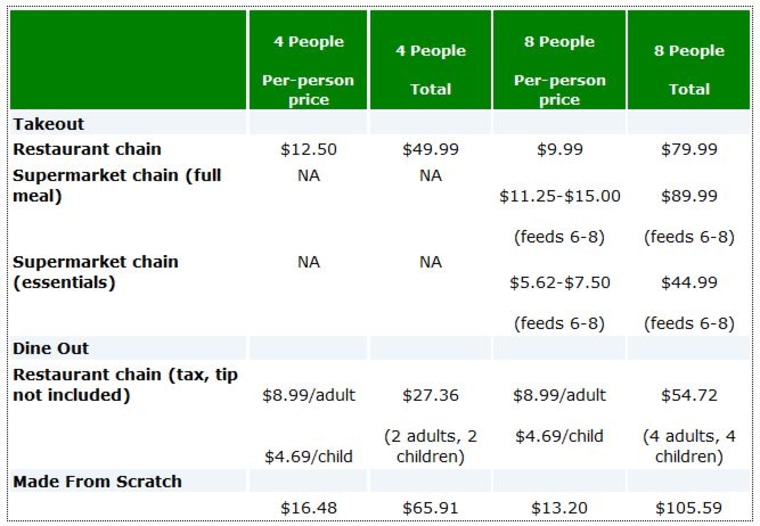 Take-Out
Many restaurants and grocery stores offer cooked meals that include everything to satisfy your guests' Thanksgiving cravings. A quick survey of take-out menus and prices at several national chains found that the average cost of a meal is about $11.25/person for four and $10/person for eight.
Take-Out Option #1: Restaurant   
Roasted turkey breast or sliced boneless ham (4 lbs.)

Bread & celery dressing (40 oz.)

Green beans w/ham (40 oz.)

Buttered sweet corn (40 oz.)

Mashed potatoes w/gravy (40 oz./32 oz.)

Cranberry relish (12 oz.)

Rolls (12)

Pumpkin bread loaf

Pumpkin pie w/topping

Take-Out Option #2: Grocery Store (Full Meal)

One national grocery chain (Kroger) offers a Thanksgiving dinner that serves six to eight people for $89.99 ($11.25-$15.00/person). 
Roasted turkey (13-16 lbs.)
Mashed potatoes (two 24-oz. containers)
Stuffing (two 32-oz. containers)
Gravy (two 24-oz. containers)
Broccoli, rice, cheese casserole (two 32-oz. containers)
Sweet potato casserole (32 oz.)
Cranberry celebration (16 oz.)
Pumpkin pie (two 10-inch pies)
Dinner rolls (12)
Take-Out Option #3: Grocery Store (Essentials)

The supermarket chain also offers just the essentials (again, for six to eight diners), which lowers the price to $44.99 ($5.62-$7.50/person). Remember to factor in a few side dishes and dessert to round out the meal, which will add to the final tab.
Roasted turkey (10-13 lbs.)
Mashed potatoes (two 24-oz. containers)
Stuffing (32-oz container)
Gravy (24-oz. container)
Dinner rolls (12)
Dine Out

To avoid meal prep and cleanup entirely, simply eat out. It's slightly cheaper than take-out for adults and considerably less so for children. Many restaurants offer a kid's meal that can save you $6 or so compared with the cost of take-out.
A Thanksgiving meal at one low-cost restaurant chain (Cracker Barrel) costs $8.99 for adults and $4.69 for children. (Tip and tax not included.)
Turkey and dressing
Baked ham
Sweet potato casserole
Cranberry relish
Choice of vegetable
Beverage
Biscuits or corn muffins
Slice of pumpkin pecan streussel pie
Make from Scratch

To our surprise, a Thanksgiving meal from scratch is the most costly. Based on our calculations (full price on store brands), four people can eat a complete turkey dinner at home for $65.91 ($16.48/person) and eight can enjoy a similar meal for $105.59 ($13.20/person).
Turkey

Mashed potatoes/gravy

Stuffing

Green bean casserole

Buttered corn

Cranberry relish

Pumpkin pie

Rolls

Make from Scratch Savings Tips

Of course, some ingredients will be on sale and some are sitting in your pantry. Either way, your out-of-pocket expenses fall.  
Or, you can purchase a pre-cooked turkey and the side dishes that are the costliest to make and prepare the rest of the feast yourself. A take-out meal that includes mashed potatoes saves you from shelling out $10 to boil and mash them at home, and a store-bought pumpkin pie costs about $5 compared with nearly $15 to bake one from scratch.
Then too, you can delegate responsibilities with a potluck. You provide the turkey or ham and let your guests take care of the fixings.
More from Cheapism:
Cheapest holiday shipping: FedEx, UPS, or the Post Office?
How much can you save by skipping the holidays?