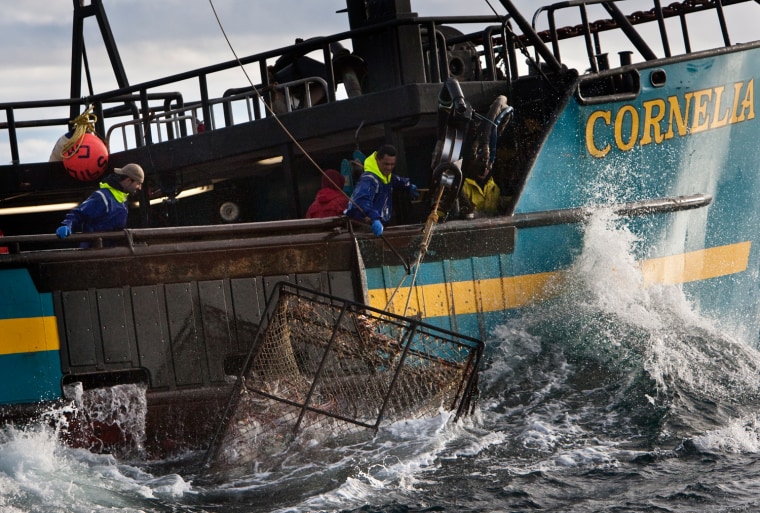 ANCHORAGE, Alaska — Alaska's red king crab fishery, made famous by the Discovery Channel reality show "Deadliest Catch," was finally moving into full swing Friday after returning furloughed federal workers issued the necessary permits. 
Some boats began heading into the Bering Sea from Alaska's Dutch Harbor on Thursday night, said Mark Gleason, executive director of the Seattle-based trade association Alaska Bering Sea Crabbers. 
"Relief is the biggest thing in my mind right now," Gleason said. "I'm just relieved that the Congress has put aside its squabbles temporarily." 
Alaska's red king crab season opened Tuesday, but most of the participating boats had remained at dock. That's because the federal managers who set their individual quotas for the Bristol Bay fishery were among those furloughed in the government's partial shutdown. 
Those National Marine Fisheries Service employees returned to work Thursday after 16 days and immediately went to work issuing the permits, Gleason said. 
Some permits for designated crab-quota monitors were still being processed Friday, said Julie Speegle, a spokeswoman for the National Oceanic and Atmospheric Administration, which oversees the Fisheries Service. 
In Tuesday's red king crab fishery opening, only boats representing a tiny fraction of the total haul were allowed to head out on time because those quotas were assigned by the state. 
Those affected by the 16-day shutdown were crabbers on 80 other boats involved in the much larger harvest. 
Crabbers have been anxiously waiting to head out, saying a late opening could severely cut into their profits domestically and from the lucrative holiday market in Japan. 
Related story:
'Deadliest Catch'-22: Shutdown may ground crabbing fleet, spoil industry's richest month