After British Airways lost his father's luggage, Hasan Syed didn't just tweet his complaints at the company. He paid for a "sponsored tweet" to broadcast his frustration directly to British Airways 302,000 Twitter followers.
"Don't fly @BritishAirways," Syed tweeted Sunday following a trip from Chicago to Paris this weekend, "Their customer service is horrendous."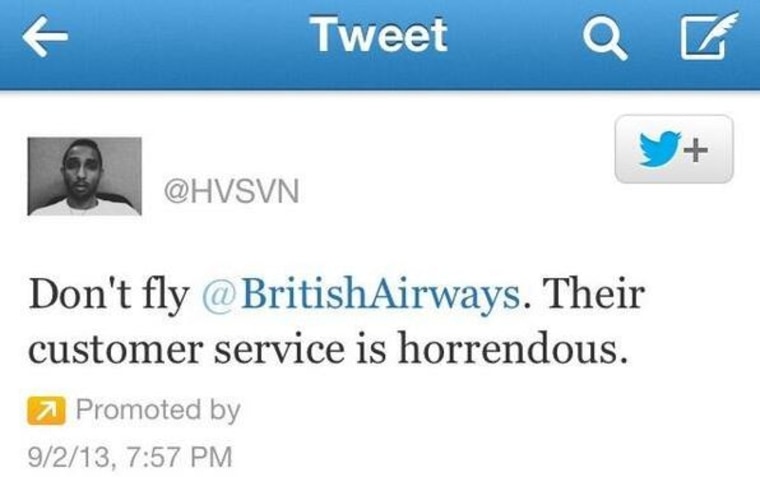 The tweet, for which Syed paid an undisclosed sum, appeared prominently in the company's Twitter feed and was read by thousands of other users. 
Syed followed up his original message with others. One drew a comparison to the airline's baggage system and a photo of a horse and buggy. Another illustrated his overall opinion of the airline with a picture of an upside-down helicopter piloted by a confused dog.
Eight hours after the original posting and the tweet had been picked up by news sites, the airline tweeted back, "Sorry for the delay in responding, our twitter feed is open 0900-1700 GMT." The company promised to look into the baggage issue.
Other airlines quickly spotted Syed's ad buy as a new development in brand relations. JetBlue's Senior Vice President of marketing Marty St. George tweeted, "Interesting; a disgruntled customer is buying a promoted tweet slamming a brand where they had a bad experience. That's a new trend itself!"
Experts criticized the airline's delay in responding.
"It's shocking that it took the airline four hours to respond," said Nick O'Flaherty, strategy director at the New York-based Wolff Olins brand consultancy. 
"British Airways's Twitter feed needs a new pilot," said Ashley McCown, president of the Boston-based Solomon McCown & Company PR firm. 

While it's become commonplace for consumers to voice their opinions about companies via social media and to get customer service by contacting a company's Twitter account, McCown said this instance was the first she was aware of a consumer buying a sponsored tweet to promote their complaint. The novelty helped get Syed's story more attention, but, she said, "if everyone starts doing it, it starts having diminished effects." 
However, said McCown, "This person was angry enough to be willing to spend money. Most consumers are not willing to do that."

The exchange apparently proved successful. British Airways spokesman Euan Fordyce told NBC News, "We would like to apologise to the customer for the inconvenience caused. We have been in contact with the customer and the bag is due to be delivered today."
Email Ben Popken ben.popken@nbcuni.com, or follow @bpopken or benpopkenwrites.com.