The pots are stacked and the boats are packed with crews craving fishing season's most fruitful frenzy – the one-month, multimillion-dollar harvest of red king crabs from the ocean floors near Alaska's shores.
Now, the dreariest catch: the federal shutdown means no crabbing permits are being granted to the boats' skippers. Without those licenses, dozens of vessels will remain docked indefinitely, their captains legally barred from dropping baited traps, or "pots," on the season's opening day, Oct. 15. That would, in turn, leave the crabbing industry reeling and would financially swamp hundreds of fishermen, who earn half of their annual pay during the four-week king-crabbing spree.
Thanks to Capitol Hill's political snag, the Super Bowl of fishing seasons may be delayed or canceled, spawning global crustacean frustration, from wholesale markets and restaurants touting their superior shellfish to the world's most crucial crab consumers – Japanese citizens who mark an annual, pre-winter holiday by giving and devouring the gift of red king crabs.
"Tens of millions of dollars are potentially at risk if we can't get the product to market in time for the holiday season in Japan," said Mark Gleason, executive director of Alaska Bering Sea Crabbers, a trade association that represents most of the crab fishermen who work aboard 80 boats, some made famous through the TV show "Deadliest Catch."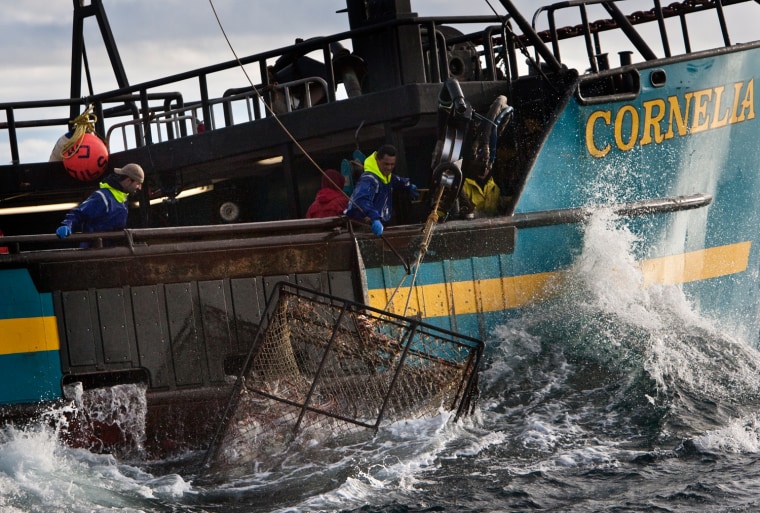 Fueled by its crab-hungry populace, Japan drives the season's lucrative yet narrow business cycle, setting pricing and demand trends, Gleason said. To fill Japan's holiday appetites, the vast bulk of the catch must be hauled aboard, brought to shore, processed at U.S. plants and, ultimately, en route to that island nation by the third week of November.
Even if the partial government shutdown is lifted soon after mid-October – allowing now-furloughed federal workers at the National Marine Fisheries Service to begin issuing crabbing permits – the fleet will need three to five business days to gather those quota licenses and head to sea, shrinking an already-tight window to score fat crabs and big bucks, Gleason said.
And beyond that lost opportunity, the stationary vessels each will ooze about $1,000 per day in costs, he added.
"There are 80 boats ready to go. When they're sitting there tied up to the dock, they're paying moorage fees, paying fuel to keep their generators running, paying for labor, insurance, and food for the crew," Gleason said. "It's going to get expensive in a hurry."
One of those boats now resting in Alaska's Dutch Harbor is the "Bristol Mariner," manned by skipper Tom Suryan and his five crew members. Without federal workers available to answer any questions, captains like Suryan, 58, aren't even sure if they're legally allowed to go fish for cod to bait their crab traps. 
If the National Marine Fisheries Service stays shuttered, could the resulting October lull cause part of the crabbing fleet to financially flounder or force some captains to downsize their crews?
"At the very least it's going to cost everybody a lot of money," Suryan said during an interview with NBC News via his boat phone. He and his crew also fish for snow crab during the early months each year. "Whether that brings people to the tipping point or not, it's hard for me to judge. Just being here is expensive.
"There are always people who operate on the margins. Fortunately, we're not typically there," added Suryan, who's been in the business for 35 years. "But we haven't fished since spring when we finished up the snow crab (season). So for a lot of these guys, there hasn't been any income for months. They're literally banking on this." 
Suryan has never been featured on "Deadliest Catch." The Discovery Channel's famous skippers and crews are in Alaska preparing for the beginning of the season and the beginning of production, scheduled for this weekend. Because they are in Dutch Harbor, where cell phone reception is spotty, the producers and captains were not available at press time to be interviewed by NBC News. A spokesperson for Discovery said he did not know if production would be hindered by the shutdown.
Also unclear: whether grocery stores will be stocking or selling Alaskan red king crab this year. 
While Japanese consumers are the crabbers' prime targets, many Americans, of course, enjoy cracking and savoring the crustaceans. In full, the Bristol Bay red king crab season runs to Jan. 15, 2014. Experts had predicted a harvest of 8.6 million pounds, similar to the fleet's take in 2012-13. 
A prolonged federal shutdown could mean that many of those tasty critters may enjoy a temporary reprieve. 
"No fishing means more crabs to reproduce in the spring," Bradley Stevens, a fisheries biologist at the University of Maryland Eastern Shore, told NBC News in an email. He collected data for the government on king crab stocks for 22 years. 
What's more, the loss of Alaskan king crab from stores could tempt diners to opt for crab legs pulled from Russian waters. Doing so is a no-no, according to Ken Peterson, a spokesman for the Monterey Bay Aquarium's Seafood Watch program, which lists those crabs on its "avoid" list since the fishery is poorly managed and stocks are at critically low levels. 
A better alternative, he suggested, is southern red crab from Argentina. Another option is snow crab from Canada. 
"There are some other places that people can go," Peterson said, "if they are still looking for crab." 
NBC writers John Roach and Maria Elena Fernandez contributed to this report.