Detroit Emergency Manager Kevyn Orr said Tuesday he could force a legally binding settlement on the city's creditors if they were unwilling to accept a proposed restructuring plan in bankruptcy court.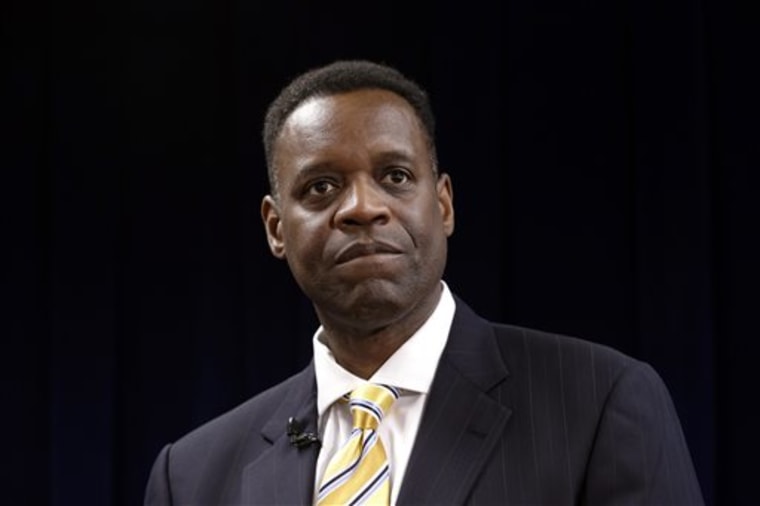 The "cram down" provision of federal bankruptcy law allows a judge to approve a plan of restructuring over the objections of creditors, so long as at least one impaired class of creditors votes to confirm it. 
"We hope to reach a negotiated solution even now," Orr said as he took the witness stand on the fifth day of a trial to determine whether Detroit is eligible for Chapter 9 municipal bankruptcy. "If we don't, we will address that situation, and certainly 'cram down' is an opportunity available to us." 
If U.S. Bankruptcy Judge Steven Rhodes, who is overseeing the case, finds Detroit eligible for bankruptcy, the city will need to submit a plan of readjustment that must be approved by the court. 
Detroit filed the largest municipal bankruptcy in U.S. history on July 18. But at a June 14 meeting with its creditors, the city proposed offering its unsecured creditors, who are owed about $11.9 billion, just pennies on the dollar through a $2 billion note issue. Those creditors include city pension funds, retirees, bondholders and bond insurers. 
To be eligible for Chapter 9 bankruptcy, the city must prove it is financially insolvent, that it negotiated in good faith with creditors, or that there were too many creditors to make negotiation feasible. It also must establish that it has a desire to restructure its finances. 
But the city's labor unions, retirees and pension funds objecting to Detroit's eligibility have argued that Orr and his representatives have not negotiated in good faith with creditors. 
Jennifer Green, an attorney representing the city's two pension funds, asked Orr during the cross examination why the city was able to reach a settlement with Bank of America and UBS AG to terminate interest rate swap deals but was not able to negotiate the treatment of pension funds. 
"Having successfully negotiated that complex deal you didn't continue down the path of negotiation," Green said. 
Orr also did not provide many details on the city's efforts to negotiate with 23,500 city retirees. Detroit has argued that it was impracticable to negotiate with so many creditors. 
Earlier Tuesday, Orr said he was "probably not" willing to accept an agreement to restructure the city's debt without including cuts to pension benefits before the city filed for bankruptcy in July. 
Orr's statement came during cross-examination by United Auto Workers union attorney Peter DeChiara. 
Much of the questioning from DeChiara and Anthony Ullman, an attorney representing the official committee of city retirees, who grilled Orr for most of the morning, focused on pension benefits as Detroit's unions, retirees and pension funds objecting to the bankruptcy contend Michigan's constitution protects public worker pensions from being slashed. 
Ullman also pressed Orr on whether the city could sell assets, including holdings of the Detroit Institute of Arts, or the Detroit Water and Sewerage Department, to pay some debts. 
Orr acknowledged that the works at the art museum could be valuable, but said: "I do not know if it is a potential source of cash for the city." 
Auction house Christie's is conducting a valuation of the art works that is expected to be completed soon. 
Rhodes had to admonish Orr a number of times to answer questions with a simple "yes" or "no" and not provide extraneous information. He even instructed Orr's attorneys to counsel their client on shortening his answers during the 90-minute lunch break. 
"We're going to be here a really long time if you insist on going on and on," Rhodes told Orr. The emergency manager's comments were consistently shorter throughout the afternoon session as he limited his answers. 
The state-appointed emergency manager, who took over the state's largest city in March, wants Detroit to emerge from bankruptcy by October 2014, when his job is expected to end. Detroit has $18.5 billion in debt and other obligations, which Orr says includes a $3.5 billion unfunded pension liability, a figure that is disputed by bankruptcy opponents in the case. 
Orr also said he was unaware of any other instances when federal bankruptcy law was used to supersede a state constitutional protection for pension benefits. 
"There were not any specific cases that I was aware of in that regard, but I was aware of federal pre-emption," Orr said. 
Orr has argued that federal law trumps state law, meaning the pensions can be reduced as part of the city's restructuring under federal bankruptcy law. But he acknowledged there were other options to reduce pensions outside of bankruptcy court. 
"There were other options," Orr said. "I don't know if they were viable or not." 
Orr is the city's fifth and final witness. He will return to the stand for a fourth day when the trial resumes Monday, and bankruptcy opponents will also begin their case next week. 

Rhodes is not expected to make a decision on Detroit's eligibility until at least mid-November. 
— Reuters' Tom Hals and Nick Brown contributed to this report.
Related stories:
Detroit's finances 'shocking,' city manager testifies
Detroit pension cuts were inevitable, city consultant testifies
Detroit to US judge - "This city is bankrupt"