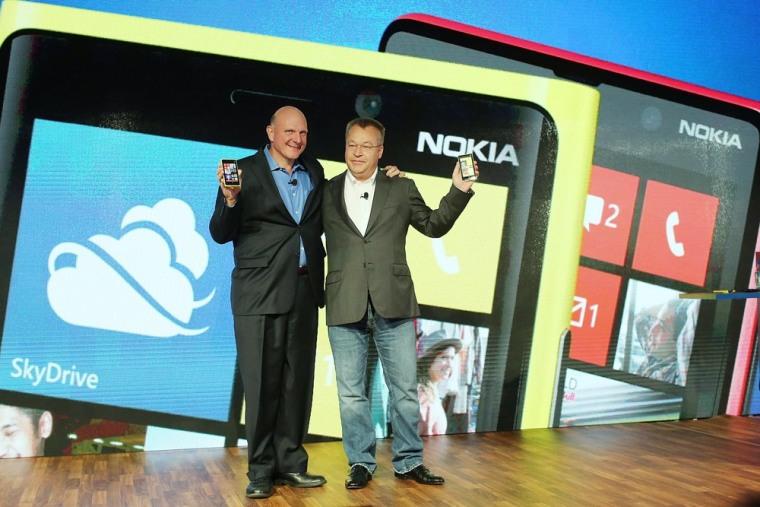 Microsoft's $7.2 billion deal to buy Nokia's mobile phone business may be as much about hardware as it is about one man, Stephen Elop, and whether he's being groomed to take over the top job being vacated by the retiring Steve Ballmer.
The acquisition will be a homecoming for Elop, who'll be stepping down as Nokia CEO and coming back to lead Microsoft's devices group. Elop once headed the business division there, including the rainmaking Office suite, before he left three years ago to run Finland-based Nokia. The devices division includes Windows Phone, Xbox, and the Surface tablets.
The move puts Elop into the race for the top spot at Microsoft as the Redmond, Wash.-based software giant tries to play catch-up with Apple and Samsung, who are far ahead in the mobile phone business. But Elop's spotty track record at Nokia, which was once the dominant player in the business, raises questions about whether he's the right person to combine two struggling companies into one potent rival for the mobile big dogs, some analysts say.
The deal between Microsoft and Nokia, announced Tuesday, comes less than two weeks after Ballmer shocked the tech world by announcing that he would retire within 12 months. It also comes two years after the Finnish company tethered its mobile fate to Microsoft's Windows Phone software.
Several names have been bandied about as Ballmer's possible successor, among them: Steven Sinofsky, former president of the Windows Division; Scott Forstall, former senior vice president of iOS software at Apple; and even founder Bill Gates. Some analysts have said that Microsoft, seeking new blood to revitalize the company, may look further afield for a new boss.
But the betting is now on Elop. Oddsmaker Ladbrokes had set the odds at 2-to-1 that he would be chosen, even before news of the deal, the International Business Times reported.
Ballmer was cagey in an interview with CNBC on Tuesday about Elop as a top contender for his job, but showered the executive with praise. "We're glad to have Stephen come to Microsoft," saying Elop is the man to "make sure that the Nokia-Microsoft acquisition goes flawlessly."
There are questions, however, about whether Elop would be the right choice to ultimately succeed Ballmer, primarily because Elop presided over an 80-percent drop in Nokia stock and was unable to make any meaningful dent in the smartphone device business dominated by Samsung and Apple.
(Flashback: Who will run Microsoft next? Not who you think)
"Had [Elop] actually turned the business around, then that would be a different story," Hudson Square Research tech analyst Daniel Ernst told "Squawk Box" on CNBC. "The story that Nokia will tell you is that, year-over-year, their smartphones are up 78 percent. But that's only to just over seven million handsets."
By comparison, Samsung sold about 70 million handsets in the second quarter alone, followed by Apple's 32 million, according to information technology research and advisory firm Gartner.
Nokia, which had a 40 percent share of the handset market in 2007, now has a mere 15 percent share, with an even smaller percentage in smartphones. The company is worth about 15 billion euros, a far cry from its glory days, when it peaked at over 200 billion euros.
Elop hasn't endeared himself to the people of Finland, either. The Canadian has been cutting costs at Nokia since he came on board, including laying off tens of thousands of workers.
In 2011, Nokia teamed up with Microsoft and uses Microsoft Windows software to run its mobile phones. But the operating system has so far captured only a 3.7 percent share of the global market, putting it third behind Google's Android OS, which has a 79.3 percent share, and Apple's iOS which has a 13.2 percent share.

"We really kicked this journey off two and a half years ago with a partnership with Nokia to do Windows phones and that partnership has yielded some very good results," Ballmer said on "Worldwide Exchange."
The transaction is expected to close in the first quarter of 2014, subject to approval by Nokia's shareholders and regulators. Besides Elop, about 32,000 Nokia employees will be joining Microsoft.
But Nokia will be retaining 60-percent of its employees, as well as its mobile broadband technology and mapping business, of which Microsoft will become a strategic licensee of the map platform. Microsoft will separately pay Nokia for a four-year license.
"We are building a strong European technology company," Nokia interim president and CFO Timo Ihamuotila told CNBC. Nokia said the board had convened almost 50 times since the beginning of the year to discuss how to create shareholder value from the mobile unit.
"We feel that this is a good transaction for Nokia shareholders," said Ihamuotila in a "Squawk Box" interview, adding that he expects "improved earnings on the assets which will remain with Nokia."
Nokia will also retain its patent portfolio and will grant Microsoft a 10-year license to its patents at the time of the closing.
"It is a big surprise for the market to digest. About a year ago there was some serious discussion about whether Microsoft would buy Nokia's handset business and it didn't happen," Bob O'Donnell, program vice president, clients and displays at IDC in San Francisco told CNBC Asia's "Cash Flow."
"To revisit that now is a huge deal. It is good for Microsoft in the sense that they control the hardware and they control the software—it's a very Apple-like strategy," he added.
Some analysts were skeptical about whether the deal would be beneficial for Microsoft.

"This is too little too late. Bringing in a struggling company like Nokia and thinking it can rejuvenate Microsoft into a mobile company—I doubt that will happen," said Trip Chowdhry, the managing director of equity research at Global Equities Research.
Shares of Microsoft fell $2.02, or 6.1 percent, to $31.38 in late morning trading. Shares had gained 25 percent this year.
Nokia's U.S.-traded stock soared $1.32, or 34 percent, to $5.22. The shares hit $5.58 earlier in the session, their highest level since February 2012. 
—By CNBC's Matthew J. Belvedere. Follow him on Twitter @Matt_SquawkCNBC. CNBC's Deepanshu Bagchee and Dhara Ranasinghe contributed to this report. Reuters also contributed.