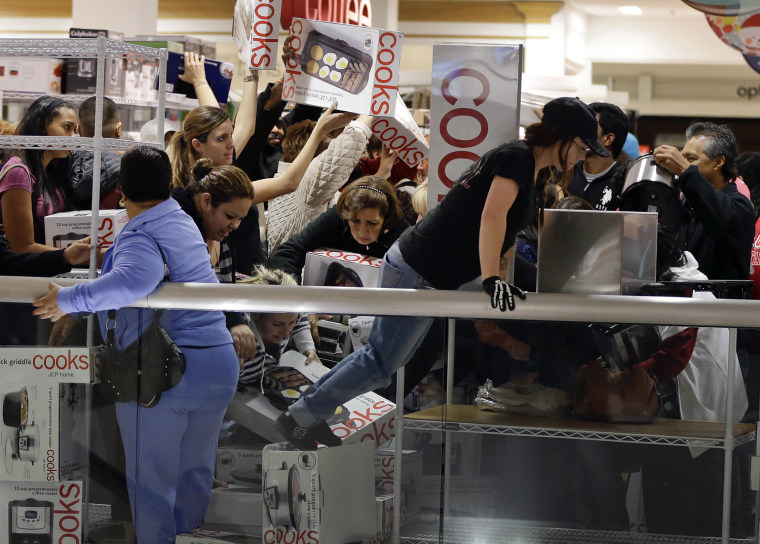 Holiday deal-hunters no longer have to fight crowds and chaos at the mall on Black Friday to save big, but scoring the deepest discounts still takes a well-thought-out battle plan.  

In a year when online shopping passed brick-and-mortar for the first time, consumers have at their fingertips a slew of mobile apps, targeted emails, deal aggregators, discount portals and location-based promos. 
Since retailers today know more than ever about who we are and what we're likely to buy — thanks to social network activity and big data information-harvesting — shoppers will need a strategy to cope with the digital deluge this holiday season.
Stacking deals, taming email

Quia Querisma, an online marketing professional in Texas, said she prefers to shop online and avoid the whole Black Friday frenzy. "It's a lot easier to find (items) online than in-store; people can't hide things," she said. 
And she still gets deals, oftentimes more than one. Even if an item is already marked down, Querisma said she increases her savings by making the purchase via a rebate portal, using a coupon code and paying with a cash-back card. Last year, she bought a designer dress for a New Year's Eve party originally priced at around $300 for less than $50. 
The first step to stacking discounts is organizing the flood of retailer messages.
"You get inundated," said Sharon Cichy, a 41-year-old business development consultant to companies that target moms. "Everything from clothes to household items …. You start to know what (offers) are going to come." 
Querisma created a dedicated email address to receive the loyalty program updates, coupons, web-only deals and other offers she gets.   
Email remains popular with marketers because it's less expensive than old-media marketing, said Jack Rose, a professor at the Johnson & Wales University College of Business. Retailers have been able to keep this relatively mature form of digital communication relevant thanks to advances in data gathering and analysis, particularly on social media platforms. 
Being social has perks

"Social media is probably one of the biggest non-intrusive ways of acquiring info," said Hardeep Bindra, executive vice president and head of the creative platform division at tech company Collective. 
Following a brand on Twitter, liking it and talking about it on Facebook all give marketers a peek into shoppers' minds. With more people logging on from their phones, brands often also have information about what kind of device a person is using and where they're located. 
And talking about brands sometimes "earns" social media fans special perks, Bindra said. "Fans that interact may see special messages" and promotions, he said. 
The appeal of social media interaction for shoppers is that they're the ones who initiate the contact, and the messages are short, said retail consultant Andrea Woroch. "Usually, you're seeking out those brands," she said. "They're easy to browse, they're easy to look at." 
Thanks to both social media and conventional big data gathering, retailers can figure out what people like by watching their browsing habits. Gone are customer surveys indicating their preferences; now, retailers can learn or infer this information without having to ask the shopper and can send tailored promotions or coupons. 

Digital coupons: always more coming

Just like their paper counterpart, digital coupons are popular among deal-hunters, with shoppers saying they regularly visit sites that aggregate coupon codes before clicking "buy" on any online purchase. 
Since more retailers are blending on- and offline couponing, more shoppers are turning to the mobile app versions of these aggregators so they can look up a code before getting to the cash register.  

But it's easy to get jaded and develop coupon fatigue. Cichy said she doesn't worry about scheduling her holiday buys around any one deal, because she knows another one will hit her inbox soon. "They're constantly sending coupons. It seems crazy to spend full price for everything." 

Price comparison tools

Like couponing, price-comparison sites have also evolved into hybrid tools thanks to shoppers' growing use of mobile devices at visits to brick-and-mortar stores, which let shoppers like Querisma check prices with their phones before they head to the cash register. When buying a dress for her daughter, Querisma used an app and found that the same dress was 30 percent off on the store's website, then got the cashier to match the online price. 
But as receptive as shoppers are to many of these high-tech helpers, some tools still feel too intrusive. Marketing tools that use the GPS on a shopper's smartphone to send promotions when the phone is near a store have yet to take off, for technological reasons as well as the perception of intrusiveness. 
"Text is very intrusive," said Sucharita Mulpuru, a retail analyst at Forrester Research. "Email is (the) most preferable medium." The location pinpointing often isn't precise enough to target shoppers at the right time, which just turns them off to the idea even further. "It's a solution that's looking for a problem." 
Store warriors hang up battle gear

There will still be die-hards who hit the mall and big-box stores, but a growing number of Black Friday warriors have been converted after shopping from the comfort of home. 
"For many, many years I have battle-shopped," said Linda Kennedy, a 52-year-old property manager in North Carolina. Some years, Kennedy said she saved more than $1,000. But last year was a turning point. "I did a lot of online shopping once I saw that they ship it to your house for free," she said — and she saved just as much.
"Every year I always wind up buying more than I want (and) I end up overspending," said Ame Murphy, a 29-year-old Idaho resident who works as office manager in an assisted living facility. So for the first time in three years, she plans to skip the crowds and rely instead on online price comparisons, coupon codes and loyalty programs to replicate the kinds of deals that used to involve a cold wait in line outside the mall in the wee hours. 
"Surprisingly, I've already got quite a few good deals that are equivalent to Black Friday," she said.

Related stories: