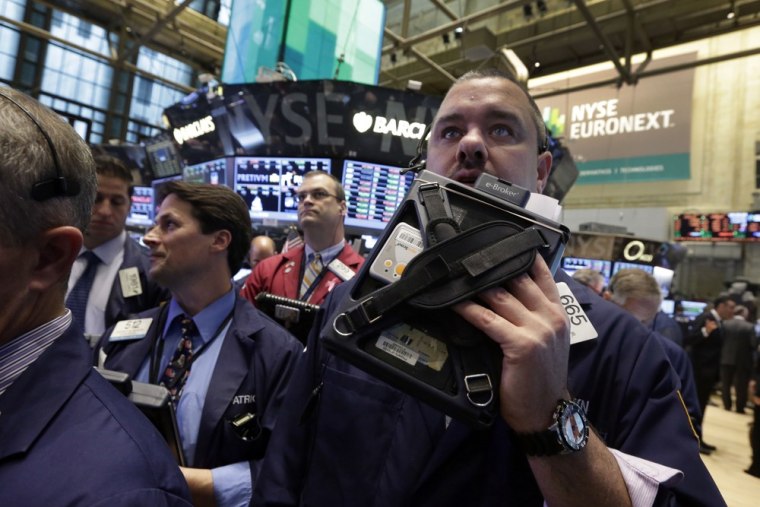 Stock prices surged Thursday on rising optimism that Washington was nearing a deal to end a budget impasse that has shuttered the government for 10 days and has threatened eventually to cause the U.S. to default on its debt for the first time ever.
The bellwether Dow Jones industrial average soared more than 320 points to close up over 2 percent. It was the index's second-best performance percentage-wise this year. The broader S&P 500 and the tech-heavy Nasdaq also each gained more than 2 percent.
Late in the day, however, conflicting reports of the outcome of a meeting between President Barack Obama and House Republicans sent immediate ripples through financial markets. U.S. equity index futures tracking the S&P 500 index dropped after a report that Obama had rejected the Republican offer, but rose when details of the meeting trickled out.
Stocks had been higher for most of the day amid signs that Republicans would seek a short-term extension of the debt limit, which would remove the specter of a default that had increasingly plagued financial markets, vexing the nation and worrying U.S. allies for days.
House Republicans said they would advance legislation to temporarily extend the government's borrowing authority so it can continue to pay its bills on time.
"The president is happy that cooler heads at least seem to be prevailing in the House," White House press secretary Jay Carney said at the daily press briefing. He added: "I think the president said the other day, if they were to send him a clean debt ceiling extension, no partisan strings attached he would sign it. But we don't know that's what we're going to get here."
Financial markets grasped at the signals, betting that the two sides were moving closer to an agreement and further away from a default that economists say would devastate the U.S. economy.
"No one's going to get in the way of this move—we've been up more than 200 points all day so you're going to be hard pressed to find someone on the other side of the trade," said Art Hogan, managing director of Lazard Capital Markets. "This is clearly the light at the end of the tunnel that everyone wants."  

(Read more: Government standoff shakes trust in US debt)
Obama and congressional leaders met Thursday for 90 minutes, and both sides said they would continue to talk.

The dollar rose to a two-week high against a basket of major currencies. Treasury yields rose to their highest in more than two weeks. Benchmark 10-year notes were last down 12/32 in price to yield 2.71 percent, the highest since September 23. 

Earlier in the day, Treasury Secretary Jack Lew warned that a failure to raise the debt ceiling in a timely fashion would threaten the global economy. 
"We now face a manufactured political crisis that is beginning to deliver an unnecessary blow to our economy,'' he said in testimony before the Senate Finance Committee.
Wall Street and Main Street had been fretting over the debt impasse. An NBC News/Wall Street Journal poll showed that 63 percent of Americans believe refusing to raise the debt ceiling would be a serious problem. 
CNBC's JeeYeon Park, The Associated Press and Reuters contributed to this report.