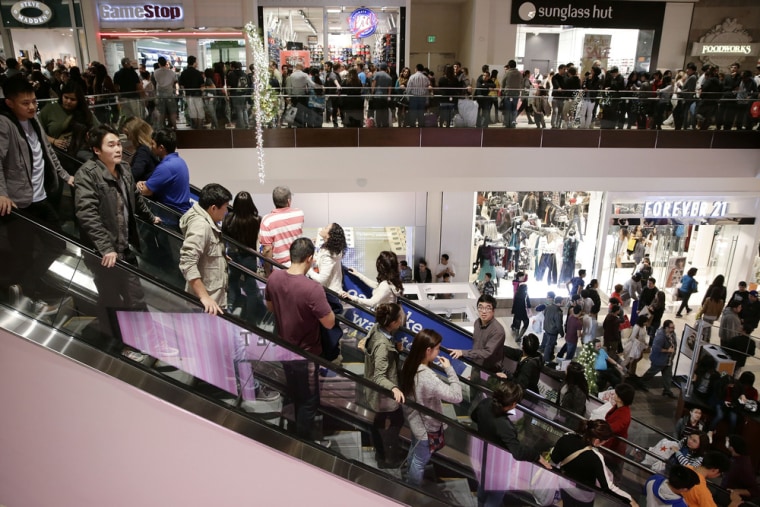 It's Black Friday. Let the madness begin.
The holiday shopping season kicked off officially Friday after retailers tested the mood of consumers by offering discounts and opening their doors earlier than ever.
Many of the nation's top retailers began door-buster sales even before the turkey left the table and the stuffing went cold Thursday. Venerable Macy's broke a 155-year tradition by opening on Thanksgiving.
So far it was worth it, according to Macy's CEO Terry Lundgren. "Everything is just all good," Lundgren told CNBC in an interview from the retailer's flagship Manhattan store.

Macy's said about 15,000 people waited in line outside the Herald Square store for the doors to open at 8 p.m. Thursday, up from 11,000 in 2012 when the store opened at midnight. Wal-Mart, the world's largest retailer, said shoppers were snapping up gadgets, while rival retail Target boasted of strong traffic in stores and online.
Some shoppers noted that by midday, the crowds more resembled a normal Saturday during the holiday shopping season than a typical Black Friday.
"It's a lot less than I thought," said Alison Goodwin, from Horsham, Pa., who ventured to the Willow Grove Park mall the day after Thanksgiving in search of holiday gifts and maybe a treat for herself.
"It's like any weekend in December," Goodwin said of the size of the crowd.
Still, some violence marred the Black Friday kickoff:
A Las Vegas shopper was shot late on Thanksgiving Day as he was attempting to take his newly bought television home, police told NBC News.

In the Chicago area, a police officer shot the driver of a car that was dragging another officer who was responding to a call of alleged shoplifting at a Kohls. Three people were arrested, police said.
At least three people got into a brawl in the parking lot of a Wal-Mart in Rialto, Calif., because shoppers allegedly were cutting the line. Two were taken into custody, according to police.
At another Wal-Mart in West Virginia, a man was slashed to the bone with a knife after threatening another man with a gun. The altercation was over a parking spot, police said.
A Wal-Mart in White Plains, N.Y., received two calls about a bomb on its premises, police said, prompting a storewide evacuation. No explosive device was found and the store reopened a couple of hours later. 
A woman apparently used a stun gun on another after an all-out brawl inside of the Franklin Mills Mall in Northeast Philadelphia, according to NBC10. Mall security, however, told the station no taser was used.  
And in New Jersey, a shopper was charged with aggravated assault after getting into an argument over a television set with a Wal-Mart manager.
The Thursday night openings were expected to help limit the kind of chaos that caused injuries and violence in the past when stores opened early Black Friday morning, including the trampling death of a Wal-Mart employee five years ago in New York. 
Not all shoppers were happy with the ever-earlier Thanksgiving hours. "I think it's going to end because it's taking away from the traditional Thanksgiving," Curt Akins, 51, told The Associated Press at The North Point Mall in Atlanta's northern suburbs at around 5 a.m. Friday morning. 

Wal-Mart workers were staging protests at some of the chain's stores around the country to draw attention to what they say are wages too low to live on. Critics of the movement say few of the protesters are actual Wal-Mart workers, but supporters counter that's because Wal-Mart workers fear retaliation.
CNBC's Philip Lebeau reported that 10 protesters were arrested outside of a Wal-Mart in Chicago. 
"We are proud of the pay we have. We pay in the top half of the retail industry," Wal-Mart CEO Bill Simon told TODAY Friday. 
Other shoppers seemed to enjoy the experience of what has become a tradition in the U.S., luring even foreign visitors to brave the chaos.
"Anything that's on sale that we can fit in our suitcases we're going to buy," said Jill McCormack, a 30-year-old teacher from Ireland, as she waited for Macy's doors to open Thursday evening.
Sales over Black Friday weekend are expected to come in at $36.7 billion, a rise of 1.7 percent from last year, according to the market research company IBISWorld. The year before, the increase was 9.8 percent. The National Retail Federation expects retail sales to be up 4 percent to $602 billion during the last two months of the year. That's higher than last year's 3.5 percent growth, but below the 6 percent pace seen before the recession. 

The biggest promotions seemed to be driving the most traffic.
"The lowest price retailers are the ones that had the mad dash, that had the biggest early turnout," said Marshal Cohen, chief retail analyst at the NPD Group. He said department stores and specialty mall retailers saw a rush at the outset last night before quieting down.
Black Friday sales matter this year more than most for the nation's stores.
Because Thanksgiving falls on Nov. 28, the latest possible date, there are six fewer shopping days this holiday season than last.
A Consumer Reports poll this week found that 56 percent of Americans had no plans to shop at all this weekend. The most common reason — named by 70 percent of respondents — was a desire to avoid the crowds. In other words, Black Friday, with its mobs of crazed shoppers waiting to pile through the doors at 5 a.m., may be a victim of its own popularity.
Brick-and-mortar retailers also must contend with the increasing clout of ecommerce as shoppers turn to their computers, tablets and phones to avoid the crowds and the traffic. According to the IBM Digital Analytics Benchmark, online sales Thanksgiving Day were up 20 percent over last year. ChannelAdvisor reported that Amazon had a 49 percent jump in same-store-sales between midnight at 2 p.m. on Thanksgiving Day over last year, while eBay's sales rose 20 percent.
Retailers have had plenty to worry about: stagnant wages for many Americans, uncertainty over Obamacare and frustration with gridlock in Washington.

While U.S. home prices and stock market gains have many upper-income shoppers feeling more confident, data from ConsumerEdge Research's tracking study indicates that there may have been a sharp pullback in consumer spending so far this month.
Low-income shoppers, who often face dismal work prospects and struggle to make ends meet, have been hard hit this year by a reduction in government food stamp benefits.
NBC News contributors Henry Austin and Martha C. White, Reuters and The Associated Press contributed to this report.