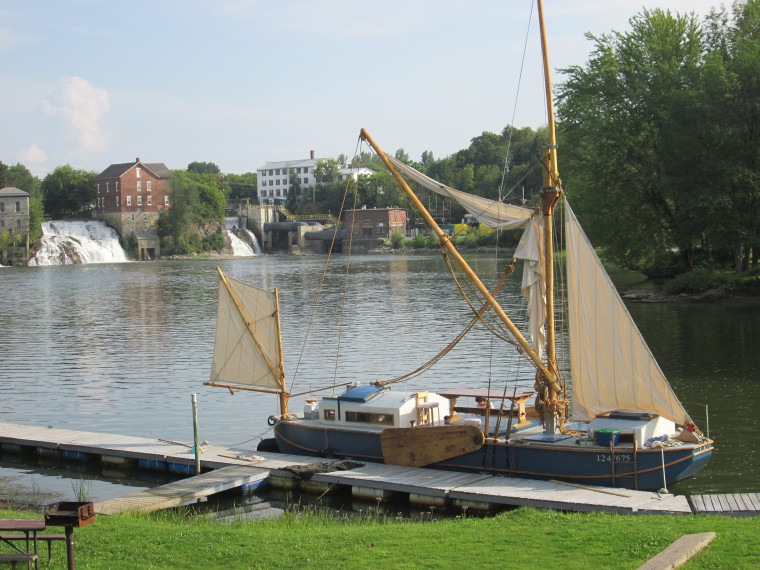 An old trade route used by the Mohawks, missionaries, fur traders and colonists will take a step toward revival this weekend as the Vermont Sail Freight Project embarks on a 330-mile journey downriver, stopping at historic river towns along the Hudson.
Along the way to New York City, they'll pick up everything from honey to sauerkraut from 30 farmers and sell the goods at pop-up markets.
"We're trying to rebuild a whole sector that's been decimated and open new opportunities for young farmers and rebuild a whole aspect of the culture that's very nearly been lost entirely," said project director Erik Andrus, who also farms rice and grass-fed beef at Boundbrook Farm in Ferrisburgh, Vt.
The crowd-funded sailing barge, named Ceres, will ply the Lake Champlain-Hudson River Route from Shoreham, Vt., to New York City.
"It was a very busy route," said Dan Ward, curator at the Erie Canal Museum in Syracuse, N.Y. The river once had so much shipping it even had stores on boats that sold household items such as candy and other goods to the river traders, who didn't have time to get ashore. "That was also the alcohol route during Prohibition," said Ward, describing boats with secret compartments. "Alcohol was massively produced in Canada, and it was massively consumed in New York City."
(Read more: Warning: Many US watersheds failing stress test)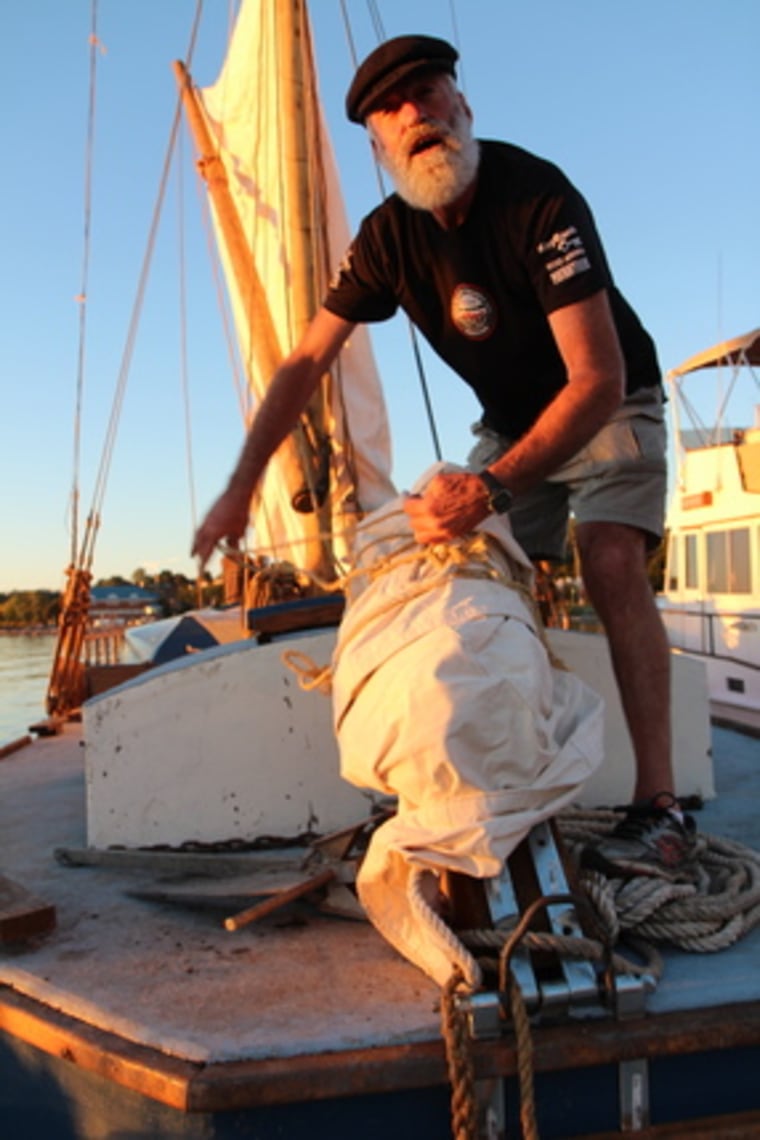 The cargo in the Ceres will be sold at existing farmers markets along the route and under a pop-up tent the Vermont crew will set up when they need to go solo. They will also do direct-to-door delivery at ports, where individuals and businesses have placed orders in advance. For big orders, trucks will be used. But individuals in New York City will see their orders arrive via Revolution Rickshaws, a city pedicab and freight company.
"We're flexible about our approach. The delivery of pre-ordered goods can happen in any location," Andrus said. "The ordering is a bit like Amazon.com, and the boat is the delivery mechanism like UPS."
(Read more: 'Made in USA' fuels new manufacturing hubs in apparel)
Northeast shoppers can order online though Good Eggs, a San Francisco-based online marketplace that specializes in delivering farmers-market type goods directly to people's homes. In the San Francisco Bay Area, Good Eggs has 150 local farmers and foodmakers offering goods for sale, said Cathy Bishop, spokeswoman for Good Eggs.
They're currently expanding with other farmers to select neighborhoods in Los Angeles, New Orleans and Brooklyn. Manhattan is next, Bishop said. Good Eggs makes its money by charging a transaction fee for each order, plus a small delivery fee.
The Vermont Sail offerings through Good Eggs include 100 items such as maple syrup, honey, apples, heirloom beans, potatoes, onions, garlic, squash, sauerkraut, tea, sea salt and soap.
And by no means is this a Luddite-inspired adventure. The on-board Wi-Fi powers a mobile office suite allowing the crew to access their bank account and print invoices. However, there are space issues. "You have to lie down on your back to put more paper in the printer," Andrus said.
They're navigating by old-school methods, but the chart-plotter back-up is an iPhone app. And the wind-powered boat also has a motor, just in case. And shoppers can track their orders via the barge tracker on MarineTraffic.com.
The project intentionally mixes old- and new-school philosophies. "I think small farmers know implicitly that you have to adapt to the world as it is," Andrus said. "And the Internet is a great way to tell people about this project and why it matters to the river. If you're invisible, you're dead. If you can't convey the story, the supermarket wins every single time."
"In many ways we have our work cut out for us," Andrus said. "The market is always able to provide the lowest common denominator food from somewhere inexpensively. We have to tell the story why our neighbors ought to support local agriculture instead of just buying from the cheapest possible source." Quality, taste and political reasons are key factors, he said.
(Read more: Bacon backlash unlikely over China-Smithfield deal)
The not-for-profit Willowell Foundation and the non-profit Greenhorns are among the project's supporters; plus $16,754 donated by 268 Kickstarter backers. In all, it has cost about $40,000 and more than 2,000 volunteer hours to get this far, Andrus said. It may be the right small-business model for this generation, he said. "What bank would fund this project?" he asked.
"We're getting off the ground with donations and volunteers and non-profit help," Andrus said. "But we hope to not behave like a charity indefinitely." The plan is to be economically self-sustaining within three years. "Now that we've built the boat and the network ... going forward, our revenue should easily exceed our obligations," he said.
The Vermont Sail project will have its official send-off this Sunday and finish in New York City on Oct. 27. The Ceres will return to Vermont and plan for a regular season of runs after the winter. If they're successful, they will add boats and additional river routes.
The buy-local concept is clearly growing, said Liz Comiskey of the national Farmers Market Coalition. She referred to current USDA numbers that list 8,144 farmers markets in the United States, up from 5,000 in 2008.
The Vermont project isn't the first to add a maritime element to the modern-day farmers market. Other recent maritime purveyors include the FarmBoat in Seattle, the Dragonfly Sail Transport Company in Michigan and the Harvest Harbor and River Vessel Transport Company still in the works for New York Harbor.
However, the Ceres may be the only project with its own lyrical sea shanty, written expressly for the boat. Andrus played down any notions of the crew merrily crooning along. "The other two guys I'm sailing with are not really singers," he said. "But I'm going to bring my accordion and might be persuaded."
—By CNBC's Amy Langfield. Follow her on Twitter, @AmyLangfield.