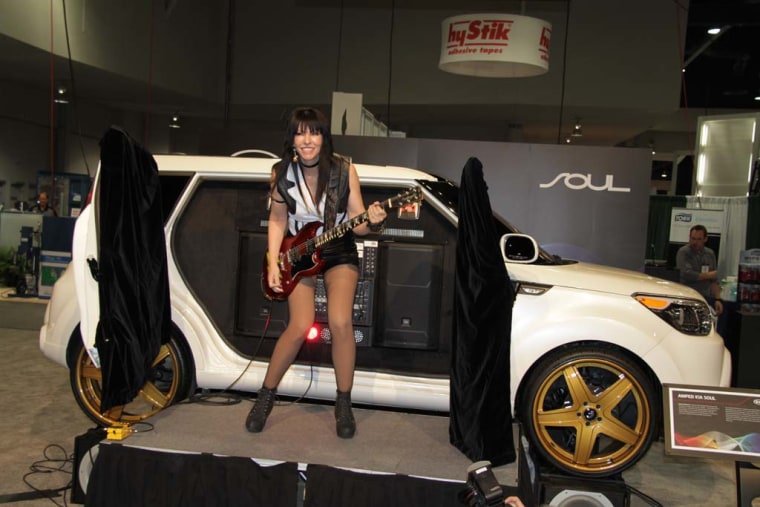 The big amp built into the little, customized Kia Soul is turned up to "10," so when rocker Leona X strikes her first chord it echoes through the cavernous halls of the Las Vegas Convention Center, a fitting way to open the 2013 SEMA Show, the automotive aftermarket extravaganza that's become Sin City's second-largest annual event.
Marking its 50th anniversary this year, the SEMA Show has traditionally attracted gearheads focused on high performance — but the opening riffs by Leona X underscore the dramatic transformation reshaping not only this annual convention but the auto industry as a whole.
America, it's long been said, has a love affair with the automobile. But recent data suggest otherwise. Teenagers are waiting longer than ever to get their driver's licenses, and millennials, in general, are said to be far more focused on smartphones and other consumer electronics.
But industry leaders aren't ready to write off an entire generation. 
"The youth market is experiencing a rebound," insists Peter MacGillivray, events director for SEMA, the California-based trade group more formally known as the Specialty Equipment Marketers Association. Its members generated more than $31 billion in sales last year for everything from high-performance "crate" engines to bolt-on body kits and custom seats.
While performance parts have been the lifeblood of SEMA for much of the last half-century, the aftermarket industry has been shifting focus, with younger motorists a major factor.
"Sure," says MacGillivray, "a lot of teens aren't getting their licenses, but that's only half the story. For many kids, the love of cars is as powerful as ever." But industry research suggests that younger buyers are drawn to showrooms for different reasons than those from past generations.
One only has to visit a cellphone store filled with a seemingly endless assortment of cases and other accessories to understand. Personalization is part of the generational psyche. Automakers and parts suppliers have discovered the same to be true when it comes to car buyers.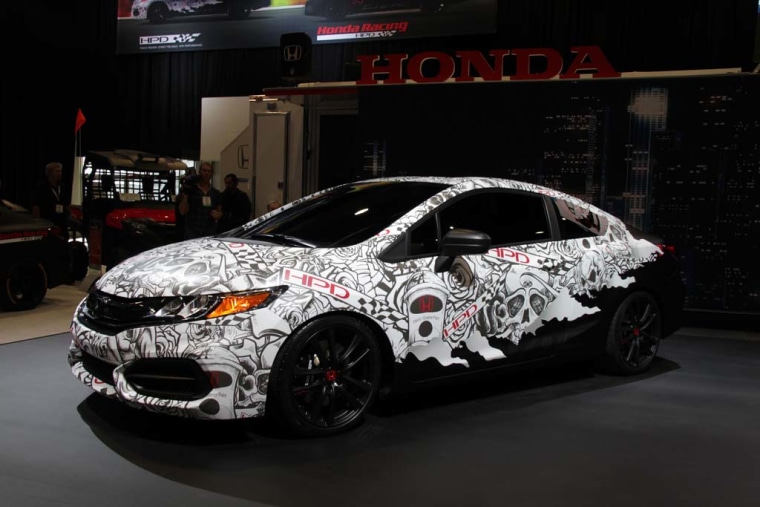 Generation Y "may be skeptical" about cars, contends John Mendel, the top American executive at Honda, but they're tuning into products that offer a lot of opportunities for customization. "Bringing that to the street is very important," he says during an interview at the Honda stand, where the maker has announced the new HDP performance and accessories brand.
While the figure varies widely by model line, it's not unusual, Mendel suggests, for buyers of the newly updated Honda Civic Coupe to spend as much as a third of the price to customize it, whether with performance exhaust systems, body kits or sport seats.
And Honda isn't unique. According to MacGillivray, a record 2,500 exhibitors are filling more than 1 million square feet of exhibition space during this year's SEMA Show, with the event pre-selling about 150,000 tickets. A who's-who of major and minor automotive brands are vying for attention along with the trade group's traditional parts and accessories vendors.
Companies like Chrysler are there both to both pick up on trends and to show off what can be done to customize their vehicles, with the smallest of the Detroit makers putting more than three dozen concept models on display. Among other things, Chrysler's Dodge division reached into its past to announce the return of the classic "Shaker Hood" that adorned its most powerful muscle cars four decades ago.
Chrysler's Mopar parts division, meanwhile, is trying to drum up business for its new Custom Centers, eight special facilities it has set up across North America that can, for example, add racing stripes to a Dodge Challenger, or a bedliner to a Ram 1500 pickup.
"Studies show that 49 percent of customers industrywide are willing to accessorize their vehicle when they buy them," explains Mopar CEO Pietro Gorlier, adding that another 11 percent plan to do so later.
Customization has proven particularly successful for youth-oriented brands like Mini and Toyota's Scion. The Japanese giant is also hoping to expand the appeal of its luxury marque Lexus by expanding the personalization options.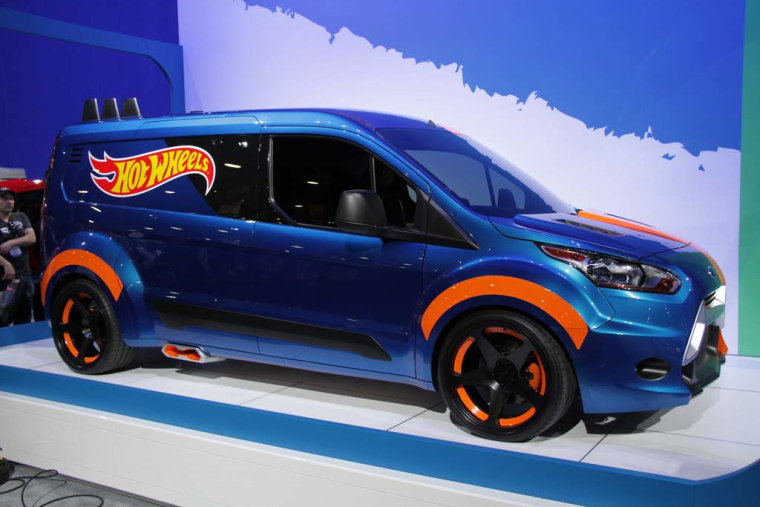 Over at the Lexus stand, marketing chief Brian Bolain is lifting the covers off a radically styled concept version of the maker's IS sedan, the winner of a public design competition. Don't be surprised to see some of the edgy features – such as the flared fenders and unique alloy wheels – show up in the brand's parts catalog, he suggests.
While it is still one of the nation's best-selling luxury brands, Lexus has been losing ground in recent years, in part because it has had trouble expanding out of the aging Baby Boomer niche. But Bolain says that the addition of more edgy F-Sport models, along with a range of customized accessories, has begun to attract a younger generation. On average, IS F-Sport customers are 12 years younger than those of the standard sedan versions. Meanwhile, he says, more young motorists are purchasing used IS sedans and then spending as much as $10,000 on parts and accessories.
"There's a definite shift," Bolain says, "to use your car as an extension of your personality, to make a statement about yourself."