This Christmas, what do you get for the girl who has everything? Or maybe just the girl who, despite how many hours you search, never fails to return your gift?
According to the National Retail Federation, a number of shoppers are turning to gift cards — but not just for ultra-picky recipients.
A recent study by the industry's trade association found that gift card spending will reach an all-time high this holiday, with more than 80 percent of shoppers planning to purchase at least one. What's more, the average shopper will spend an average of $163.16 on gift cards, an increase of 4 percent on the year. That means total spending in the category will reach $29.8 billion.
A desire for practical gifts, customized designs and digitalization are all reasons for the boost, experts said.
"In general, the economy has put the concept of a gift card into a more favorable position," said Kathy Grannis, senior director of media relations for the NRF.
The popularity of gift cards dipped from 2008 to 2010, when shoppers flocked to dramatically reduced items, sometimes selling for more than 70 percent off. The state of mind at that time, Grannis said, was more about quantity than anything else. Shoppers could find a cashmere sweater for $30 instead of $100, often enabling them to purchase multiple gifts for friends and family.

Although price is still the No. 1 reason a person decides to shop at a specific retailer, what has become increasingly more important today is value, she said. This value push often sends shoppers toward gift cards issued by full-priced retailers, where they can be used as a down payment on more expensive items.
Value also encourages many consumers to buy brand-specific gift cards, even though most recipients prefer general-purpose cards from American Express or the likes, experts said. Because providers of general-use cards do not receive any benefits from sales made with the cards, they are forced to charge a purchasing fee to turn a profit. These range from $3.95 to $6.95 at American Express, depending on the quantity loaded onto the card and where they are purchased, said Janna Herron, a credit card analyst at Bankrate.

Fewer fees
On the flip side, only two retailers in Bankrate's study — Staples and Toys 'R Us — charge a fee to purchase a basic gift card.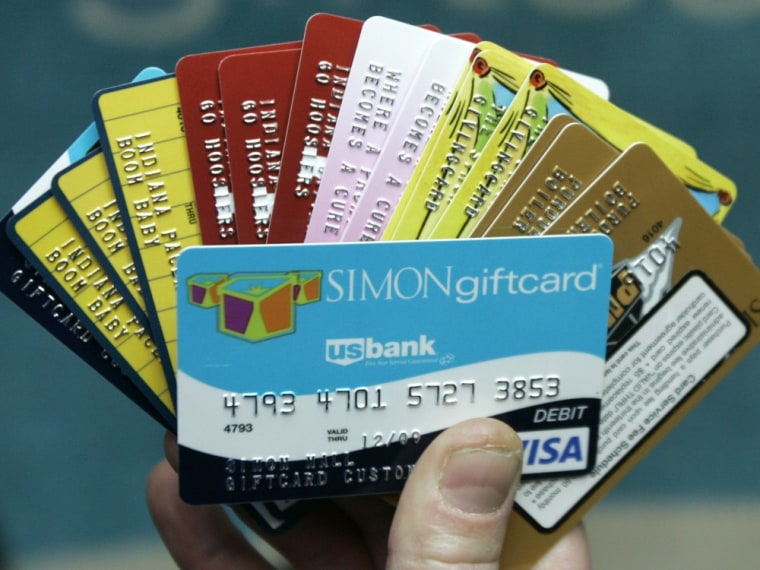 Shoppers also shy away from general-purpose gift cards because recipients can be faced with dormancy charges and maintenance fees, although they have become less of an issue following the Credit Card Accountability, Responsibility and Disclosure Act (CARD) that went into effect in 2010, Herron said. Before the act was passed, shoppers could be hit with a service or inactivity charge after six months of not using the card; they could also incur a fee for doing a balance check or using the card at an ATM.

"There were many different fees that issuers assessed that weren't very transparent," she said. "You could lose value on your card pretty quickly."
While this legislation was good for consumers — according to CEB TowerGroup research, the percentage of value lost on gift cards is 1 percent, down from 6.4 percent in 2009 — it has made it harder for credit card companies to make money from gift cards. This will likely cause some companies to follow Chase, which discontinued its gift cards earlier this year, Herron said.
Individual retailers have also made strides in reducing the stigma that previously existed against gift cards, Grannis said. For a nominal fee, companies have customized their offerings with images of Santa Claus, penguins and puppies, to make the cards more appealing and more tailored toward recipients.

Gift card, Pez dispenser included
For $2.99, Home Depot shoppers can purchase a small toolbox gift card holder or choose a free design with a pop-up tree and flashing star. Bass Pro Shop customers can have their gift cards packaged in tins shaped like a tackle box, a gun safe or an ammo box, for $2.49 to $3.99. This year, Target is offering a gift card packaged with a Pez dispenser that is modeled after the dog seen in its ads, and retailers such as DSW and Ross allow customers to upload their own images to the card for a small fee.
Despite these efforts, some shoppers still feel gift cards are too impersonal. Lauren Plavchak, 24, said she steers away from gift cards, unless she doesn't know the recipient very well.
"I generally buy gift cards for people that I'm not as close to," she said. "Sometimes it's a work gift exchange where it's something that I guess wasn't really thought about in advance, and it's one of those last-minute things."
Digital gift cards slower to grow
For those shopping on a time crunch, online and mobile offerings have increased the practicality of gift cards, Herron said. Shoppers can notify recipients of gift cards through Facebook or via email, and Starbucks recently introduced the ability to Tweet a gift card. These features are especially desirable to millennials, who mark convenience as paramount.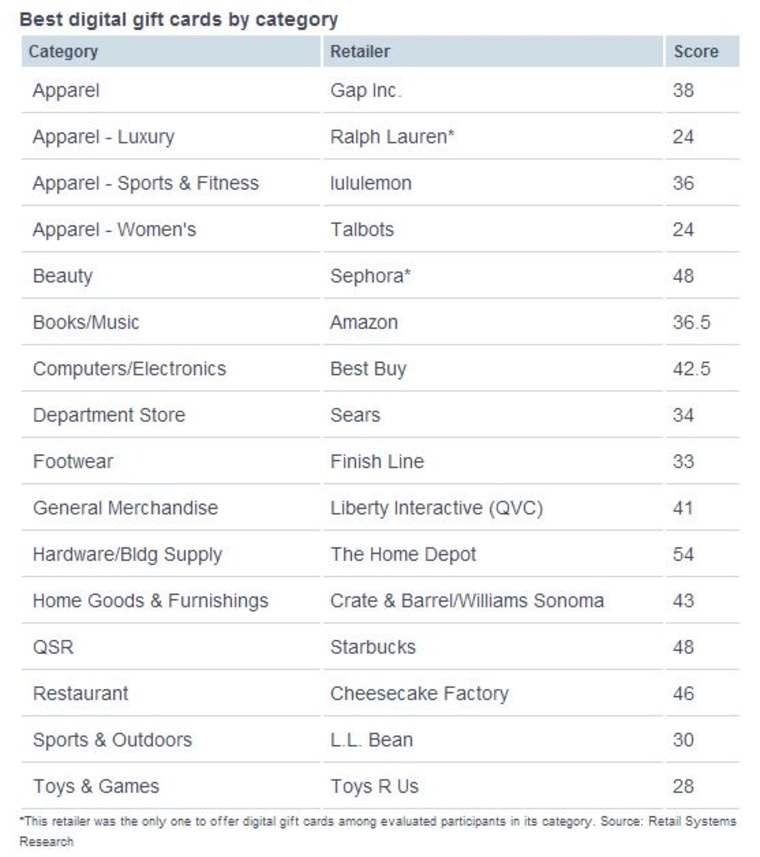 The approach appears to be resonating with shoppers. According to CEB TowerGroup research, e-gifting segments should increase tenfold from an estimated $300 million in 2012 to $3 billion in 2013.
"It's something that retailers are interested in, but it's a little slower [to be adopted] than I expected," Herron said.

For example, Retail Systems Research published a recent report on digital gift cards that showed 69 of 99 retailers evaluated offered digital gift cards — up from 59 percent in 2011 and 40 percent in 2010. Although the report noted an improvement in the offering, broadcasting and fulfillment of gift card orders, it said they can still get better.
Among them: Customers feel there is a "bait and switch" when the retailer says they can purchase a gift card for as little as $10, but the smallest suggested card is $50; complex checkouts require multiple screens to be filled out, and irrelevant information is often requested; a surprising number of retailers still do not have apps; and retailers show strange social priorities, asking consumers to post pictures on their Facebook pages rather than offering a place to purchase gift cards.
Perhaps the biggest issue, though, is that not enough retailers are in the game — Sephora, for example, runs literally uncontested among its peer group. Another issue is that card management is too often difficult.
"Several retailers' e-gift cards were the email itself, which meant that if the email was lost, the recipient was basically out of luck," the Retail Systems Research report said. "Given that gift card revenue may only be recognized once the card is redeemed, one would assume that retailers would make it as easy as possible for recipients to redeem their cards."
—By CNBC's Krystina Gustafson. Follow her on Twitter @KrystinaGustafs.
Related stories:
Should shoppers brace for a blue Christmas?
Advantage, Amazon... At least for now
JC Penney's $1.97 pants could spoil Christmas
Holiday shopping looks weak for Wal-Mart, Kohl's