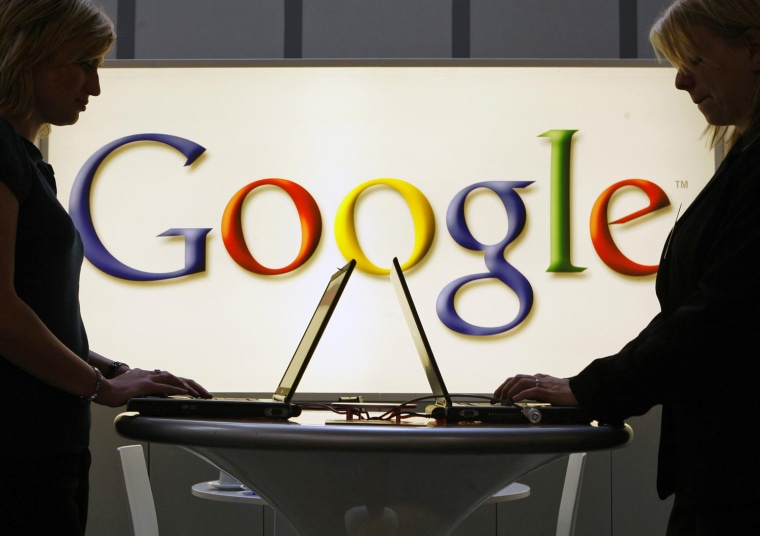 Google shares jumped to an all-time high above $1,000 on Friday after the search engine giant reported a surge in mobile and video advertising that helped drive quarterly revenue up 23 percent. 
At least 16 brokerages raised their price targets on the stock to between $880 and $1,220, with Deutsche Bank bumping up its target price by 26 percent. 
The shares rose 13 percent to $1007.40 after the opening bell on the Nasdaq, before easing back a few dollars. Google shares have climbed 38 percent this year. The stock's lowest price in the last 52 weeks was $636 last Nov. 16.
The company's shares had risen more than 5 percent in after-hours trading on Thursday after the world's No.1 Web search engine said its Internet business delivered net revenue of $10.8 billion in the third quarter, up from $8.76 billion in the year-ago period. 
Google said paid clicks increased by a quarter in the three months ended September 30, from a year earlier, the highest rate of growth in the past year. 

This offset an 8-percent fall in average cost-per-click, the price advertisers pay Google when consumers click on their ads. 
"We view solid paid clicks growth to be a good indicator of demand, driven by the continued shift to mobile," J.P. Morgan analysts said. They had expected 21.5 percent growth. 
In contrast, analysts say Yahoo, which this week reported a tepid quarter, has lost market share in display and search advertising in the face of strong competition from Facebook and Google. 
Facebook is expected to report its third-quarter results on Oct. 30. 

To counter declines in cost-per-click rates, Google rolled out a service in February to help advertisers market through a mix of smartphones, tablets and desktops. 
The J.P. Morgan analysts said this drive was a major opportunity for Google in the holiday shopping season. 
Analysts also highlighted Google's ability to generate revenue from its video-streaming website, YouTube. 
YouTube branded video-ads grew more than 75 percent in the quarter, from a year earlier, with 40 percent of traffic now coming from mobile devices. 
"We estimate that Google's key YouTube asset generated approximately $4 billion in revenue in 2012, positioning Google extremely well for the strong growth in video advertising," RBC Capital Markets analysts wrote in a note. 
Analysts at Jefferies said Google is best positioned to benefit in mobile with one billion Android activations. The company sells applications and content through its Google Play Store. 
The Mountain View, California-based company - known for its Google Maps service, Chrome browser and Nexus line of smartphones and tablets - reported a 32 percent jump in revenue from the rest of world (excluding Britain) during the quarter with growth coming from Japan, South Korea and Australia.