Here's the stereotype: Across the country, basements are full of 20- and 30-somethings who graduated from college and now live with mom and dad because they can't find a job.
The reality? Millions of the millennials who are stuck in their parents' homes don't have a college degree and can't get a break in this harsh economy, a new analysis of government data shows.
Just ask Levi Oleson.
The 26-year-old once dreamed of being a pilot. Then the flight school he was attending went bankrupt, leaving him with $60,000 in debt but not enough training to start his career. A broken leg put him $10,000 deeper in the debt hole.
So now he's living with his mom and dad again, and working as many as 70 hours a week cleaning sewers instead of soaring through the skies.
"I never thought I'd be in this position. I'm about to turn 27 and I always thought (by now) I'd be on my own and have my own things going," he said.
A Pew Research Center analysis released earlier this month found that 40 percent of 18- to 31-year-olds with a high school degree or less, and 43 percent of those with some college education, were living at their parents' home in 2012. 
That compares with just 18 percent of millennials with a college degree who were living at home in 2012.
"This phenomenon of increasingly living with mom and/or dad, this is more concentrated among the less educated," said Richard Fry, a senior economist with Pew Research Center.
About 40 percent of young men in that age range were living at home, compared to 32 percent of young women. That follows a long-term trend of young men being more likely to live longer with their parents than young women.
The analysis of the government's Current Population Survey data includes people who are going to college and living either at home or in college dorms, which partly explains why so many younger, less-educated millennials are counted as living at home.
But a closer look shows a sharper surge in non-college educated millennials ages 25 to 31 who are still in their parents' homes.
Pew's analysis found that 19 percent of 25- to 31-year-olds with a high school degree or less were living at home in 2012, up from 15 percent in 2007. By comparison, 12 percent of 25- to 31-year-olds with a bachelor's degree or more were living at home in 2012, a statistically insignificant change from 11 percent in 2007.
There's also been a sharper increase in 25- to 31-year-olds with some college education living at home. Their ranks increased from 14 percent in 2007 to 17 percent in 2012.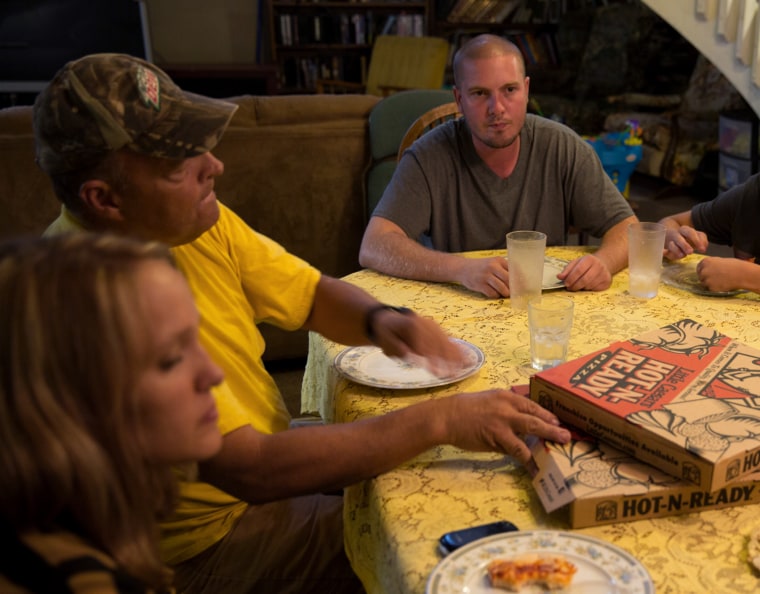 Oleson is grateful that his parents have given him a place to stay. But the situation has crimped his ability to do many of the things he expected to do by now, like get married and maybe even start a family.
"It's hard to meet a girl and tell her you live with your parents at that age," he said. "It's not really good for the ego."
Oleson is hoping that within a year he can afford to get his own place, but he's not sure if he'll ever get back to his original dream of becoming a pilot. But he said he's become more savvy with money, at least.
"I've become pretty cheap," he said, "and I think I've learned a good lesson about getting too much into debt."
A job, but not a well-paying one
Many young adults appear to end up at their parents' house because they don't have a job, or a job that pays well enough, to afford a place of their own. About 45 percent of unemployed millennials were living with their parents in 2012, the Pew analysis found.

The weak job market of the past five years has certainly made it tough for young college grads to find a good job, but economists say young people with little education are probably having a harder time.
That's because they have neither the skills nor the experience to land a good job, plus they have to compete with college grads who might be willing to take a job that doesn't require a college degree because there's nothing better out there.
"It's hit people harder with lower levels of education, and this sort of underscores that," said Heidi Shierholz, an economist with the Economic Policy Institute, a liberal-leaning think tank.
Even if younger workers can get a job, it can take a while to earn enough to go it alone.
James McAllister, 24, was finally able to move out of his mom's house last year after several years of living at home.
To make ends meet, he works a full-time retail job plus a second, part-time retail job. The Merriam, Kan., resident also doesn't have a car and has become an avid saver, coupon clipper and bargain hunter.
McAllister says he enjoyed living with his mom, but he felt he'd outstayed his welcome and it was time to move on. Now that he is on his own, he says he's lost weight and his social life has improved.
"I feel better," he said. "I feel more in control."
Allison Linn is a reporter at CNBC. Follow her on Twitter @allisondlinn or send her an e-mail.