Gary Brahm says he was willing to make a sacrifice for the environment, so he decided to sign up several years ago to become one of the first to lease Honda's FCX Clarity fuel-cell vehicle. What he didn't expect was to really enjoy the experience, so much so that when his initial lease ran out earlier this year, he signed on to get another one of the hydrogen cars.
"It's just like a regular car," said Brahm, the chancellor of Brandman University in Irvine, Calif., who finds that his second Honda Clarity is "a little quicker and more fun to drive."
Brahm was on hand this week for the introduction of what could soon become his third hydrogen-powered car, as Honda unveiled the FCEV prototype during the media preview days at the Los Angeles Auto Show. The maker is promising to put a final version of the zero-emissions vehicle into production in 2015.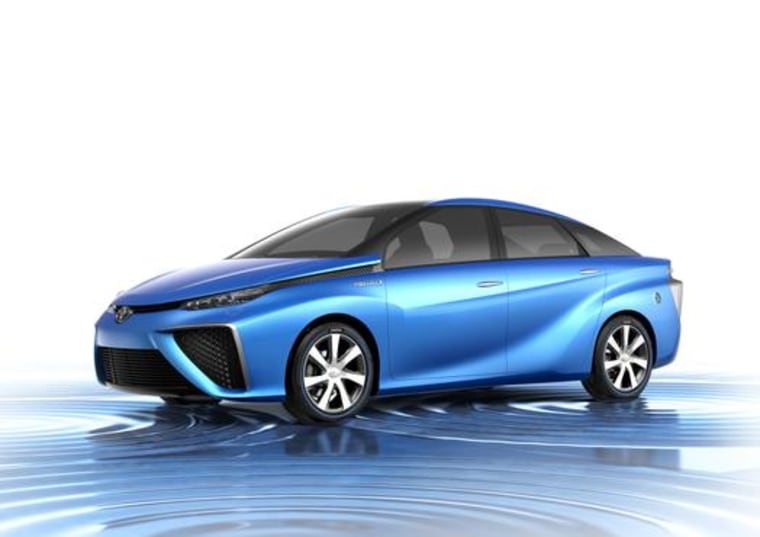 And, it turns out, Honda isn't alone. Toyota simultaneously announced 2015 production plans for its own fuel-cell vehicle, or FCV, at the L.A. event and the Tokyo Motor Show. But Korean carmaker Hyundai may have stolen their thunder, not only revealing plans to put a fuel-cell vehicle on the market by the spring of next year but to offer it at an unexpectedly low price that will include the cost of all fill-ups during the three-year lease.
Executives from several other manufacturers hinted they're also working up plans, including General Motors, which earlier this year signed into a fuel-cell development program with Honda.
The sudden rush to market is quite a reversal of fortune for hydrogen power. The technology has been around since 1839, when it was invented by British chemist William Grove. It only saw serious, practical application with the Apollo program, providing power for the Apollo moon capsules. A decade ago, as worries about oil supplies grew and global warming began to seem a cause for concern, automakers and federal regulators began to gush about fuel cell technology. GM at one point promised to have a commercial vehicle in production by 2012.
The Detroit maker missed that target – but the early enthusiasm overall began to fade as battery power came into vogue. The Obama administration initially shifted research funding from hydrogen to electric propulsion and it began to seem that "hydrogen is the fuel of the future – and always will be," as Nissan CEO Carlos Ghosn joked this week.
Why is it back in the spotlight? For several reasons, it seems. Hydrogen "is what we believe could be the ultimate solution to low-carbon mobility," declared Tetsuo Iwamura, Honda Motor Co.'s top North American executive and chief operating officer of its global automotive operations. "At the same time," he stressed, a vehicle like the FCEV can be "fun to drive and fun to own."
Promoting the ease with which motorists can slip from a conventional, gas-powered vehicle into a hydrogen fuel-cell vehicle could prove critical to winning over potential buyers, and could be the significant selling point when compared to battery-electric vehicles. Honda noted that fuel-cell vehicles like the FCEV prototype can be refueled in as little as three minutes and deliver up to about 300 miles per tank – compared to the hours it takes to recharge a battery car which, in turn, typically yields less than 100 miles of range.
Meanwhile, fuel-cell technology is not only becoming more efficient but much less expensive – Hyundai claims it cut production costs of its fuel-cell "stack" in half over the last two years. The maker plans to charge buyers $2,999 down and $499 a month – including its all-you-can-eat fuel plan. The $2,500 in available California subsidies would cover five monthly payments.
That said, hydrogen still has its drawbacks. The most serious is the lack of a hydrogen infrastructure – there are perhaps a dozen or so stations in all of California today – though the California legislature has approved funding expected to grow that to 100 by the end of the decade, and similar programs are under way in other likely markets, including Germany and Japan.
The announcements in Los Angeles show that a number of automakers are ready to go first in the chicken-and-egg face-off with the energy industry that – makers hope – will respond by gearing up even broader hydrogen distribution plans.
Initially, manufacturers are planning to limit distribution to Southern California, where there's already a small hydrogen distribution network. That could soon spread to other parts of the state, and there's hope that New York may follow with a government-backed push for hydrogen stations, as well.
Not everyone is flying high over the revival of hydrogen power. A senior Volkswagen official told reporters at the Los Angeles show his company doesn't believe fuel-cell technology is viable. And other industry officials question whether consumers will buy in – even with more fueling stations.
But for the moment, at least, hydrogen is back in the spotlight and ready to make a tentative shift from the research labs and fleet tests to something that could soon approach the mainstream.
Related stories:
Hyundai Joining Honda, Toyota in Debuting Super-Clean Hydrogen Cars at LA Auto Show
Mercedes to Let Motorists Drive New Supercar Concept - on New PlayStation Game Console
Feds Push Automakers to Speed up Development, Production of Advanced Safety Technology