Janet Yellen will be nominated as the next chair of the Federal Reserve on Wednesday, cracking one of the highest glass ceilings as the first woman to head the central bank in its 100-year history, the White House confirmed late Tuesday.
The announcement by President Obama is scheduled for 3 p.m. ET, the White House said. Both Yellen and current Fed chair Ben Bernanke are expected to attend.
Yellen is the vice chairman of the Fed and had been widely reported as a front-runner to succeed Bernanke. She would take over at a pivotal time for the economy and the banking industry. 
"I commend President Obama on his selection of Dr. Yellen to be the first woman to serve as Federal Reserve Chairman," said Senate Banking Committee Chairman Tim Johnson, D-SD, in a statement late Tuesday. "She has a depth of experience that is second to none, and I have no doubt she will be an excellent Federal Reserve Chairman."
Yellen was appointed vice chair in October 2010. She was president and CEO of the Federal Reserve Bank of San Francisco from 2004 to 2010 and also served as chair of the Council of Economic Advisors from 1997 to 1999. Prior to joining the Fed, Yellen spent much of her career as a professor at the University of California at Berkeley, where she had been teaching since 1980.

"She's an excellent choice and I believe she'll be confirmed by a wide margin," Sen. Chuck Schumer, D-NY, said after the announcement.
Yellen emerged as the leading candidate after Lawrence Summers, a former Treasury secretary whom Obama was thought to favor, withdrew from consideration last month in the face of rising opposition. 
Yellen, 67, would likely continue steering Fed policy in the same direction as Bernanke. A close ally of the chairman, she has been a key architect of the Fed's efforts under Bernanke to keep interest rates near record lows to support the economy. 
As vice chair, Yellen has helped manage both the Fed's traditional tool of short-term rates and the unconventional programs it launched to help sustain the economy after the financial crisis erupted in 2008. These include the Fed's monthly bond purchases and its guidance to investors about the likely direction of rates. 
Economics saturates Yellen's personal life as well. She is married to, and has co-authored a number of papers with, Nobel Prize-winning economist George Akerlof, whom she met in the fall of 1977 when they were both economists at the Fed board. They married the following June and left the Fed to teach at the London School of Economics. Their only child, now a university economics professor, knew he wanted to go into economics by the time he was 13.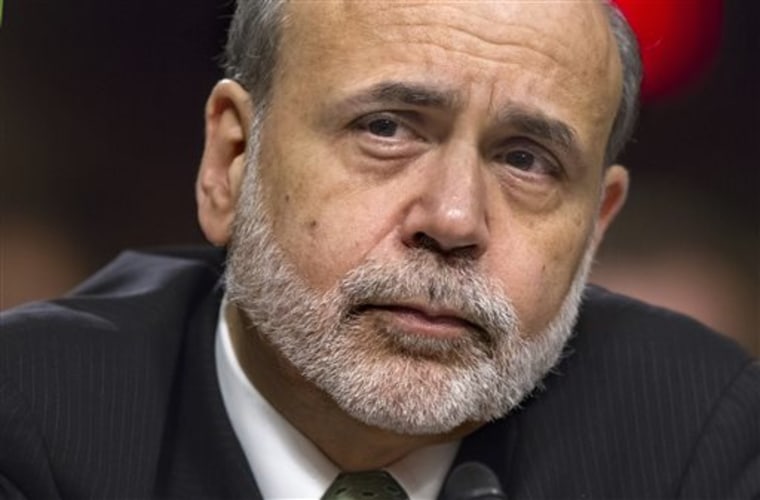 Bernanke's term ends in January, completing a remarkable eight-year tenure in which he helped pull the U.S. economy out of the worst financial crisis and recession since the 1930s. 

Under Bernanke's leadership, the Fed created extraordinary programs after the financial crisis erupted in 2008. It lent money to banks after credit markets froze, cut its key short-term interest rate to near zero and bought trillions in bonds to lower long-term borrowing rates. 
Those programs are credited with helping save the U.S. banking system. 
Johnson also thanked Bernanke, in his statement Tuesday, "for his incredible service to our country. He served as Chairman during one of the most turbulent economic times in our nation's history, and I believe our financial system is stronger and more stable today in part to his efforts."
If confirmed by the Senate, Yellen would be the second woman to lead a central bank for a developed nation. The first was Elvira Nabiullina, who was appointed to lead Russia's central bank in June.