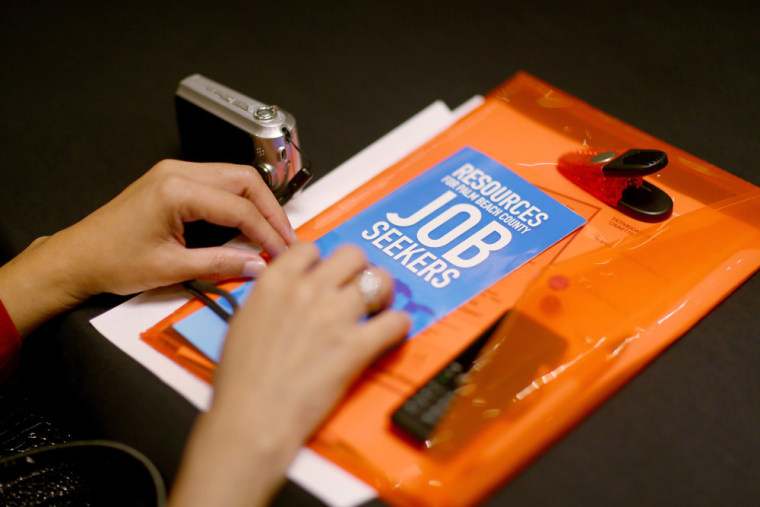 Forget the shutdown: Job creation surged in October despite dimmed expectations from the impasse in Washington.
There were a net 204,000 new jobs created for the month, though the unemployment rate rose to 7.3 percent and households reported a huge drop in employment, the Bureau of Labor Statistics said. A separate measure that includes the underemployed and those who have quit looking also moved higher, from 13.6 percent to 13.8 percent.
The numbers easily topped economist expectations of 120,000 new nonfarm payroll jobs for the month, though it matched estimates for a slight increase in the headline jobless rate.
"I find this bizarre," Moody's economist Mark Zandi told CNBC. "I wouldn't be surprised if this gets revised to some degree...down."
The data gave markets a brief jolt: Stock market futures that had indicated a higher opening turned lower, while interest rates spiked. Both moves eased as the market open drew closer.

Leisure and hospitality led the way in job creation with 53,000 new positions, 29,000 of which came from bars and restaurants. Professional and technical services added 21,000 while manufacturing contributed 19,000, according to the establishment survey of businesses.
Though the jobs creation number jumped, there was a mixed bag of news. The civilian labor force tumbled by 720,000 and the labor force participation rate fell to its lowest since March 1978.
Most startlingly, the household survey actually saw employment fall by 735,000 for the month.
"While the furloughed government workers technically should be counted as employed in the nonfarm payroll count as part of the establishment survey, at the same time they are counted as temporarily unemployed in the household survey," said Kathy Bostjancic, director of macroeconomic analysis at The Conference Board. "The negative impact from the partial government shutdown on the nonfarm payroll employment count doesn't seem to have affected the private sector at all."
The government's birth-death model, which estimates jobs created and lost through recently opened and closed businesses, added 126,000 to the total.

The numbers were expected to be noisy due in large part to the government shutdown and generally speaking have been on a modest downward trajectory lately.
Numbers from previous months saw upward revisions. August's total jumped from 193,000 to 238,000, while September's disappointing 148,000 got pushed up to 163,000, pushing the 12-month average up to 190,000.
Softening in the data had tempered expectations for a change in Federal Reserve monetary policy. The central bank had been indicating earlier in the year that it might start pulling back on its $85 billion a month in bond purchases, but three meetings have gone by since taper talk began in May, with no changes.
This week, two teams of Fed economists presented papers suggesting that the unemployment rate probably should drop to 6 percent or 5.5 percent before increasing interest rates. The Fed's short-term target rate has remained near zero since the financial crisis.

"Oddly enough, those on Wall Street will be disappointed as tapering talk will again resurface, thus squashing any idea of a would-be Gatsby rally today," said Todd Schoenberger, managing partner at LandColt Capital.
—By CNBC's Jeff Cox. Follow him on Twitter @JeffCoxCNBCcom.

Americans tapped out as holidays approach
Fed could be about to make a major policy change