The number of Americans filing new claims for unemployment benefits fell more than expected last week, suggesting some strengthening of labor market conditions.

Initial claims for state unemployment benefits dropped 21,000 to a seasonally adjusted 323,000, the Labor Department said on Thursday. Claims for the prior week were revised to show 5,000 more applications received than previously reported.
Economists polled by Reuters had expected first-time applications to fall to 335,000 last week.
The four-week moving average for new claims, which irons out week-to-week volatility, fell 6,750 to 338,500. A Labor Department analyst said no states had been estimated and there were no special factors influencing the report.
The claims data covered the survey period for November nonfarm payrolls. Claims dropped 39,000 between the October and November survey periods, suggesting some pick-up in job growth.
While layoffs have slowed significantly to normal levels, there has not been a rapid acceleration in hiring as domestic demand remains lukewarm.
The claims report showed the number of people still receiving benefits under regular state programs after an initial week of aid increased 66,000 to 2.88 million in the week ended Nov. 9.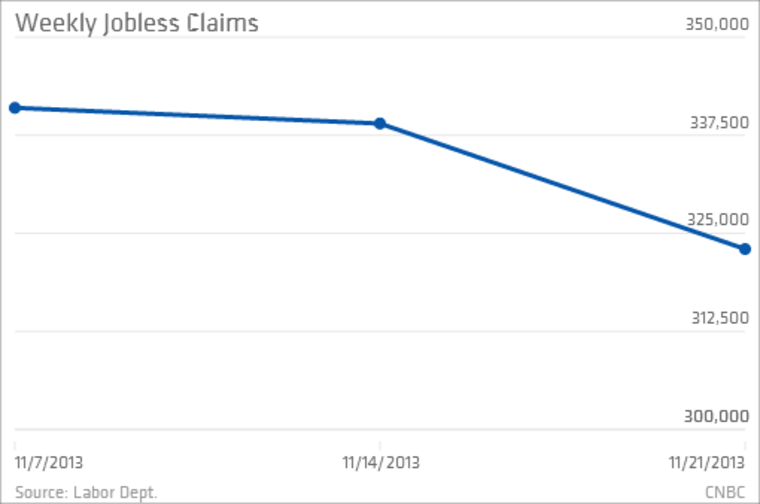 Separate data showed that U.S. producer prices fell for a second straight month in October, indicating inflation pressures remain benign. The Labor Department said its seasonally adjusted producer price index slipped 0.2 percent last month as gasoline prices tumbled, after dipping 0.1 percent in September.
The decline in prices received by the nation's farms, factories and refineries was in line with economists' expectations and was the largest drop since April. In the 12 months through October, wholesale prices rose 0.3 percent after advancing by the same margin in September.
Wholesale prices excluding volatile food and energy costs rose 0.2 percent after nudging up 0.1 percent in September.
The core PPI was boosted in October by the introduction of new motor vehicle models into the survey. Excluding cars and trucks, the core PPI was up 0.1 percent.
Sluggish demand is keeping inflation under wraps, which could likely see the Federal Reserve sticking to its monthly $85 billion bond-buying program at least through March as it tries to stimulate demand through low interest rates.
Blue Christmas for unemployed as Congress fiddles over jobless benefits