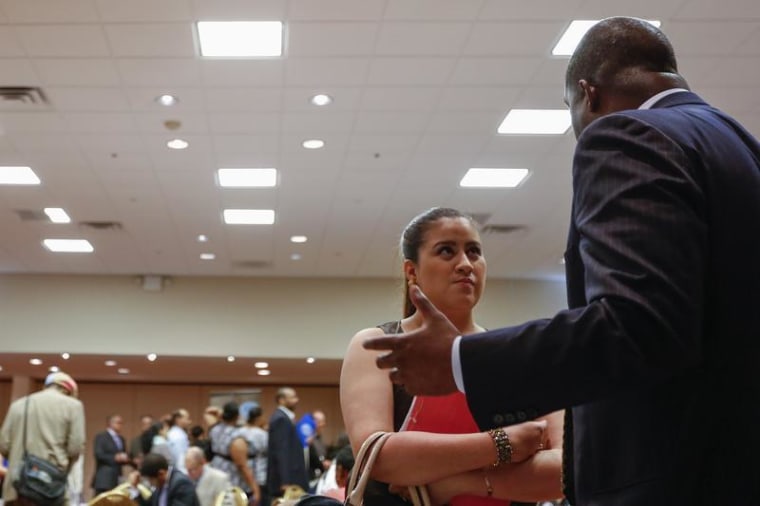 WASHINGTON -- The number of Americans filing new claims for jobless benefits rose slightly last week but was still near its lowest level since before the 2007-09 recession, a hopeful sign for the U.S. economy.
Initial claims for state unemployment benefits rose by 5,000 last week to 333,000, the Labor Department said on Thursday.
The four-week average of new claims, which often gives a clearer read of the labor market's underlying health, fell to its lowest since November 2007, just before the United States fell into a calamitous recession.
Now it appears that a long cycle of aggressive layoffs -- which had fueled a surge in unemployment and helped shape two presidential elections -- is over.
"The overall economy and the labor market are improving at a moderate pace," said Lindsey Piegza, chief economist at Sterne Agee & Leach in Chicago.
The pull-back in layoffs has helped bring about a substantial fall in the jobless rate, and the trend in jobless claims could make the U.S. Federal Reserve more comfortable in unwinding the nation's last giant economic stimulus program.
Many economists expect the Fed will begin reducing its massive bond-buying stimulus program as soon as next month. The Fed currently buys $85 billion a month in bonds to push borrowing costs lower.
While layoffs are roughly half their level in early 2009, the recovery in job creation has been more lackluster. Employers added just 162,000 workers to their payrolls in July.
Wall Street analysts polled by Reuters had expected first-time applications to rise to 336,000 last week, and investors did not appear to take any cues from the claims data.
U.S. stock index futures pointed to a higher open, while yields on U.S. government debt were little changed.
New jobless claims were volatile in July due to regular summer auto plant shutdowns, which make it hard for the government to adjust the data for seasonal swings.
But that volatility is now past, and Labor Department analysts said there was nothing unusual in the data and that no states had provided estimates.
The claims report showed the number of people still receiving benefits under regular state programs after an initial week of aid rose 67,000 to 3.018 million in the week ended July 27.
Reuters' Richard Leong contributed to this report.