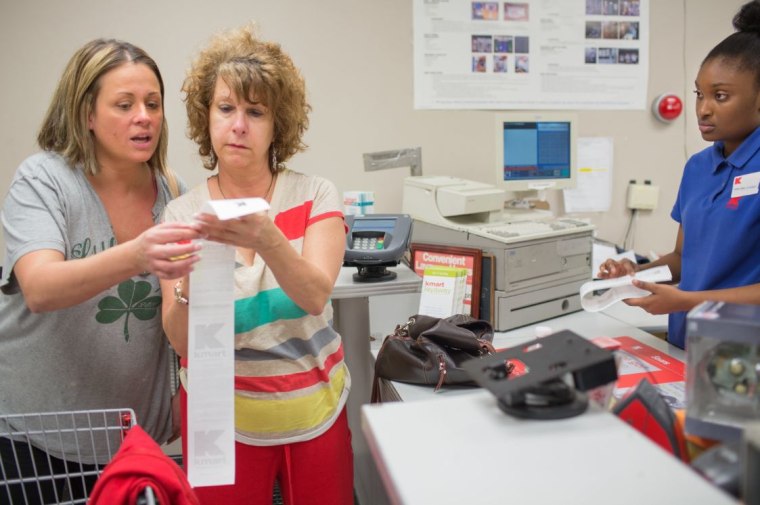 Christmas is on layaway for many Americans of modest means.
Burned by debt, and burdened by minuscule wage growth, the working poor are spurning plastic and returning to a retro way to stay on budget and put presents under the tree.
For many, it's a no-brainer: You put the item on hold, the store sets it aside, and you can pick it up after you make a series of payments, typically in cash, until it's paid off. Unlike credit cards, it doesn't rack up interest or require a credit check. It also carries few fees. And this year, many retailers are waiving the traditional fee to open a new plan, making it seem like a "free credit card."
Some experts are raising red flags, though.
Instead of giving stores a free temporary loan, consumers should use a piggybank or savings account, they say. Though fees are small -- usually a $10 fee to cancel a layaway plan and get a refund if payments aren't met -- they're the equivalent of a 90-140 percent interest rate, higher than the 15 percent currently charged by the average credit card.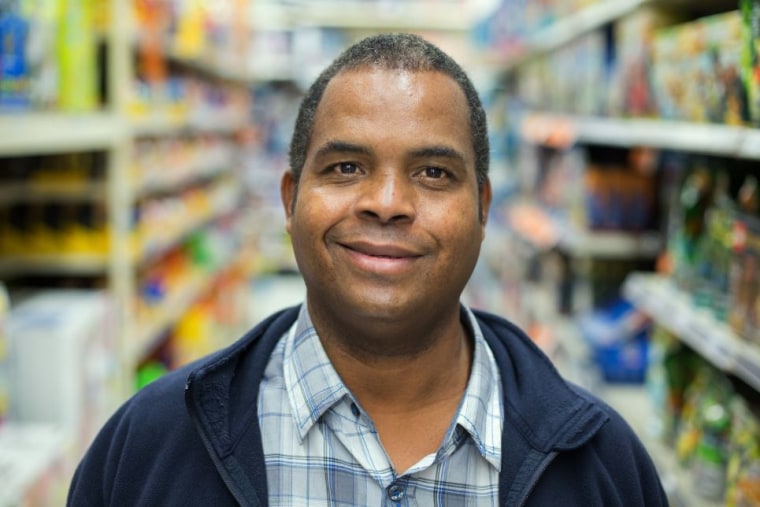 That doesn't bother Miguel Mieier. The 43-year-old driver is making layaway payments at a Kmart in the Bronx located within range of the towers of the Co-Op city affordable housing development. For his relatives, he's getting one comforter, three blenders, and some storage containers. This summer he spent over $800 on layaway for clothing, electronics and TV's. He hates using credit cards unless absolutely necessary.
"When you don't have an established job and you get out of control spending, you think I'm gonna send the minimum. Then you're still sending interest. You never finish. You're in there for life," he said.
Layaway, on the other hand, lets him buy bigger ticket items a little at a time.
"The economy is a struggle," he said. "If you're not middle class or high class, it's a little tough to buy what you need."
Retailers tout how layaway help customers manage their holiday shopping budgets and stick to a flexible payment schedule. They note that layaway storerooms can even help stash gifts away from curious snoops.
Several stores declined to share layaway sales figures, but John Plate, the manager of the Kmart in the Bronx, estimated a 25 percent increase in 2011 from the year prior. "It blew up," he said.
Toys "R" Us said its number of layaway orders "increased significantly" last year after it waived layaway service plan fees. 
And with consumer credit in the tanks since the Great Recession hit, layaway's appeal makes even more sense.

While both consumer credit card use and spending fell during the recession, spending regained more ground, suggesting some shoppers have switched to cash.
That was part a newly discovered national allergy to debt, and part necessity. Banks cut spending limits, canceled cards and made it harder to get new ones. They also nudged less profitable depositors off their balance sheets, increasing fees or raising hurdles for low balances, and slashing the interest rates they paid. 
8.2 percent of American households are "unbanked" and have no bank account. A further 20.1 percent classify as "underbanked." They have an account but have used an alternative financial product at least once during the year.
All that means consumers are still spending, but they're paying for it without plastic, keeping their cash somewhere besides a traditional bank account, and minding their pennies.
"I'm trying to get ahead of the game," said Margo Cobbs, 53, getting out the cash from her purse to put a 10 percent down payment on her layaway items. The program lets her start her holiday shopping early. "I'm not going to deal with Black Friday, fights, crowds, I've been there." She's putting $21.79 towards a Doc McStuffins Doctor's Bag Playset, Lalaloopsy Loopy Hair Doll, Disney Princess Royal Musical Microphone, a remote control helicopter and other toys for her grandkids.
Behind the counter, Kmart layaway specialist Kerri Ann Genus flips through the store's weekly circular, finding Cobbs $30 in extra savings. She says that per Kmart's terms, Cobbs must come in at least every two weeks for eight weeks to make equal minimum payments towards her $217.90 total. If she falls behind, there's a 7-day grace period. If she hasn't paid by then, the layaway is canceled, the toys are returned to the shelf, and Cobbs can return for her refund, minus a $10 cancellation fee.
The schedule works for the special-ed teacher, while a piggybank or savings account wouldn't, she said. Neither would a credit card, which she's avoiding using as she tries to pay down her balances.
"With the economy it's very hard to save up money," said Cobbs.

"I'm on a budget," said Kristina Bedgood, a 43-year-old Cablevision customer service representative using layaway to buy robes and bath sheet sets as Christmas presents. "I can break up my payments." She's trying to fix her credit and pay only in cash, forgoing even debit cards after getting in trouble with overdraft fees. 
For Taija Coley, a 20-year-old nursing student picking up a Monster High doll and other toys for her cousins from layaway, "it's a healthy way of shopping."
In the Philadelphia suburb of King of Prussia, the $62,012 median household income is $27,268 higher than in New York City's Bronx borough, but the stores in and around the largest mall in America in terms of leaseable retail space draw patrons from the surrounding economically diverse towns. At the Wal-Mart, a white Mercedes zips out the parking lot exit past a rusting parked gray Oldsmobile.
Inside, the layaway counter is noticeably less active than the one in the Bronx. Several customers in the store scoffed when asked if they ever used layaway.

"It's really irrational," said John Alexander Jr., an 80-year-old retired banker. He used to marvel that his bank's customers clamored to join Christmas Clubs, which locked in customers to making regular deposits during the fall at low or zero interest rates. Essentially they gave a free loan to the bank in exchange for making sure they didn't spend their money until December.
Like layaway, Christmas Clubs became popular during the Great Depression. "It's crazy," said Alexander, but, "some people need the discipline."
"If there's a big ticket item, we put it on the credit card," said Russ R., 64, a training manager who declined to give his last name out of privacy concerns. "We just pay it off within thirty days," added his wife, Kathy, a 62-year-old former elementary school teacher.
However, that's not an option for other customers who have seen how a card's line of credit can become a rope to hang yourself with.
Briana Abad, a 19-year-old switchboard operator and mother of an 8-month old boy, last year bought her fiancée an Xbox 360 on layaway at Wal-Mart. She only keeps one credit card, issued by her credit union, and uses it rarely. After her grandmother got divorced and her husband was slow to pay the alimony, her grandmother ran up credit card bills with medical expenses, said Abad. The whole family had to chip in to pay them off.
Abad chose layaway because, "the payments are flexible and I can put money aside," she said. Wal-Mart has a December 13th deadline for the final layaway payment but doesn't require a set payment schedule. "I don't like to give myself an excuse to spend more than I have to."
"I'm still paying off having my kid," she added, citing charges incurred during her delivery.
Dan Ariely, a behavioral economist at Duke University, says layaway can be a good system for those trying to stretching to make a purchase.
"It make the future purchase very clear... it breaks things into chunks... and it creates "loss aversion," he said. "From a design perspective it actually taps lots of good things in human nature."
"You're having someone else do the math for you," said Bruce McClary, Director of Media Relations ClearPoint Credit Counseling Solutions, a nonprofit credit counseling service. Unlike stashing the cash in a Mason jar under the porch, he said, the money you put in layaway can't get snatched.
At least not entirely.
Even during the holidays when stores waive the typical $5 service fee to open the layaway plans, they carry cancellation fees, penalizing those who fail to make the payments. For example, if a shopper with $100 worth of presents on layaway and a $15 downpayment failed their layaway, the cancellation fee would be like paying $10 in interest for the right to borrow $85 for two months. That's equivalent to a 93 percent annual percentage rate. If the customer failed within the first month, the rate could go up over 141 percent.
The average credit card interest rate is currently about 15 percent, though it could go higher —the median penalty rate is 29.9 percent—if you fall behind on payments. After fees, the average payday loan, an alternative financial product that some consumer advocates have criticized as predatory, carries an effective interest rate of 391 percent.
"This idea only works for those on that knife edge of willpower where they can go into the store and pay the layaway plan, but not be able to use a piggbybank," said Alex Tabarrok, an associate professor of economics at George Mason University. He's known for his posts on the Marginal Revolution blog, where he recently wrote critically of layaway programs.
Tabarrok would rather see people save up their money, even earning a little interest in a bank, and spend it when they're ready. Then they've got the flexibility to get a better deal, at any store, or buy something else entirely.
"This is not a real solution," he said.
But for some strapped shoppers this holiday season, it's the only solution they've got left.
Contact Ben Popken at ben.popken@nbcuni.com, @bpopken, or benpopkenwrites.com.