7625 State Route 179, Sedona Ariz.
For sale: $1.2 million

Listing agent Ken Robertson offers a simple explanation for the colorful residence in rural Arizona:
"They wanted to have the most recognizable home in Sedona."
Looking at the house, it appears the homeowners achieved in their goal. Ten egg-shaped domes appear to spring up from the desert landscape, each painted a different rainbow hue ranging from deep navy blue to bright sunshine yellow.
This property has passed through a number of owners: A family of four coated the domes in their current eclectic colors. Prior to that, the domes were painted like the Sedona red rocks, camouflaged into the surroundings.
The home is made of monolithic domes, a type of structure known for being "basically tornado-proof, hurricane-proof and fire-proof," said Robertson, of Russ Lyon Sotheby's. "It's got 3 inches of polyurethane foam, then steel wire and then covered with 4 to 5 inches of concrete."
Each of the 10 domes connects to one another, creating a 5,000-square-foot living space with three bedrooms and three baths. The entrance opens up to a 32-foot-high dome with an upstairs loft area. From there, the floor plan leads to a living area that includes a large, indoor water feature.
There's a kitchen dome, a dining dome and a theater dome, which has incredible acoustics, Robertson says.
The current owner has owned the home for only a year, but during that time he updated the interiors, adding new appliances and flooring and redoing the water feature.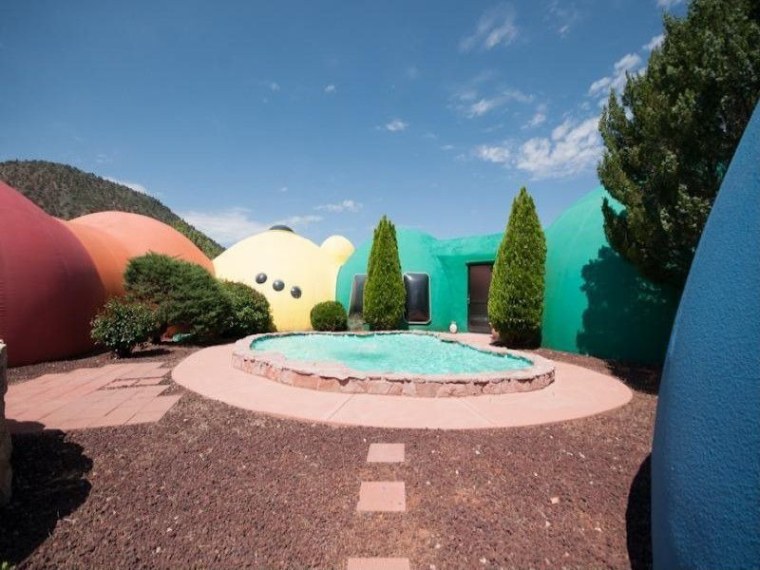 Outside, the property spans 3.5 acres, with a detached garage and setup for additional RV parking. An additional fountain sits in the middle of the lot.
Current mortgage rates put the home's estimated monthly payment at $4,652, calculated with a 20 percent down payment and 30-year mortgage.
See more images on the Zillow Blog.
Photos by Ian Whitehead at Ian Whitehead Photography. 
Related: 
Erika Riggs, a real estate writer for Zillow Blog, covers celebrity real estate, unusual properties and home design trends. Read more of her work here.