104 Helderberg Castle Rd, New Scotland, NY
For sale: $179,900
Forget about a room with a view. How about a castle with a past?
Located in upstate New York just outside Albany, this exotic creation features the hand-built limestone ruins of a castle that was the work of a reclusive, Socialist minister and master craftsman named Bouck White. He's been dead for half a century, but the intrigue lives on, as does White's home, pottery, books and legend.
The historic Helderberg Castle sits on 4.5 wooded acres. Listing agent Brian Brosen of Realty USA said he's been contacted by potential buyers curious about this quirky array of buildings set on a bucolic cliff, though Brosen warns the place requires a special buyer — someone with a vision and sense of adventure. The compound includes the limestone ruins of the old castle, a pottery studio and various other outbuildings, including ar tower with a 360-degree view.
The castle, built in 1935, presents an interesting opportunity — and challenge. In addition to the land, the property contains church ruins, tower ruins and the ruins of the original home along with a more contemporary 2,500-square-foot home that contains large bedrooms, a porch and deeded rights to a spring on a neighboring property.
Brosen said the property, which is available through a short sale, had been under contract last year. The deal fell apart, however, after the lender grew impatient with a title dispute that has since been cleared up.
An eccentric who married his religious calling with fervent Socialist idealism, White — whose preaching and lifestyle rankled neighbors, as described here in this New York Times article from 1921 — was said to be attracted to the lonely cliff by a belief that it was where Native American leader Hiawatha experienced visions that led to the founding of the Iroquois Confederacy.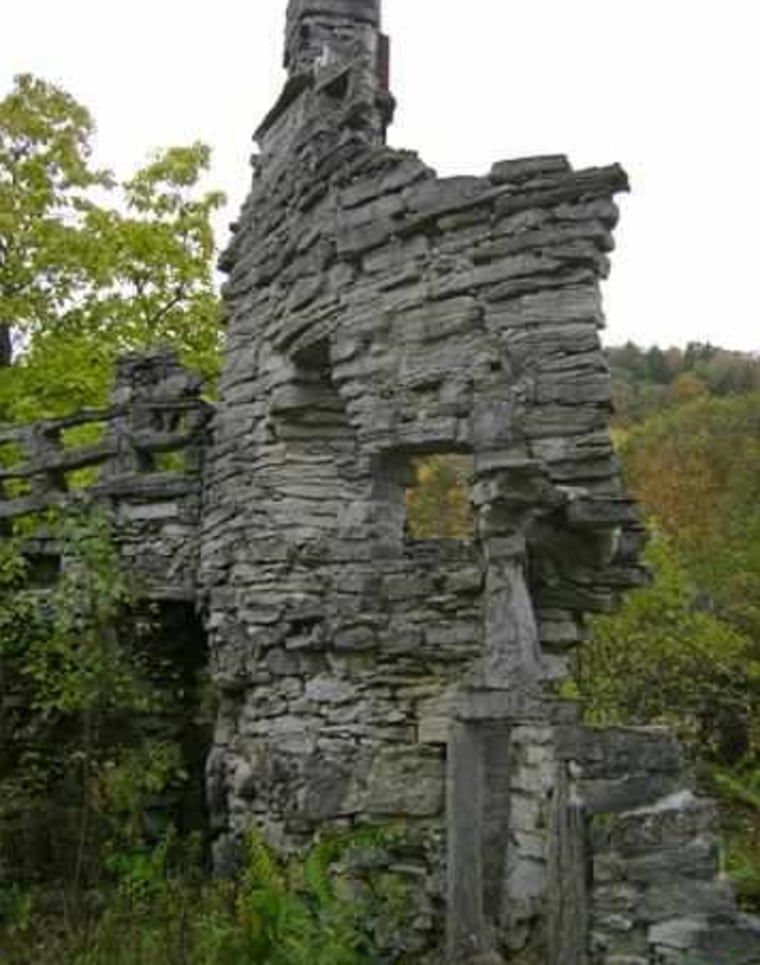 Brosen said one of the buildings contains a covered entrance to a cave where White was said to have lived for two years while he worked on the castle. Because of White's craftsmanship, rehabilitating the ruins will likely take a special stone mason, as White did not use mortar to hold the stones together. (White's "Bouckware" pottery also used an unusual technique that required no heat for glazing.)
As for White's fate? Fire destroyed his living quarters at the castle in 1940, and in 1944 he suffered a stroke that forced him to enter the Home for Aged Men in Menands, where he died in 1951.
Interested in buying the Helderberg Castle? Zillow's mortgage calculator estimates you would have a $696 monthly mortgage payment, assuming a 30-year fixed loan with 20 percent down.
See more photos of the castle ruins on the Zillow blog.
Related:
Laura Vecsey is a freelance writer for Zillow Blog. Read more from her here.