Five months ago, Manti Te'o was a star.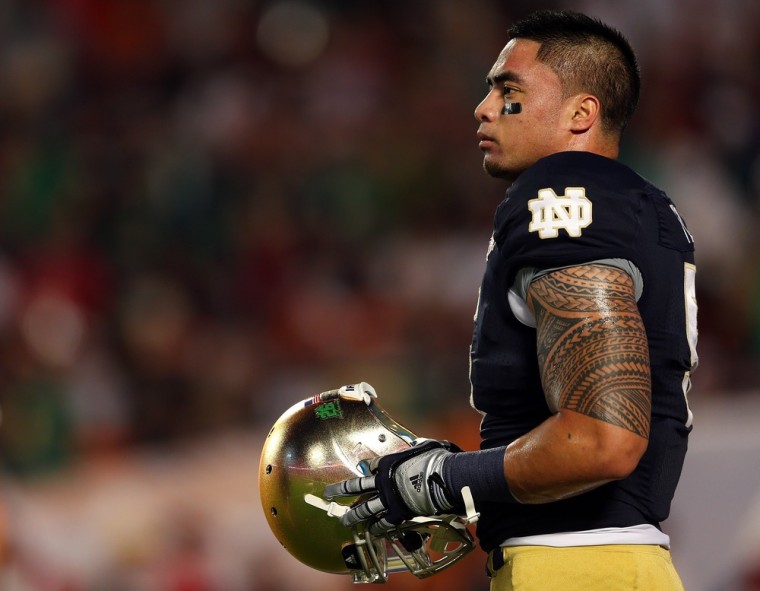 The Notre Dame linebacker was one of the few college players who became a household name as he almost won the Heisman Trophy and led the Fighting Irish to the championship game.
On most draft projections, he was a top 10 pick. And as a potential millionaire endorser, he was, perhaps, No. 1.
That's before everything went wrong—the poor performance in the BCS title game, the fake-girlfriend hoax, the unimpressive scores at the scouting combine.
All of those forces resulted in the once-unthinkable on Thursday night: He was not even chosen in the first round. That's right—32 teams had the chance to select him, and 32 teams said "no thank you."
And he lost millions of dollars.
(Read More:New Facebook Tool, Te'o Scandal Fan Flames of Privacy Debate)
Look at it this way: If an NFL team picked Te'o at No. 5, he would have received a contract around four years and $20 million, with roughly half of that guaranteed. The millions from a rookie contract likely would have been matched by off-field endorsements.
None of that has materialized, and now he's looking at a contract that will pay him about half a million with, perhaps, $2 million guaranteed.
That's a net loss of at least $8 million.
"Even if he plays 10 years in the league, this is millions over the first four years that he never gets back," said sports economist Patrick Rishe. "His endorsement value took an even bigger hit."
"Here's a guy who was a hot commodity during his senior year at Notre Dame," Rishe aid. "If he performs well in the national championship game, if there isn't a story about the hoax girlfriend, and he had performed well at the combines, not only is he going to be picked in the top 10 and earn more money, but he's going to be more likely to get the endorsement deals."

(Read More: Get a Fake Facebook Girlfriend for $20)
Te'o must have known there was a possibility that he would not be picked because he did not attend the Radio City festivities at all Thursday night, avoiding the awkward possibility of multiple camera shots of him waiting in the green room as team after team passed him by.
That's what happened to West Virginia quarterback Geno Smith, and he was so upset that he declined all interviews afterward.
Smith was projected as the top quarterback in the draft, but there was only one QB picked in the first round. His name was EJ Manuel and not Geno Smith.
As for Te'o, he no doubt will get drafted at some point.
The rest is up to him.
"If he plays and performs well, if he's a marketable player, if he's great in the community, all of those (other) things get washed away," Rishe said.
That's a lot of "ifs."