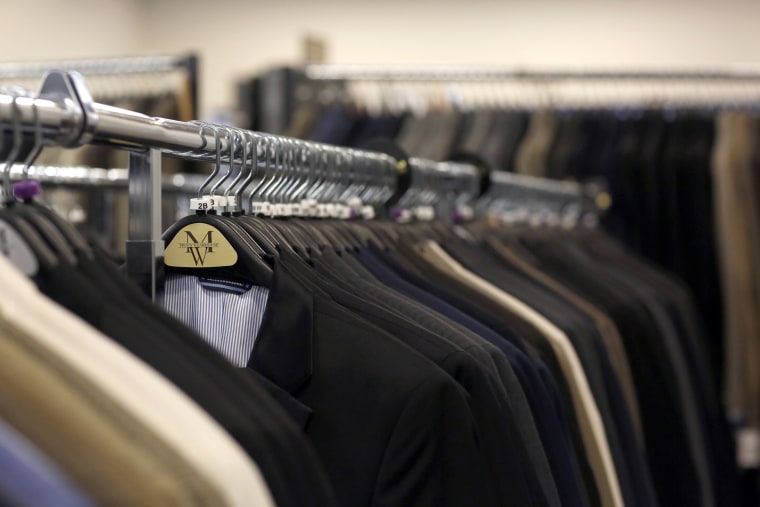 Men's Wearhouse Inc. apparently likes the way it looks, rebuffing a $2.3 billion offer Wednesday from Jos. A. Bank Clothiers Inc. to buy its larger rival.
The $48 cash offer, which would create a men's clothing heavyweight with more than 1,700 stores in North America, is a 36 percent premium to the closing price of Men's Wearhouse shares on Tuesday.

But Men's Wearhouse shares closed the day up 27.8 percent at $45.03 on Wednesday, below the offer price. Jos. A. Bank's shares were up 6.4 percent at $44.33 on the Nasdaq.
Also Wednesday, Men's Wearhouse adopted a poison pill, or shareholder rights plan, that would be triggered if an outside investor acquires more than 10 percent of Men's Wearhouse common stock, or 15 percent if a passive institutional investor were to take a stake. The poison pill, a device used by companies to prevent hostile takeovers, expires Sept. 30, 2014, unless Men's Wearhouse decides to end it earlier. 
Men's Wearhouse said the non-binding offer undervalued the company and its growth prospects.
"We are confident that we can achieve total shareholder returns well in excess of what can be derived from Jos. A Bank's unsolicited and inadequate proposal," Men's Wearhouse CEO Doug Ewert said in a statement.
Men's Wearhouse last month bought designer brand Joseph Abboud for about $97.5 million. The company said that deal, along with its expansion of full service stores, outlet stores and expanding its share of the formalwear market would lift its shares more than being bought by Jos A. Bank would.
Fremont, Calif.-based Men's Wearhouse had a market value of about $1.68 billion, compared with Jos. A. Bank's $1.17 billion, as of Tuesday's close. The company sells discount suits through 1,137 stores, its website shows.
Jos. A. Bank, with more than 600 stores, is a century-old seller of men's tailored and casual clothing, according to its website.
Men's Wearhouse was founded in 1973 by George Zimmer, known to U.S. TV audiences for his advertising catchphrase: "You're gonna like the way you look — I guarantee it."
The company fired Zimmer in June, saying he had pushed to take the company private and effectively demanded to be reinstated as the company's sole decision-maker. Zimmer denied he had pushed for a sale, insisting he only presented that suggestion to the board as an option.
Zimmer owned about 3.7 percent of Men's Wearhouse as of July 22, making him the eighth-biggest shareholder, according to Thomson Reuters data.