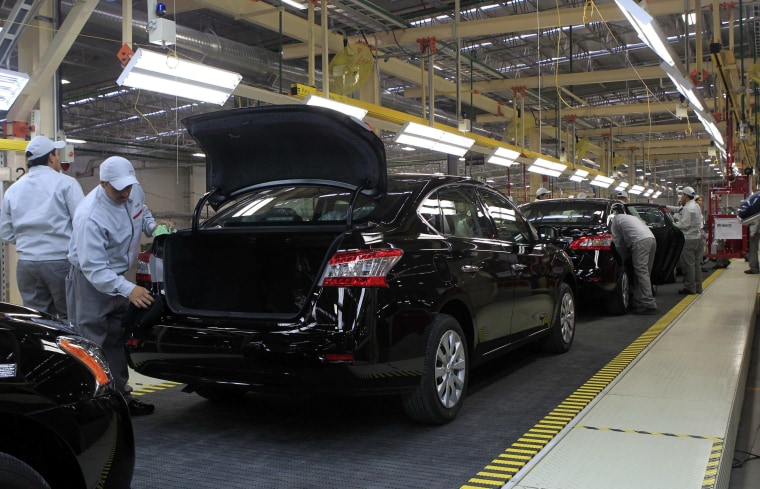 Corrected: An earlier version of this story mischaracterized the history of Aguascalientes.
For centuries, Aguascalientes has been known for its thermal springs in Mexico's central high plains desert, adding industries such as food processing, railroad repair and textile factories over the years. Recently it's shifted into high gear and is giving chase to Detroit for the title of Motor City.

The thriving city, whose name translates into Hot Water, is indeed steaming. Even Mexico's charismatic new President Enrique Peña Nieto couldn't resist an invitation to attend the debut of Aguascaliente's latest manufacturing facility.
The $2 billion facility is the second Nissan now operates in the city, and the maker readily notes that it was designed with plenty of room for expansion. In fact, it has been widely reported that the Japanese maker's German ally Daimler AG may soon join in by adding an assembly plant of its own at the complex.
"This proves that Mexico is a great place to make a reliable investment," proclaimed Peña Nieto -- who has made it one of the priorities of his term in office to bring new manufacturing to the long-struggling nation – during this week's dedication of the Nissan plant.
The auto industry seems more than willing to oblige. Longtime manufacturers such as Nissan and General Motors – which has announced a $700 million expansion program – are being joined by an assortment of new names, including Honda, Mazda and Audi.
As in the U.S., Mexico's fast-growing auto industry actually has sprawled out, from the parts plants near the Texas border all the way down to the assembly plants in the central and southern reaches of the country. Last year, those factories rolled out about 2.9 million new cars, trucks and crossovers, according to the national automotive trade association. But with the planned additions, capacity should soon approach 4 million vehicles annually.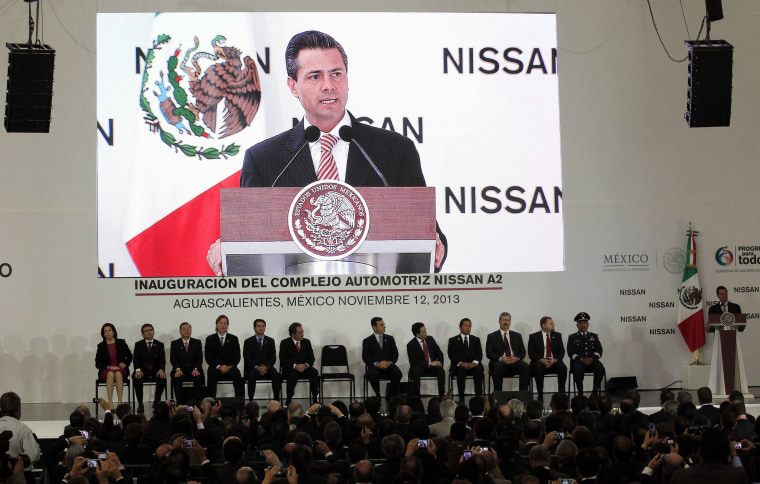 During his speech the Mexican president noted that his country is already the world's eighth largest automotive manufacturer – and may soon climb to seventh. But it's also the fourth-largest auto exporter behind Japan, Germany and South Korea – and ahead of the United States.
Of those 2.9 million cars produced in the country last year 2.1 million, or roughly 70 percent, were shipped across Mexico's borders. According to Nissan CEO Carlos Ghosn, the two big Aguascalientes plants – and a third line in Cuernavaca – export to 100 foreign markets, from China to Chile to the Czech Republic.
"Mexico has become one of our major export hubs," Ghosn said, adding that it is on the way "to becoming as important as Japan," and may soon actually export more vehicles than Nissan's factories on the home islands.
There are a variety of reasons why Mexico's automotive industry is booming:
Cheap labor is clearly a factor. While Nissan and competing makers don't reveal wages, the general consensus is that labor costs, including benefits and taxes, are running about 20 percent of what makers pay north of the border, or about $10 an hour – which can translate into savings of $1,000 a car;

Proximity to key markets in both North and South America helps, as well, with shipping costs much lower than for products built in Europe or Asia. It's also close to the established U.S. parts-making network;

Mexico has further reduced costs for its automakers by having negotiated more than 100 free trade agreements, rep
ortedly more than any country other than Israel.

There's a down side to Mexico's success as an automotive exporter. Its domestic automotive market is a fraction of the size of other countries with far lower levels of production. Auto sales peaked in 2005 at 1.15 million, plunging to 757,000 in 2009. While the U.S. market also fell to decades-low levels, Mexico has enjoyed nowhere near the rebound of its northern neighbor. Its citizens are expected to buy just 1.06 million vehicles this year, and the industry forecasts it won't reach its old peak until 2015.
Put another way, barely one in 150 Mexicans will buy a new car this year compared to one in 20 in the U.S.
Peña Nieto's administration has promised to take steps to help boost demand, in part by creating new, higher-paying jobs but also through banking reforms aimed at a financial industry that has traditionally resisted consumer lending.
That could work, as Nissan has discovered. The maker's in-house lending unit is a key reason, it claims, why it is the No. 1 Mexican auto retailer with a market share of 24.7 percent compared to 18.9 percent for second-ranked General Motors.
For now, though, manufacturers are putting most of their emphasis on exports, and that's expected to continue being the major draw for new players. The country's economic minister was recently quoted in the Mexico City press suggesting two other automakers are giving thought to joining the influx. Despite the government's tradition of falling short on promises, most expect that will happen. And the general consensus is that still more manufacturers will follow.
Related stories:
Lincoln Launching New MKC Compact Luxury Crossover
Honda to Unveil Ultra-Clean Hydrogen Car at LA Auto Show
From Hot Wheels to Neon Lights, American Motorists Go Big on Customization