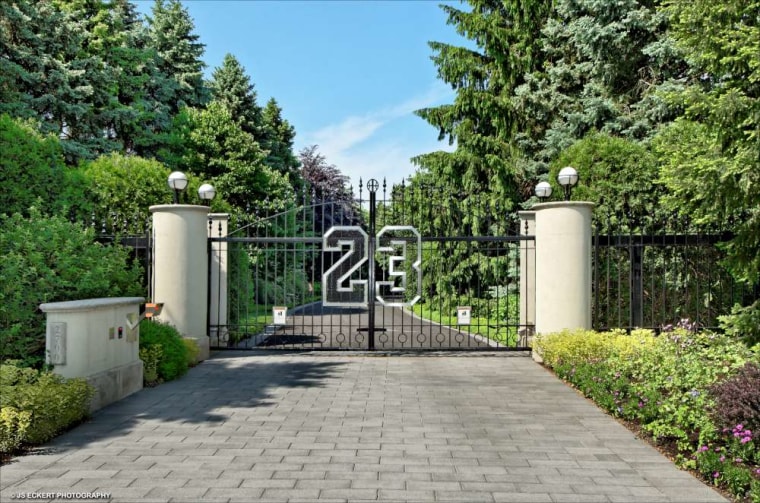 Two hundred fifty-thousand dollars could buy you a home outright in Dallas, Nashville, or just about any decent city in the U.S.
Or it could be the deposit on a home owned by an NBA legend in Chicago.
Former Chicago Bulls great Michael Jordan's custom home is up for auction and the only thing bidders need is a deposit of $250,000. While it's unlikely his home will be grabbed for a mere $250,000, it is an interesting entry point, especially considering that it was first listed for sale in February 2012 for $29 million. The price was then slashed to $21 million in January 2013. Often homes spend a bit longer on the market before heading to auction, but Jordan told The Wall Street Journal that he's ready to leave the home behind.
"My kids are grown now and I don't need a large house in Chicago," he explained.
While most people don't choose to auction off their homes, an auction house is the perfect way to sell a home like Jordan's.
"This is typical of the type of properties that we represent," said Concierge Auctions President Laura Brady. "They [the owners] are used to using auctions to buy and sell things — they understand the power of an auction when buying a unique, one-of-a-kind item."
The home is certainly original. From the entrance of the home — tall gates emblazoned with the famous No. 23 — to the NBA-regulation basketball court, the home is filled with Jordan's custom touches.
He bought the 7.9 acres in Highland Park, a suburb about 30 miles outside of Chicago, in 1991 and moved into the 56,000-square-foot home in 1994.
Hidden behind high privacy gates, and surrounded by evergreen trees, the house has a litany of high-end features, starting with nine bedrooms, 15 bathrooms and five fireplaces. Six of the bedrooms are located in the main part of the home, each with en-suite bathrooms. The master bedroom has a three-sided fireplace, his-and-her baths and private lounge area.
The lower level holds a number of entertaining spaces, including a card room, cigar room with a custom-built, walk-in humidor, wine room and tasting space, as well as a "gentleman's retreat." Doors from the original Playboy Mansion lead to the space, which holds a billiards room, library and full wet bar.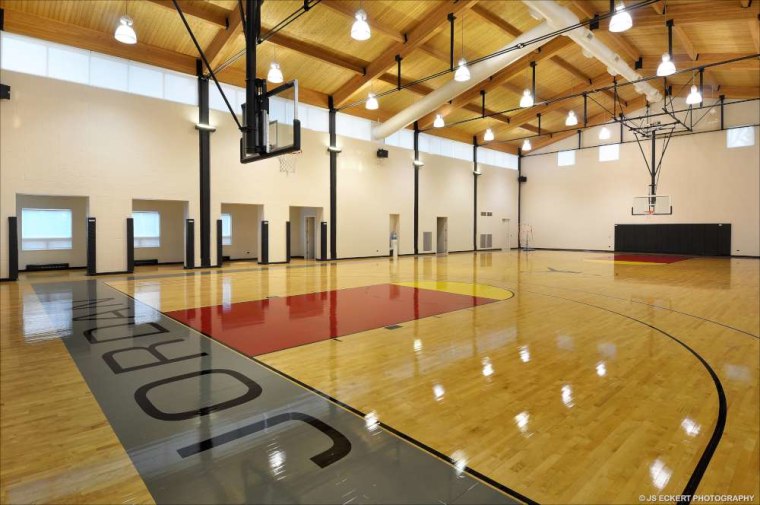 Of course the pinnacle of the home is likely Jordan's basketball court. The full-size, regulation basketball court was built to Jordan's exact specifications. Accessible by a separate entrance and serviced by its own parking lot, the court also has a full locker room and lounge with viewing area.
Other home amenities include an outdoor tennis court and putting green, as well as a three-bedroom guest wing and high-end chef's kitchen.
The auction will be held Nov. 22. Bidders can register their bids up to three days prior to the event. The home is also listed with Katherine Chez-Malkin of Baird & Warner Real Estate.
See more photos of Michael Jordan's home on the Zillow Blog.
Erika Riggs, a real estate writer for Zillow Blog, covers celebrity real estate, unusual properties and home design trends. Read more of her work here.