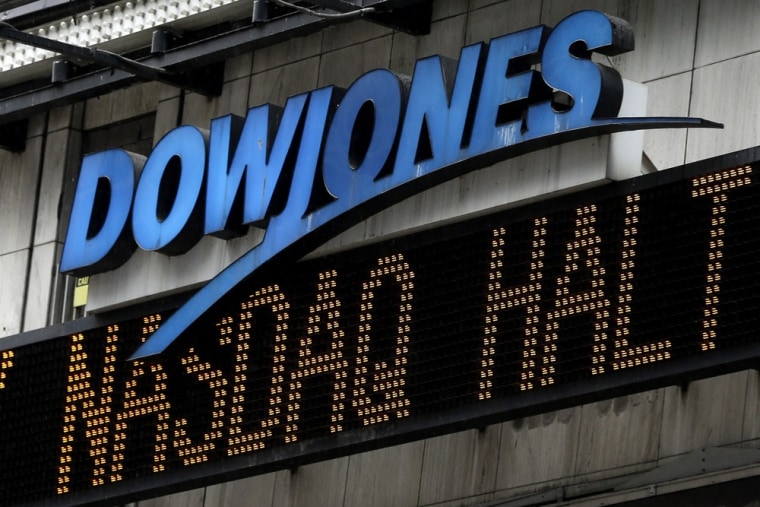 Wall Street's latest trading fiasco is not expected to have a lingering impact on the market, but it certainly dealt a longer term blow to the Nasdaq's reputation.

Trading in Nasdaq-listed stocks and options on those stocks were frozen for three hours Thursday, paralyzing a large cross section of the U.S. stock market. The financial hit to Nasdaq could be just several hundred thousand dollars in lost revenues, according to some analysts, but after its high-profile fumble trading the Facebook IPO, Nasdaq is under scrutiny, as is the entire market's vulnerability.
(Read more: Stocks close higher after 3-hour Nasdaq trading halt)
Such a noticeable technology breakdown on Wall Street is also another blow to investor confidence, shaken by the financial crisis but also by high speed trading and trading debacles, like the 2010 "flash crash." Nasdaq is home to such high profile tech names as Apple, Google, Amazon and Microsoft.
Securities and Exchange Commissioner Mary Jo White weighed in Thursday evening, taking a hard tone. She said she would call a meeting exchange leaders and other market participants and would push an SEC proposal for new standards for trading and other market systems. "Today's interruption in trading, while resolved before the end of the day, was nonetheless serious and should reinforce our collective commitment to addressing technological vulnerabilities of exchanges and other market participants."
In the last several years, there have been a series of computer-related trading calamaties, including the most dramatic – the "flash crash," which sent the Dow into a rapid 1000 point decline, before it recovered. Glitches and failures large and small have occurred across the industry. The CBOE had a delayed opening in April for internal systems issues, and BATS Global Markets last year experienced a software glitch so severe that it canceled its IPO. A flawed Goldman Sachs computer system this week generated a large amount of erroneous options trades.
(Read more: 'Buying stampede' may be just about over, pros say)
This latest snafu, which occurred just after noon Thursday, was resolved within a half hour, according to Nasdaq, but it took the remaining time to coordinate with other exchanges, regulators and market participants to ensure the orderly re-opening of trading, Nasdaq said.
Traders complained that they received little information from Nasdaq while they waited for it to reopen. "It's just frustrating. You can't get any answer from Nasdaq as to what actually happened," said Andy Stein, head of equity trading at Cowen, just after trading resumed at about 3:25 p.m. "We have concern for any international orders we were working over the day."
Trading was slow once the market reopened. "I think a lot of people stayed on the sidelines after they reopened the market," Stein said.
(Read more: Treasury cuts 2-year note sale by $1 billion)
Steve Massocca of Wedbush Securities said the failure of exchange technology unfortunately is a trend that could continue. "I just see it as part of the foreseeable future. I don't see it change. This is a recurring theme. These automated systems have issues on occasion," he said.
The Nasdaq index was higher when the halt occurred and closed 38 points higher at 3638. The stock of exchange parent Nasdaq OMX stock wasn't so lucky, losing 3.4 percent on the day. The S&P was up 14 points at 1656, just above its 50-day moving average, and the Dow was up 66 at 14,963.
Nasdaq said it halted trading after it became aware price quotes were not being disseminated by the Securities Industry Processor, basically a quote disseminator. Nasdaq is the operator of the SIP for the industry on its listed issues, while the NYSE operates SIPs for its stocks and ETFs.
(Read more: Make US manufacturing a race horse: Fed's Fisher)
"If it was a Nasdaq problem with a Nasdaq system, the other exchanges could have kept trading the four-letter symbols but because the industry tape uses (SIP) price dissemination and Nasdaq operates it, they called a regulatory halt," said Richard Repetto, analyst with Sandler O'Neill. "One interesting thing, it's not because the market is all fragmented. it's the one system that's not fragmented."
In the early evening Thursday, Nasdaq followed up with another statement, this time pointing to issues between an exchange participant and the SIP. "There was a connectivity issue between an exchange participant and the SIP, which lead to a degradation in the ability of the SIP to disseminate consolidated quotes and trades. The cause of the issue has been identified and addressed," it said.
Nasdaq officials declined to comment beyond the statement.
(Read more: US household income is now this bad)
Early Friday, Nasdaq-OMX CEO Robert Greifeld defended the way his exchange handled the outage, saying unspecified outside issues were the real problem. 
In an interview with CNBC, Greifeld acknowledged the Nasdaq needs to get better at "defensive driving," but he said the exchange followed all the proper procedures once a problem was discovered. 
He also defended his decision Thursday not to address the public during the shutdown or afterwards.
Greifeld said he and others working on the problem were too busy trying to get operations restarted to make statements. 
—By CNBC's Patti Domm. Follow here on Twitter @pattidomm. CNBC senior writer Jeff Cox contributed to this report.