As National Doughnut Day rolls around, everybody's got dough on their minds in one way or another. Workers at doughnut shops are gearing up for giveaways this Friday while their parent companies are rolling out big expansion plans.
Unlike a lot of free-food fad days, National Doughnut Day has a longer, more altruistic back story. During World War I, the Salvation Army sent volunteers to France, where they made doughnuts for soldiers fighting on the front lines. In 1917, the group dubbed the first Friday of June National Doughnut Day to commemorate the volunteers' goodwill gesture.
In true all-American fashion, these humble patriotic roots have grown into a deep-fried festival of freebies. Dunkin' Donuts, Krispy Kreme, Tim Hortons and LaMar's are all giving away free doughnuts for National Doughnut Day Friday. (There are a few conditions: Dunkin' makes you buy a beverage, while Tim Hortons requires customers to like their Facebook page and print out a coupon for a doughnut that's free with the purchase of another item.)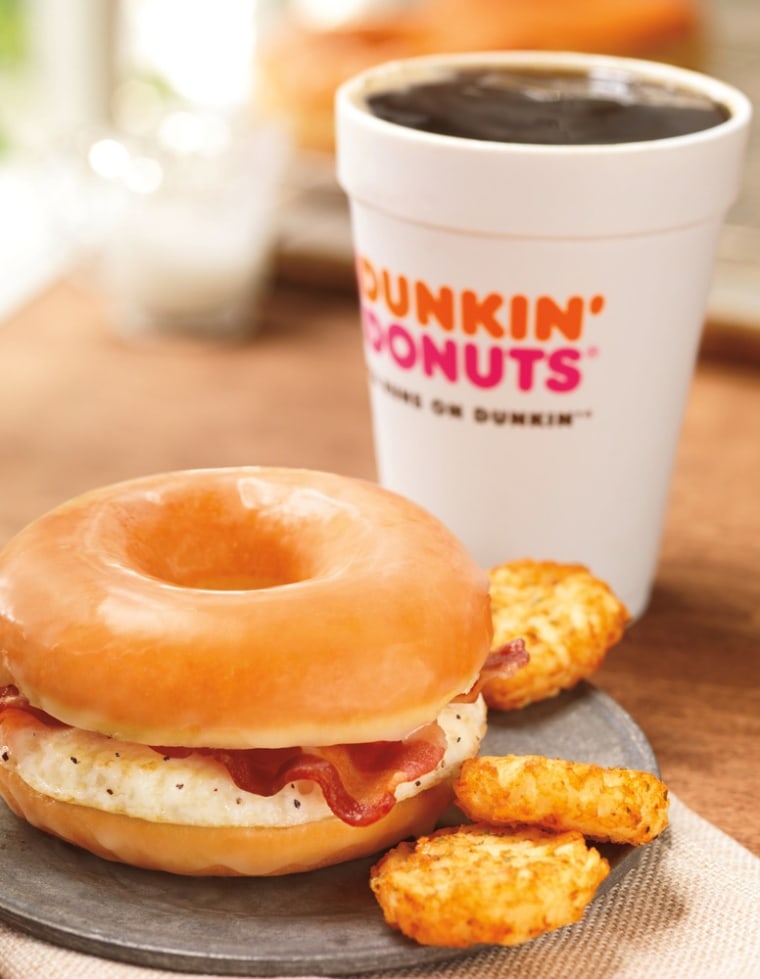 To keep our novelty-seeking taste buds happy, companies are finding ways to tweak or outright reinvent the doughnut, like Dunkin' Donuts new breakfast doughnut sandwich, which makes its official national debut on Friday. In case you've been living under a rock, that's bacon and eggs, sandwiched between a split glazed doughnut. And New York City's hipster foodies are all fawning over an oddity dubbed the "cronut:" flaky croissant dough cut into a doughnut shape, then fried and glazed.
Not content with just leaving America's fingers sugar-coated, Dunkin' Donuts is expanding its National Doughnut Day giveaway to international stores in 31 countries. Both Dunkin' Brands and Krispy Kreme are hungrily eyeing the overseas market as they seek to grow.
This year, Dunkin' aims to add 400 to 500 new Dunkin' Donuts and Baskin Robbins stores overseas.
"We look to have 900 international shops in operation by the end of January 2017," Krispy Kreme president and CEO Jim Morgan told investors last month.
Both companies have ambitious plans for the domestic market, too. Dunkin' ended its fiscal 2012 with 291 more shops in the U.S., and plans to add between 330 and 360 new restaurants this year, while Krispy Kreme is aiming for a total of 400 domestic shops by 2017.
That's a lot of doughnuts, but we seem to have the appetite for them. For the 52 weeks ending May 19, the five biggest retail vendors -- Hostess, Bimbo Bakeries USA, private lables, Krispy Kreme and McKee Foods Corp. -- sold roughly $1.5 billion of packaged doughnuts (not including doughnut shop sales), according to market research firm IRI. (IRI's tally includes supermarkets, drugstores, mass market retailers, convenience and gas station stores, military commissaries and "select club & dollar retail chains," according to the company.)
That's actually a drop of a little over 4 percent from the same time period one year prior, but it's skewed by a decrease in sales of nearly 50 percent from second-largest vendor Hostess, which shut down in November after failing to emerge from bankruptcy.

On Krispy Kreme's investor conference call in May, B. Riley & Co. analyst Conrad Lyon asked, "Do you think you are in fact taking share from other folks out there, especially given your price point relative to other more expensive indulgences?" In other words: Watch your back, cupcakes.