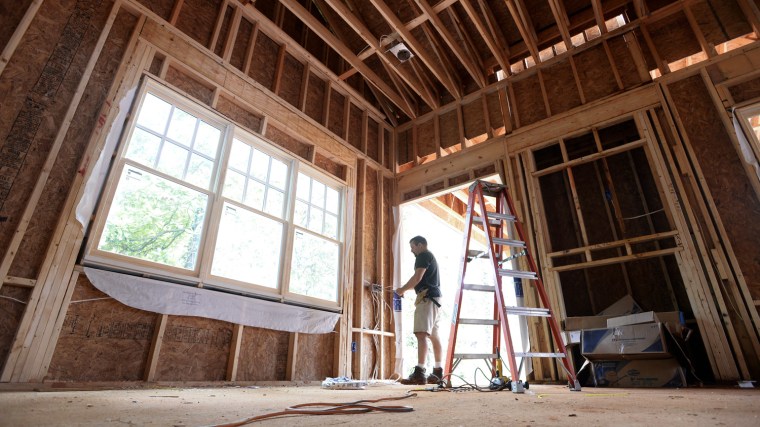 U.S. housing starts and permits for future home construction rose less than expected in July, suggesting that higher mortgage rates could be slowing the housing market's momentum, while non-farm productivity rose in the second quarter as output increased more than hours worked, U.S. government reports showed Friday.
The Commerce Department said that housing starts increased 5.9 percent to a seasonally adjusted annual rate of 896,000 units. June's starts were revised up to show a 846,000-unit pace instead of the previously reported 836,000 units.
Economists polled by Reuters had expected groundbreaking to rise to a 900,000-unit rate last month.
Permits to build homes rose 2.7 percent in July to a 943,000-unit pace. Economists had expected permits to rise to a 945,000 unit pace.
Meanwhile, productivity increased at a 0.9 percent annual rate, the Labor Department said. Economists polled by Reuters had expected productivity to gain at a 0.6 percent rate.
Productivity fell at a 1.7 percent rate in the first quarter, compared to an earlier estimate of a 0.5 percent gain.
Output rose at a 2.6 percent rate in the second quarter, while the number of hours worked increased at a 1.7 percent rate.
Unit labor costs—a gauge of labor-related costs for any given unit of output—rose at 1.4 percent rate in the second quarter, slightly above forecasts of economists polled by Reuters.
Mortgage rates have spiked in anticipation of the Federal Reserve tapering its monthly bond purchases as early as next month. The residential construction figures last month could also be a reflection of supply constraints.
Builders have been complaining about a shortage of labor and materials. Still, residential construction remains on a firmer footing and should again contribute to economic growth this year.
A report on Thursday showed confidence among single-family home builders neared an eight-year high in August, with builders fairly upbeat about sales prospects over the next six months.
Last month, groundbreaking for single-family homes, the largest segment of the market, fell 2.2 percent to a 591,000-unit pace, the lowest level since November last year. Starts for multi-family homes jumped 26 percent to a 305,000-unit rate, reversing the prior month's decline.
Permits for multi-family homes rose 12.6 percent to a 330,000-unit rate. Permits for single-family homes fell 1.9 percent to a 613,000-unit pace.