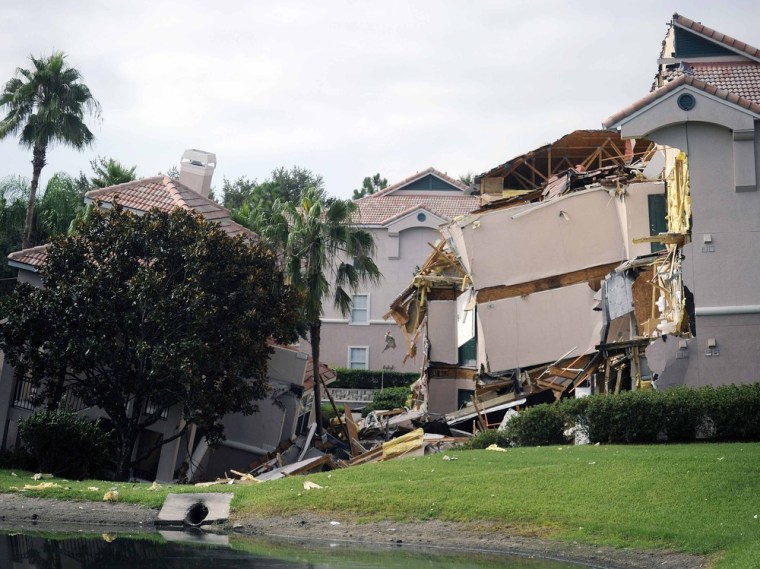 Sinkholes may be as old as the earth itself, but the increase in sinkhole activity is new. The rush to reason why has put scientists, engineers and real estate developers at odds.
Some geological experts believe the sinkhole activity is increasing because developers are pumping more water out of the ground for new projects or for agricultural use. While acid in the water itself is what causes the limestone under much of Florida to dissipate and create the holes, the water also acts as a support. Add water from heavy rains on the top soil, and you've got a bigger problem.
It is even beginning to weigh on the recovering real estate market in Florida.
(Read more: Sinkhole causes resort villa to partially collapse)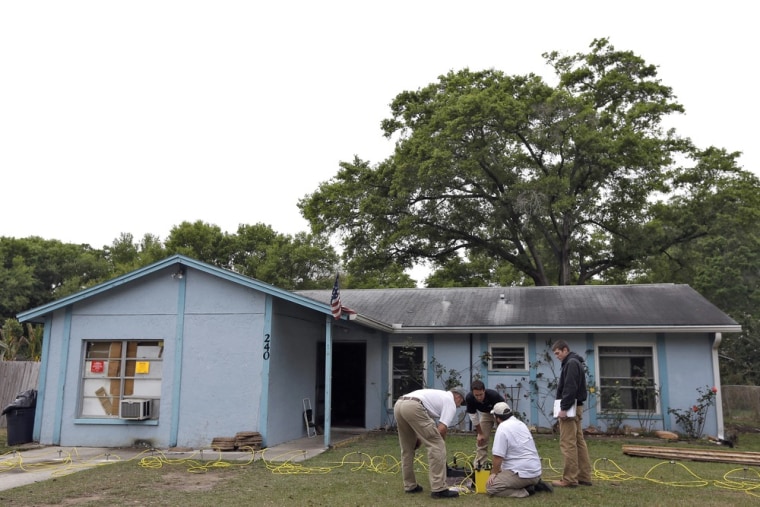 "As builders are forced to go farther and farther out of cities in search of developable land, compromises such as building on less than ideal sites have to be made to deliver competitively priced properties," said Peter Zalewski, an expert in Florida real estate development. "We think this factor is only going to contribute to the sinkhole problem in the future on the Florida peninsula. At the end of the day, technology can only serve as a stopgap against Mother Nature."
Unlike hurricanes, noted Zalewski, one can neither predict a sinkhole disaster nor really prepare for it. While developers do have to do some drilling in order to comply with building codes, it is impossible to know if a sinkhole will develop even a year or two after the structure is completed.
"At least with rising tides, property owners can opt to buy on higher ground some distance from the coast," said Zalewski. "As Florida's population grows and development continues, we expect sinkholes to become a bigger and bigger issue for homeowners with no clear solution in place."
The insurance industry in Florida has taken note. Florida law requires insurers to cover "catastrophic ground collapse," and many homeowners buy additional riders to cover more minor damage.
"The number of insurance claims for sinkhole damage has increased significantly over the last several years. According to Office of Insurance Regulation, total reported claims in Florida increased from 2,360 in 2006 to 3,135 in 2010, according to Citizens Property Insurance Corp. website. "The Florida Insurance Commissioner has identified sinkhole claims as a major cost-driver and expressed concern that these claims could threaten the solvency of Florida's property insurance market."
(Read more: Map: Tracking the recovery)
Sinkhole insurance can run anywhere from around $200 to $2,000 depending on where a home is located. The Tampa Bay area is considered "Sinkhole Alley," but some have referred to Florida as the "Swiss Cheese State."
In 2012, Citizens collected $56.7 million in sinkhole premiums, but estimates sinkhole losses for 2012 totaling $18.7 million, according to its website.
"Mother Earth controls this," said Paul Caldwell, president and general manager of the Summer Bay resort where Sunday's collapse occurred. He said its developer does not build in "dense" areas. "We test as we develop."
Still, one third of the sinkhole activity recorded since 1960 occurred in the last 13 years; half of that happened in the last three years.
"In the last probably five or six years, yeah, there's been a boom in more sinkholes being tested, confirmed," said Frank Vitale of L.R.E. Ground Services, a sinkhole remediation company in business for the past 25 years. He said his company has done over 4,500 jobs, large and small.
(Read more: Home builders buoyed by buyers)
"There's definitely more work in the last five years," he said. "It could be a lot of different things. It could be the aquifer. It could be settlement issues, clay issues, buried debris. There's a million factors that can play into it, and that's why it's really important for an engineer to come in and assess the problem."
—By CNBC's Diana Olick. Follow her on Twitter @Diana_Olick.
More business news: